Hunting Dogs and Puppies for sale in Montana
Search for breeders in Montana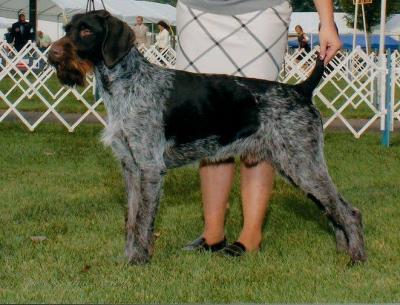 Two very talented dogs are producing this liter
This litter is a combination of two Master Hunters and NAVHDA Utility tittles. Tilly has a Versatile Excellent and DAK has Versa...
DJ Bar Ranch German Wirehair Pointers
located in Belgrade, Montana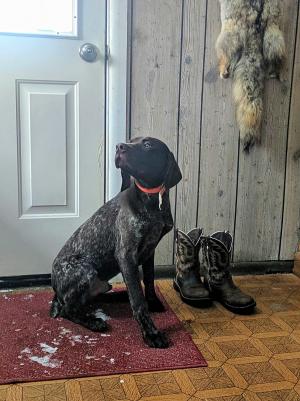 AKC GSP PUPS
7months old, whelped July 10. will be ready this fall as started dog. tail docked, dew claws removed, current on all shots. seriou...
Lyndell Halteman
located in Fort shaw, Montana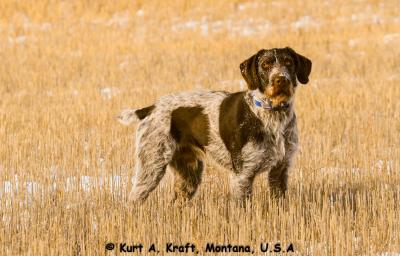 German Wirehair puppies for sale...Montana
This breeding between Xena and Jax will produce very outstanding puppies. Both parents have been tested in the Versatile Hunting ...
Windwalker Wirehairs
located in Shelby, Montana

Elite Wirehaired Pointing Griffons / Championship Bloodlines
Check out our website for all information. www.rockymountaingriffons.com
Rocky Mountain Griffons
located in Montana
RESULTS: 1 to 12 of 12
Page 1

Male black ticked GSP pup
Ad type:
Puppies For Sale
| Location:
Glendive - Montana
Breeder:
Lazy Hearts Kennel
&nbsp| Created:
Mar 14, 2018

Elite Wirehaired Pointing Griffons / Championship Bloodlines
Ad type:
Puppies For Sale
| Location:
- Montana
Breeder:
Rocky Mountain Griffons
&nbsp| Created:
Mar 14, 2018

Soon to be bred
Ad type:
Litter Announcement
| Location:
Belgrade - Montana
Breeder:
DJ Bar Ranch German Wirehair Pointers
&nbsp| Created:
Mar 10, 2018

Two very talented dogs are producing this liter
Ad type:
Litter Announcement
| Location:
Belgrade - Montana
Breeder:
DJ Bar Ranch German Wirehair Pointers
&nbsp| Created:
Mar 10, 2018

AKC GSP PUPS
Ad type:
Started Dog
| Location:
Fort shaw - Montana
Breeder:
Lyndell Halteman
&nbsp| Created:
Feb 25, 2018

German Wirehair puppies for sale...Montana
Ad type:
Litter Announcement
| Location:
Shelby - Montana
Breeder:
Windwalker Wirehairs
&nbsp| Created:
Feb 23, 2018

Silver Males Available
Ad type:
Puppies For Sale
| Location:
Carter - Montana
Breeder:
PM Weimaraners
&nbsp| Created:
Feb 22, 2018

Male GSP Black ticked pup
Ad type:
Puppies For Sale
| Location:
Glendive - Montana
Breeder:
Lazy Hearts Kennel
&nbsp| Created:
Feb 20, 2018

ThreeRiverSpinone PUPPIES For Sale
Ad type:
Litter Announcement
| Location:
missoula - Montana
Breeder:
ThreeRiversSpinone
&nbsp| Created:
Feb 20, 2018

Finished German Wirehair Pointer
Ad type:
Finished Dog
| Location:
Ledger - Montana
Breeder:
Shock Kennels
&nbsp| Created:
Feb 19, 2018

AKC Female Vizsla Available
Ad type:
Puppies For Sale
| Location:
Roundup - Montana
Breeder:
ASD Kennels
&nbsp| Created:
Feb 01, 2018

AKC Chesapeake Pups
Ad type:
Litter Announcement
| Location:
Roundup - Montana
Breeder:
ASD Kennels
&nbsp| Created:
Feb 01, 2018
RESULTS: 1 to 12 of 12
Page 1