Gamefindin Kennels - Michigan Deutsch Drahthaar Breeders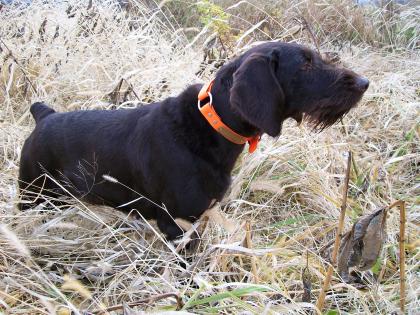 About Gamefindin Kennels
Breeder of Champion Deutsch Drahthaars and English Pointers. Also can provide training, started and finished dogs. Drahthaars are registered in the VDD and tested. Next litter is due 12/1/17
Hunting Dog Breeds Raised
Deutsch Drahthaar
Additional Services
Training, Boarding, Birds for sale
Breeder Contact Info
Puppies for sale
Testimonials (5)
Submitted by: tim drake on Feb 27, 2017
Purchased a pup from Joel in april 2016, have been extremely happy with her, by far the most intelligent dog i have ever been around..... We sent her back down to Joel over the summer and he dialed her right in..... this fall i had the pleasure of killing many pheasants, grouse and woodcock over her... Joel runs an excellent operation and would recommend that anybody looking for a quality dog, they call joel first.... It is hard to beat the versatility of a draht...
Submitted by: Dave Florea on Oct 24, 2016
Absolutely, the best hunting dog/companion/pet I've ever owned. I recommend Game findin kennels to anyone who wants a versitile hunting dog or hunts upland game. If there's a bird in the area Joel's pups will find it.
Submitted by: Melissa eidson on Oct 10, 2016
We received our first pup (aka:fausti) from Joel in April of 2016, she is a wonderful hunter and family member!!. We had Joel start her training and couldn't be more pleased with how she took to it.
Submitted by: Dave on Nov 08, 2012
Ive hunted behind one of joels draughtars for the past 8 years. Hands down the best pup ive ever owned.
Submitted by: Nick Miller on Nov 29, 2009
I have hunted behind Joel's dogs and they are excellent bird finders and have good temperaments. Joel has kept them in the house and they make wonderful family pets. Nick Miller
Submit your testimonial