Black, Liver, GSP, field and health screened GSP - German Shorthaired Pointers in Helena, Montana - Pretty Prairie Kennel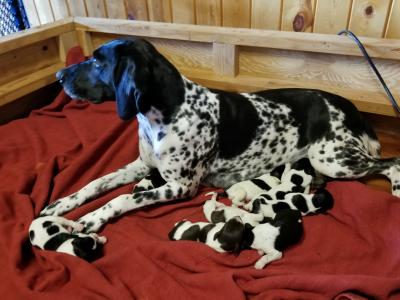 Kai and her pups, 8 total, 4 black and white & 1 liver male; 1 black and white female and 2 liver females.
We field test through NAVHDA and health test through OFA. Our dogs have imported pedigrees from some of the Europe's oldest lines; Hege-Haus; Hege;Hof, and Pottemes. They also have fine pedigrees from USA that include field and show. Kai is an awesome female with a nose to the ground and search that is extensive. Chief, "Yoghurt Von Den Denau-Wirbeln," is from the oldest breeding line of German Shorthair's, "Deutsch Kuzhaar, (DK)." The DK are field tested in Europe and have health screen, hips, which must clear before they are permitted to register a litter DK.
Ad location: Helena, Montana
Ad created: May 24, 2018
Pretty Prairie Kennel Breeder Information