Clifford on Training in Iowa
This hobby kennel of work proven Chesapeakes carefully places its emphasis on proven quality never quantity. The program uses and blends some of the oldest purely working families in the breed without care for commercial prominence, largely worthless titles, and ego games. These are hunting dogs and family companions first and foremost.
Breeding is based on the premise that one breeds the best to the best and raises the resulting young in a manner best suited to encourage healthy, sound, durable, long lived Chesapeakes with easy to train and live with temperaments. Great emphasis is placed on socializing and early training in the nest. All puppies are taught to respond instantly to the come command on a whistle as part of the weaning process. At about 6 weeks old all puppies are taken individually to a small enclosed place and in a totally positive way taught to retrieve a small rubber ball to hand. Before they are 8 weeks old all of the pups come on the whistle, know their names and retrieve to hand both toys and birds. They are very people oriented and transition to new home with a minimum of separation anxiety.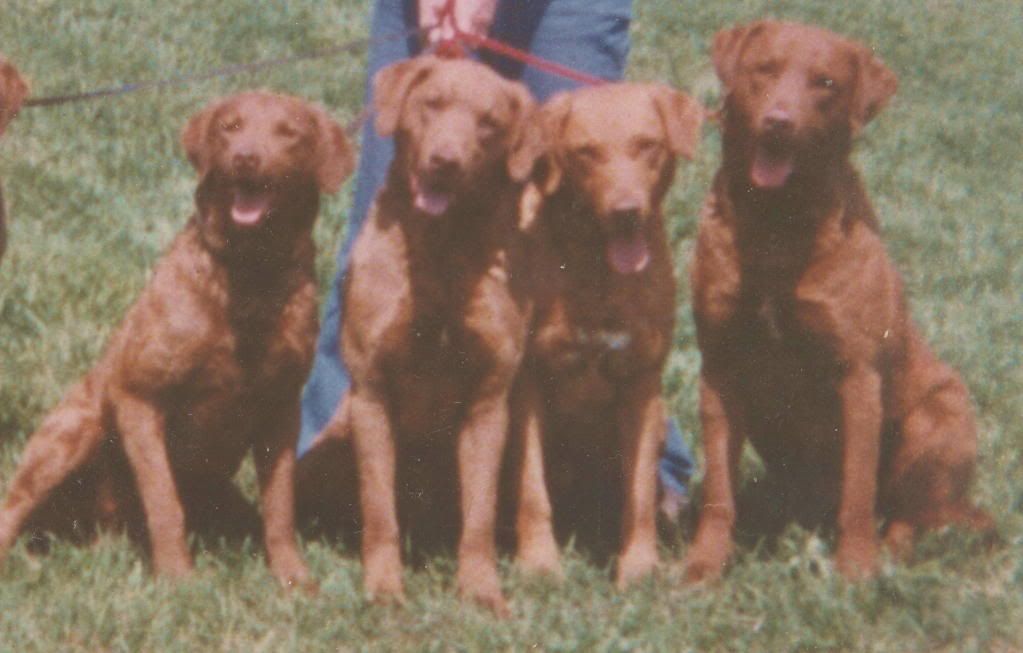 A TEAM OF WYNDHAM CHESAPEAKES FROM MORE THAN 40 YEARS AGO
All Wyndham retrievers are tested rigorously to maintain the highest standards. This testing begins in the nest when newborns are evaluated for correct breed coat, proper proportions of the front end structure and any obvious faults. As the pups grow attention is taken to observe general vigor, attentiveness to their surroundings, receptivity to human handling, response to early training such as coming on whistle during the weaning process, willingness to give up toys to a human and in general how they fit in with the litter pack and respond to human attention.
Early puppy training here continues through various learning stages and the mental ability to learn and work with the human is constantly evaluated. Youngsters are introduced to game, many new situations, gunfire in the presence of other adults in the pack, retrieving and tracking live game, swimming in various types of water and general boldness. At two years old all Wyndham dogs are given a complete skeletal body evaluation (4 xray plates) by board certified radiologists, who provide detailed reports on joint structures, spine and bone density. Animals showing any bone changes in their skeleton; ie degeneration, calcium deposits, remodeling, etc are rejected from the program.
All animals that have proven their worth in the shooting field, at home and any other endeavor are again total body scanned (xrayed) at 8 to 9 years of age with the second set of xrays similarly evaluated by board certified radiologists and also compared to the first series of evaluations done 6 to 7 years earlier to note durability and strengths as well as any points of conformation needing attention in future breeding decisions. This xrayng protocol has been used since 1986 and has resulted in a positive change to the number of years dogs from the program are able to work well and stay sound.
Eyes are examined annually by a board certified ophthalmologist. These exams include examination using a slit lamp, gonioscopy and an eye pressure test. Because there are multiple genetic eye diseases that can impact a dog's sight and eye health, Ed Atkins believes that actual annual eye exams provide significantly better over all information than a DNAtest aimed at only one form of one type of eye degeneration
The kennel after more than 60 years of constant effort to improve the dogs, the rearing, the training methods and the over all end quality is unique in its use of the very best old hunting"Blood" and nurturing the pups so that they may attain the best of their unique genetic background. ALL litters are reserved prior to birth by sporting people from across North America and abroad; often to repeat clients and several generations of ownership. Inquiries are always welcome from people who appreciate the background and special care that goes into each pup produced here. Litters are planned to produce replacements in my very active home shooting team and puppies are placed where their talents and personalities fit well. Reservations are accepted from approved purchasers only and placement on the waiting list requires a 50% none refundable deposit. Balance will be due when there is a suitable pup to fit a specific owner's life style and needs.
ANYONE WISHING TO INQUIRE ABOUT PUPPIES FROM WYNDHAM-WYNDHAMIAN LITTERS SHOULD PROVIDE THEIRFULL NAMES, WHERE THEY LIVE, A HOME TELEPHONE NUMBER, THE NATURE OF THEIR INTEREST IN ACQUIRING A CHESAPEAKE BAY RETRIEVER AND EXPLAIN WHAT EXPERIENCE THEY HAVE HAD WITH THIS BREED OR OTHER DOGS.
A very high performance August litter is expected:

CH WYNDHAM'S UNEQUALED (CLIFFORD)

CLIFFORD PROGENY AT WORK



Year Old Son in Iowa on Trip To Canada Eleven Month Old Son In Maryland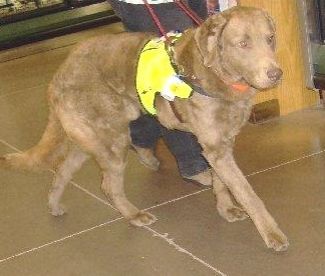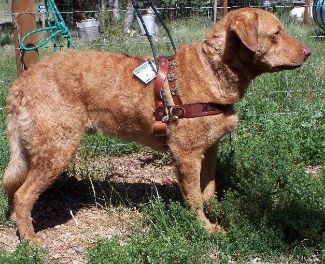 18 Month old Training in Colorado Two Year Old Working in Colorado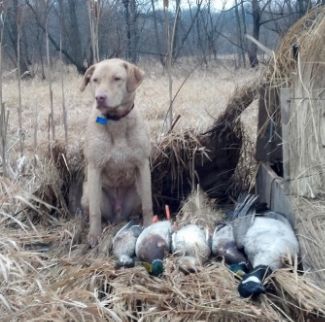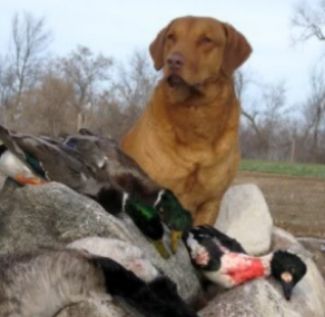 Seven Month Old Son In Indiana Three Year Old Son in Minnesota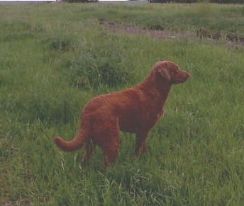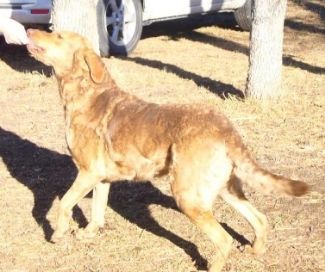 Two Year Old Daughter in North Dakota Ten Month Old Son in North Dakota



Three Month Old Granddaughter in Florida

The sire is CH WYNDHAMS'S UNEQUALED *11 ("CLIFFORD"), who will be beginning his 12th shooting season about the time the litter is born. He is still a high speed retriever and superb gamefinder on land and water. The sire of high performance progeny from coast to coast in the field and also the sire of very reliable assistance and guide dogs for disabled individual. Clifford is a sedge colored dog, in excellent working condition and recently weighed in at 90 pounds.
The dam of this litter will be WYNDHAM'S J.A.T.O., a 70 pound bundle of muscle and determination. "Bullet" is a very powerful swimmer and has the speed and strength to handle any task affield. Like Clifford she is a superb athlete, pin point marker, hunts up well with a very fast, almost "push button" response to direction.