TimpBritts - Utah American Brittany Breeders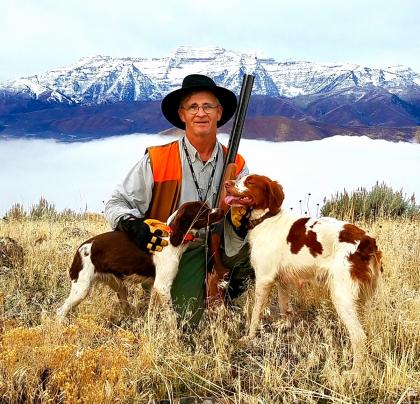 About TimpBritts
Pups that are bred to hunt. Our male, Tramp, is a son of Peter Gun. Pete is a winner of many titles including the 2009 National Gun dog Championship. Tramp's mother, FC/AFC Emma Tayshon is a Just Call Me Roy daughter. He is big and stylish and makes everything look easy. He's a sweetheart with the family. We have 3 outstanding females from which we try to produce 2 or 3 litters a year. Our senior female is Nelly. She is a daughter of our Shadow Attack daughter, Charly and Brig. Brig was our Nolan's Last Bullet Grandson. Nelly has been a outstanding gundog from her first season. She has shown great pointing, tracking and retrieving instincts that you don't teach. She is constantly surprising us with her steadiness and maturity in the field. She finds and points birds where you can get them. And after you shoot them she finds them, even when they are crippled and running. Nelly is liver and her earlier litters have produced some really pretty pups. Our second female is Sugar. She is a daughter of High Hopes Dark Nite, or Joe. Joe has won 2 National Gundog Championship titles and 1 National Amateur Gundog Championship. Sugar's mother is a Nolan's Last Bullet Granddaughter, with some strong NASTRA breeding. Sugar is a 28 lb. fine boned girl with a super sweet personality. She is very pretty and intelligent, and her hunting talents have exceeded any expectations we had for her.. She retrieves to hand, and tracks and points wild birds like an old pro. Sugar's previous litters threw some outstanding pups. Smart and manageable, that are often hunting their first fall. Our newest addition to our kennel is Elsa. She is the fraternal granddaughter of Uncle Kracker, a 2x National Field Trial Champion. Her maternal grandfather is GFC, Sniksoh's Spanks Hank. Elsa's pedigree is full of great field bred dogs. She is a tall athletic white dog with a solid point and steady retrieve. Elsa strength is her incredible nose. She picks up scent and patiently works into the bird. Her pointing style is also unique, more like a pointer than a Britt. We've seen these traits in her early litters. She has the ability and size to cover a lot of ground fast if you want her too. Feel free to call me at 801-678-3118, if I can't get to it leave me a message and I'll call you back. .
Hunting Dog Breeds Raised
American Brittany
Breeder Contact Info
Jim Alldredge
860 s 500 E
Pleasant Grove , Utah 84062
Breeding quality gun dogs for over 35 years.
Send Email to TimpBritts
Puppies for sale
Our Pedigrees
Testimonials (0)