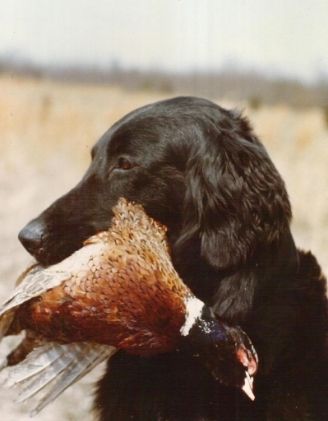 Born On May 23, 2014
One Black Male, Six Females (2 Black,4 Liver)
The Wyndham-Wyndhamian Flat Coated Retrievers began in 1953, when the then 10 year old Ed Atkins received a mature bitch, that had been acquired in England by a cousin. This flatcoat and a Chesapeake bitch acquired at about the same time were Ed's constant companions and his first hunting dogs. Today 60 years later, Ed is still surrounded by quality working retrievers from both breeds. The very focused breeding program has clearly demonstrated over these 6 decades that well bred retrievers consistently work well and very hard for more than 12 shooting seasons. Earlier in March, 2014, one of the kennels flashiest workers, now a bit frailer and well aged, celebrated her 15th birthday, along with two 14 ½ year olds and three 11 year old members of the kennel shooting team. The purebred, AKC registered Flat Coated Retrievers from the Wyndham Wyndhamian breeding effort have over the past 60 years lived on average more than 13 years.

The breeding program is based upon two absolute vales and principles: A. That any good flatcoat worthy of being a team member and breeding animal must have 1. Good Health, 2. Soundness, 3. Durability, 4. Longevity, and 5. Have a temperament and personality that is easy to live with and trains easily, and B. To be a quality flatcoat a dog must demonstrate the ability to work early as a pup, peak physically and mentally between 6 and 7 years old and to be physically and mentally sound enough to work past their 12th shooting season!
Adhering to these essentials when choosing animals worthy of being included first in the shooting team and then used for breeding, requires careful rearing, extensive nurturing to develop genetic potentials, rigid testing of all individuals to maintain standards and constant monitoring of individuals actually working on large numbers of wild upland and waterfowl. In addition great pride is taken with the satisfaction over many years that dogs bred here have brought other sporting owners in the hunting field and at home. The selection process that has provided these quality working flatcoats since 1953 is about to include pups from the 18th generation owned bred and hunted by Ed Atkins. This makes the Wyndham-Wyndhamian hobby kennel a unique effort.
While Ed Atkins is very proud of past successes, the kennel is focused on the future. To sustain quality and continue to produce the best available animals after all these generations and years, to achieve realistic goals and maintain future diversity, great effort is made to search out and utilize older working lines around the world and to utilize superior animals with as broad a genetic base as possible within the confines of this numerically small breeding pool. This is essential to maintain over all health, and longevity.
Fieldancers Hope Diamond is a Canadian bred female from a little used female family that stemmed from Scottish gamekeeper stock. In the context of the flatcoat breed this closely related female family represents a unique outcross source. Called "Ebony" she was sired by a dog bred by the Wyndham-Wyndhamian program.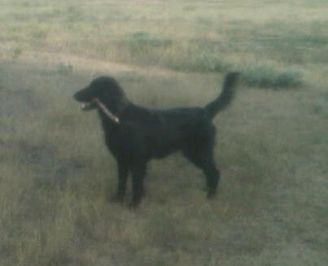 "Ebony" is a very eager retriever with loads of energy and a very sweet nature. She has been mated to GCH. Wyndhams Kubla Khan, a proven worker and sire of top quality workers across North America. Puppies from this mating will be born in May.
Anyone wishing to inquire about puppies from this and other future Wyndham-Wyndhamian litters should provide their full name, where they live, a home telephone number, the nature of their interest in acquiring a Flat Coated Retriever and explain what experience they have had with this breed or other dogs. Withiut all of this information no further information about the Wyndham-Wyndhamian breedings will be shared.
It is the norm in this breeding program for all puppies to be reserved well before matings occur. Those sportsmen wishing the very best breeding and rearing for a hunting Flat Coated Retriever are advised to contact Ed Atkins by email or telephone as soon as possible. Puppies may be reserved by approved and suitable buyers with a 50% none refundable deposit/down payment. When a puppy suitable for the buyers needs is available the balance due plus the then current cost for a veterinary health certificate (required for any puppy acquired from this hunting dog breeding program ) will be due.
GundogBreeders Site Contact Is Not Working Properly!!!

Direct Email Address:
ndbirdfinder@yahoo.com
Direct Email Address:
ndbirdfinder@yahoo.com