BORN MAY 26, 2014
9 BLACK FLAT COATED RETRIEVERS
(4MALES, 5 FEMALES)
The Wyndham-Wyndhamian Flat Coated Retrievers began in 1953, when the then 10 year old Ed Atkins received a mature bitch, that had been acquired in England by a cousin. This flatcoat and a Chesapeake bitch, were Ed's constant companions and first hunting dogs. Today, more than 60 years later Ed is still surrounded by quality working retrievers from both breeds. The breeding program has demonstrated over the years that flatcoats can be bred to work and work very hard for more than 12 shooting season. Here in March 2014 one of the kennels flashiest workers, now a bit frailer and aged has celebrate her 15th birthday The breeding program is based on two absolute principles: A. that any good flatcoat must have 1. Good Health, 2. Soundness, 3. Durability, 4. Longevity and 5. Must Have a Temperament That Is Easy to Live With and Trains Easily. B. To be a quality flatcoat a dog must demonstrate the ability to work early as a pup, Peak physically and as a worker between 6 & 7 years old and be able to work past 12 years old. Adhering to these essentials when selecting breeding animals and carefully rearing, nurturing, testing and constantly monitoring the basics affield is clearly demonstrated by the very high level of work provided actually hunting wild upland and waterfowl by the dogs in the home kennels shooting team. Further, great pride is taken by the satisfaction other owners have with animals bred here and their decedents. The selection process that provides this sort of stock now includes up to 17 generations of flatcoats, owned and or bred. by Ed Atkins, an avid hunter, breeding to produce the best possible working flatcoated retrievers.
All Wyndham retrievers are tested rigorously to maintain the highest standards. This testing begins in the nest when newborns are evaluated for correct breed coat, proper proportions of the front end structure and any obvious faults. As the pups grow attention is taken to observe general vigor, attentiveness to their surroundings, receptivity to human handling, response to early training such as coming on whistle during the weaning process, willingness to give up toys to a human and in general how they fit in with the litter pack and respond to human attention.
Early puppy training here continues through various learning stages and the mental ability to learn and work with the human is constantly evaluated. Youngsters are introduced to game, many new situations, gunfire in the presence of other adults in the pack, retrieving and tracking live game, swimming in various types of water and general boldness. At two years old all Wyndham dogs are given a complete skeletal body evaluation (4 xray plates) by board certified radiologists, who provide detailed reports on joint structures, spine and bone density. Animals showing any bone changes in their skeleton; ie degeneration, calcium deposits, remodeling, etc are rejected from the program.
All animals that have proven their worth in the shooting field, at home and any other endeavor are again total body scanned (xrayed) at 8 to 9 years of age with the second set of xrays similarly evaluated by board certified radiologists and also compared to the first series of evaluations done 6 to 7 years earlier to note durability and strengths as well as any points of conformation needing attention in future breeding decisions. This xrayng protocol has been used since 1986 and has resulted in a positive change to the number of years dogs from the program are able to work well and stay sound.
Eyes are examined annually by a board certified ophthalmologist. These exams include examination using a slit lamp, gonioscopy and an eye pressure test. Because there are multiple genetic eye diseases that can impact a dog's sight and eye health, Ed Atkins believes that actual annual eye exams provide significantly better over all information than a
DNA
test aimed at only one form of one type of eye degeneration
While pride is taken in past success, the focus here is always on the future. To sustain quality and continue to provide the best obtainable animals after so many generations of breeding for realistic goals, the kennel continues to search for and utilize superior animals with as broad a genetic base as possible within this numerically small breeding pool. With this as the objective frozen semen has just been imported from a British bred flatcoat, Atherbram Hamish, with the kind permission and assistance of the dogs breeder/owner, Mrs. Hilary Hughes. The Atherbram flatcoat kennel was founded in England in 1902 by Mrs. Hughes Grand Uncle and Aunt, Will and Winnie Phizacklea. It is safe to say that if Mr. & Mrs. Phizacklea not been able to keep their kennel together during World War II the flatcoat breed would not exist today.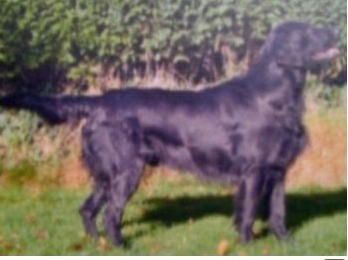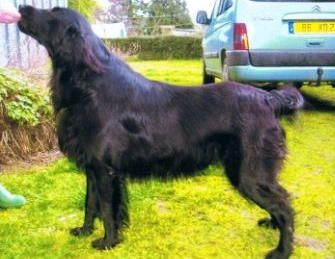 Atherbram Hamish Born 2005
Hamish is bred to work. He is a strongly built dog with plenty of bone and heavy coat. A dog with an impeccable focused temperament and descended from highly proven working stock. It is hoped to breed two bitches to Hamish. One here in the home kennel this spring (AI breeding took place 27 March, litter will be due 3rd week in May) and a second bitch born here and owned by folks in Montana in the summer/fall of 2014.
Wyndhams Quality Brown, called "Blossom" is a very racy yet powerfully built female with a very classical head and general outline. Calm and focused she is also high energy and a very determined retriever with a superb nose. She is a very rich liver color but as Hamish only carries the genes for the black color all resulting pups will be black. "Blossom" represents 16 generations of Wyndham-Wyndhamian selection, ownership and/or breeding. She was sired by Grand Ch. Wyndhams Kubla Khan and is a daughter of Faradorn Pretty Peachie (Import Scotland). She is a great granddaughter of Abocas Chelsea, the current 15 year old in this kennel. Her dam Peachie was a great granddaughter of Wiven Willow of Tweedsmill, another flatcoat female that lived 15 years.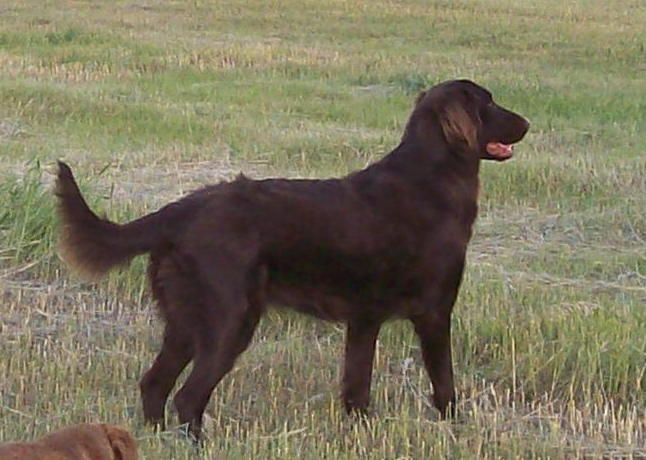 Wyndhams Quality Brown
ANYONE WISHING TO INQUIRE ABOUT PUPPIES FROM FUTURE WYNDHAM-WYNDHAMIAN LITTERS SHOULD PROVIDE THEIR FULL NAMES, WHERE THEY LIVE, A HOME TELEPHONE NUMBER, THE NATURE OF THEIR INTEREST IN ACQUIRING A FLAT COATED RETRIEVER AND EXPLAIN WHAT EXPERIENCE THEY HAVE HAD WITH THIS BREED OR OTHER DOGS.
It is the norm in this breeding program for all puppies to be reserved well before matings occur. Those sportsmen wishing the very best breeding and rearing for a hunting Flat Coated Retriever are advised to contact Ed Atkins by email or phone as soon as possible. Puppies may be reserved by approved and suitable buyers with a 50% none refundable deposit/down payment. When a puppy suitable for the buyer's needs is available, the balance plus cost of veterinary health certificate (required for any puppy acquired from this kennel) will be due.
PLEASE INCLUDE THE REQUESTED INFORMATION LISTED ABOVE WHEN INQUIRING !!!
GundogBreeders Site Contact Link Is Not Working Properly!!!!

Direct Email Address:
ndbirdfinder@yahoo.com