Mountain View Cur, the thoroughbreds of the Cur dog world, puppies available NOW! The ultimate most versatile, natural tree dogs ever developed, that can be taught anything canine possible. All MVCs must be Certified Tree Dogs before breeding, resulting in 99% of pups making NATURAL Tree Dogs generation after generation. We have two outstanding litters with both male and female yellow pups available. $400. for males and $450. for females shipping available world wide.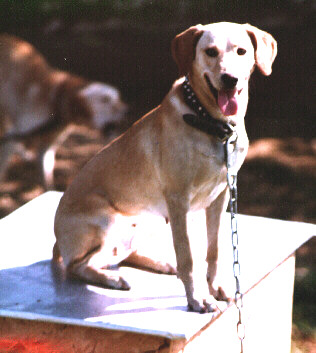 Hall of Fame Mountain View Dance
Outstanding tree dogs on squirrel, coon, cats, lions, bear for pleasure or competition. Also, awesome decoy dogs on Coyotes, and for baying wild hogs. Basically the ultimate meat dog. Excellent family companion dogs with small children, that will heard and protect live stock, farm, and property.
Also, proven for search and risqué, law enforcement, family protection from Bear and lions around homes, and even work well on upland game birds. There is simply no better dog for anything canine related and all pups have a Life-Time Satisfaction Guarantee!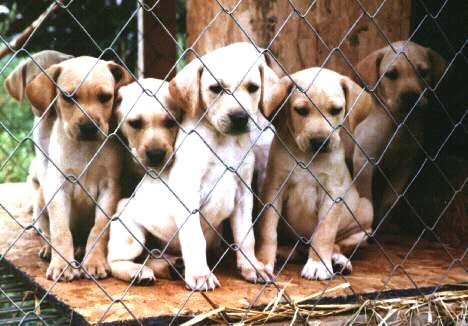 1990 MVC pups like clones showing how unified they are.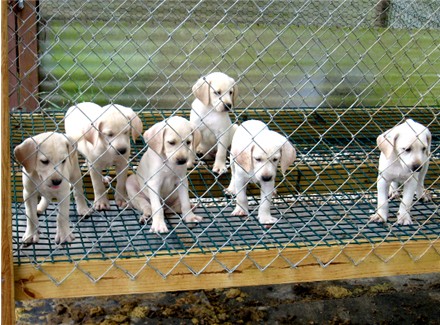 2008 MVC pups like clones, showing their uniformity over 18 years and many generations.
Please go to the Mountain View Cur Association Website for breed development, history, and hundreds of photos, and tons of info. also pictures of pups available on their classified webpage. URL http://mtnviewcur.tripod.com .
Our 25th Anniversary!
Mike & Marie Bloodgood <>< Breed Founders and Life-Time Advisors.
"Original Home of the Mountain View Cur'