Shiloh Kennels & Stables - Wisconsin Vizsla Breeders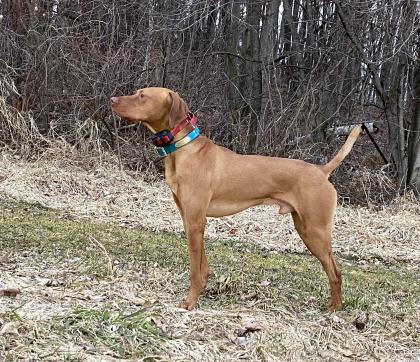 About Shiloh Kennels & Stables
Thank you for visiting Shiloh Kennels and Stables gundog page. Our family has owned and operated boarding, breeding, and training kennels for over 50 years. We have some of the best dogs and bloodlines in the country and don't just say that, we prove it by competing and consistently placing on the national level in field competition on a regular basis and most importantly wild bird hunting on multiple species. Our dog "Blue", Shiloh's Red White & Blue is the 2016 NVA Eastern Shooting Dog Champion and our dog "Bishop", Shiloh's Holy Roller is the 2016 NVA Western Shooting Dog Champion. A dog we produced and trained, Rudy of Hawthorne Ridge, won the 2017 NVA National Derby Classic. We also have placed or won every major regional or National Derby Classic in the last few years all with different dogs. Shiloh's Rusty a dog we bred and trained, was the Vizsla Club of America's #1Derby dog in the country at the end of 2018. Meyer's Bella and Shiloh's Roscoe were both bred and trained at Shiloh Kennels and Bella was the National Vizsla Association 2020 National Amateur Runner Champion for owner Todd Meyer and Roscoe was the National Derby Classic Runner Up winner for owner Ryan Martin. Roscoe wins Great Lakes Continental Classic October 11,2021. Rudy of Hawthorne Ridge wins NVA Sharptail Classic October 17, 2021, and places 3rd at the Vizsla Club of America National Open Championships. Shiloh's Kato Mindiola, a son of Roscoe and Alice, in 2021 wins both Great Lakes Continental Open Derby, the NVA Sharptail Open Derby, and places 4th at the Vizsla Club of America Nationals in Open Derby. In spring 2022 Kato takes 2nd at the NVA National Derby and wins the Vizsla Midwest Futurity. Shiloh's Copper takes 2nd at the Midwest Futurity. These are just some of the recent winners within the last decade. When looking for a breeder don't leave it up to chance. We consistently produce some of the best dogs in the country each and every year, and you'll find many kennels and individuals out there that have based their breeding programs on dogs coming from Shiloh Kennels. We take that as a great compliment. We don't breed based on what we see on paper (pedigree), although a strong pedigree is important, but by a long-term breeding program that has been set up. Dogs must meet my strict criteria to be used with my list of desired traits being quite long; therefore, dogs are not just bred for the sake of breeding to produce puppies and make a sale. We believe breeding is a true art form and we will do our best to help match the exact breeding that will fit your needs. Dogs must possess solid temperaments, biddability, outstanding hunting ability -being this is a hunting breed, have superior health and structure and form that follows function. These are but a few of the important characteristics we look for before breeding. We have Futurity Winners, VCA Championship Winners, NVA Championship Winners, and have had many Top Ten Dogs in the country. We have been blessed with over 600 field trial placements and are very active in the breed on a national level. We develop and train our own dogs and have helped train and campaign dogs for other vizsla breeders. As of late fall of 2016 I have turned pro and am professionally training and campaigning dogs for others. So along with getting a great hunter and companion, you also can have your dog trained by someone who has intimate knowledge of bloodlines for the last 25 years who professionally trains, competes, and bird hunts. I am and have been a member of many vizsla organizations: Vizsla Club of America, Greater Milwaukee Vizsla Club, Vizsla Club of IL, Central WI Vizsla Club, Twin Cities Vizsla Club, Four Lakes GSP, and Northwest Field Trial Club. I have been the chair and secretary of numerous events for many years. Most notably I am on the board of directors for the National Vizsla Association, was the President for 4 years, and VP for 4 years. I was the editor of the Vizsla Field magazine and was the founder, chair, and secretary of the NVA National Quail Championship for the last 15 years. I am on the board of directors for the National German All Breed Championships and I am the Chairman of the Region 19 ASD Championship held on wild sharp-tail grouse and am the founder and chair of the first wild bird (Sharp-tail) Classic for the NVA for vizslas. I say all this not to brag, but only to give you an idea of some of our credentials. I have been an AKC and American Field judge for many years and have had the honor to judge many different pointing breed Championship events. The most important thing is that we have many satisfied customers whose dogs are great companions, hunters, and competition dogs. We hunt our dogs and have many satisfied hunters around the country. They have been hunted on multiple grouse species, pheasants, quail, woodcock, and chukar. We are blessed to have been featured on Northland Adventures Outdoor show for late season grouse hunting. All dogs come with our hip and health guarantee, and our hunting guarantee provided you follow some guidelines. They have excellent temperaments and need to be great companions first and foremost. Puppies, stud service, started dogs, field trial prospects and training. Mentoring program. If we can help you pick a new companion and hunting buddy or field trial competitor, or help in your dog's training process, please call us and let us know how we can serve you. Thanks, and God Bless. PUPPIES... PUPPIES....PUPPIES We are currently taking deposit on our upcoming 2022 summer litters. These are from dogs that are proven producers of top hunting and field trial dogs. Their disposition and temperaments are exceptional, and their pups will be first and foremost, outstanding members of the family. These puppies will be born in June 2022 and go to their forever homes in August 2022. If you're going to invest money in a dog, go with something proven. We stand behind all our dogs, and our record speaks for itself. Please call us to see if we can meet your needs for your next family addition or for professional training for your gundog to hunt or for your field trial competitor. We also occasionally have a few started young dogs. We currently have a few young dogs that we will be offering for sale. We are continually training hunting dogs here at the home farm in June and will be starting Summer Camp in mid July. Spots are filling fast so give us a call to book training for your hunting or field trial dog. Thanks again for visiting our page and God Bless. Eph 2:8-9
Hunting Dog Breeds Raised
Vizsla
Additional Services
Training, Stud Services, Boarding
Breeder Contact Info
Submitted by: Chris B on Dec 02, 2021
We picked up Kimber, a Roscoe and Luca pup from Shiloh and she is a natural bird finding machine. Pointing wild coveys of pheasants, sharptail, and huns early in her first season of hunting. She hunts hard all day and doesn't quit. Kimber naturally has a lot of point, and it didn't take many reps in training to get her to hold steady. Although Rob isn't easy to get ahold of, he has spent nearly an hour on the phone with me in the past talking dogs and he is the most passionate bird dog fanatic I have ever met.
Submitted by: Ryan Martin on May 27, 2021
Can not go wrong with Rob training your gundog whether be it field trialling or bird hunting. He has the God Given talent to get the best out of a dog. He has been training my dog for the past 3 years for field trialing (Shilohs Roscoe). Rob is one of the top vizsla pro's in the country and it shows. Roscoe has 15 placements in his young career and back to back gundog wins (May 2021). He understands dogs and there tendencies better than anyone, a true Professional. You won't be disappointed.
Submitted by: John Hagan on Jan 10, 2020
Its been just over two years since I picked up my vizsla pup from Robert at Shiloh Kennels. From that day forward, she has had no health issues worth mentioning. She has grown into a fine looking girl. She displays great instincts when covering ground and she is relentless when on scent. She holds her points, and it is not uncommon for her to find birds still holding after a flush. Overall, she does her best work on chukar and partridge hunts. Very pleased with Shiloh Kennels. Robert has an excellent line of vizsla hunting dogs. I found, Penny, to be a perfect example of that.
Submitted by: Kevin Pecharich on Feb 20, 2017
I picked up my female Vizsla from Shiloh kennels in May 2016 and I couldn't be happier with my pup, she's my second Vizsla from Shiloh and her natural hunting and pointing instinct is incredible, she's by far one of the most high energy dogs I've ever had, it's almost impossible to tire her out. Anybody looking for a high quality hunting dog with champion bloodlines, Shiloh kennels is the place to go.
Submitted by: Mikemukka@hotmail.com on Jan 31, 2016
We picked up Otis and have been super pleases. He has a natural nose for grouse hunting and he doesn't range with minimal training. He wants to hunt with you not on his own. Very pleased all around
Submitted by: Brad on Dec 30, 2014
I got my first Vizsla when I was 14 (now 38) and have never been without one (Mazy is my 4th). I picked up Mazy on Sept 18 when she was 7 wks old. Prior to pick up, Robert with Shiloh Kennels was very helpful and patient in answering my questions about his experience with the Breed and his bloodlines.
Mazy has exceeded all my expectations - she is VERY smart and willing to learn. It wasn't very long and she would sit/stay/come to command. She was house/potty trained in less than 4 weeks (have her trained to a bell). She is great with our four kids (8, 6, 3, and 1), and tolerates a lot from them.
Now for the hunting...one word...NATURAL. By 12 weeks she was retrieving dummies and frozen quail to hand. Did great a few weeks ago with some quail I bought. Then over Christmas I thought I would try her on some wild pheasants. Didn't expect much at 5 mos old, but she had three hard points and several soft points (not a lot of birds in our area) She obeyed commands in the field, only had to use a whistle and not a single correction with the collar. I am very impressed. Only disappointment is that the season will be over in a few weeks.
We will definitely be going back to Shiloh in a few years to get another one!
Submitted by: Louanne on Jun 14, 2014
Rusty was flown out to us in March and we can't be any happier with him! From the minute we got him, we knew that we received a dog from a reputable breeder. Rusty has been the easiest puppy to train. From the moment we brought him home it was like he knew to do his bussiness outside and he was only 8 weeks old!He is such a love and an amazing addition to our family! I can't say enough about how wonderful our boy is and how great our experience with Shiloh Kennels has been. If you are looking for a wonderful addition to your family I highly recommend Shiloh!
Submitted by: Chris on May 21, 2014
I picked up my puppy in March of this year (2014), and I cannot be more satisfied with my puppy. He's absolutely beautiful, nice to other dogs and people, and is a natural pointer. Taking him to the dog park and watching him point birds as a 4 month old puppy fills me with so much pride I can't describe it. When I get another Vizsla, it will be through Shiloh Kennels.
Submitted by: Kate on Apr 14, 2014
I purchased a vizsla through Shiloh in 2001. He lived to be just over 13 years old. The greatest dog I've ever encountered. He was the sweetest, most loyal companion you could ever wish for. Sadly, he developed arthiritus and more seriously skin cancer. Our poor buddy couldn't endure the chemo so we kept him on pain medications until he let us know it was his time to go. Absolutely the best vizsla producing kennel you could find.
Submitted by: Tammy Matrai on Feb 15, 2014
I actually got a Shiloh dog through a roundabout way... A re-home from a nice young family who decided two big hunting dogs couldn't live in the same house as a young baby. Their loss, my gain.Kobi was a beautiful companion and was very happy to move to the country after being a city dog. Someone missed out on a dual champion because his conformation was superb, and he would love to run big looking for game. But most importantly for us, he was a great pet. We had him put to sleep last year after he had a stroke, I think. He was 13 year old and never had any other health issues. I miss having a vizsla, hopefully my life circumstances will allow me to be back in the vizsla world again... I would love to get a Shiloh puppy and do some shows and hunt tests again....
More Reviews for Shiloh Kennels & Stables
Submit your testimonial