"Breeding Physically Sound Even Tempered Chesapeakes for Home and Field at Real World Prices.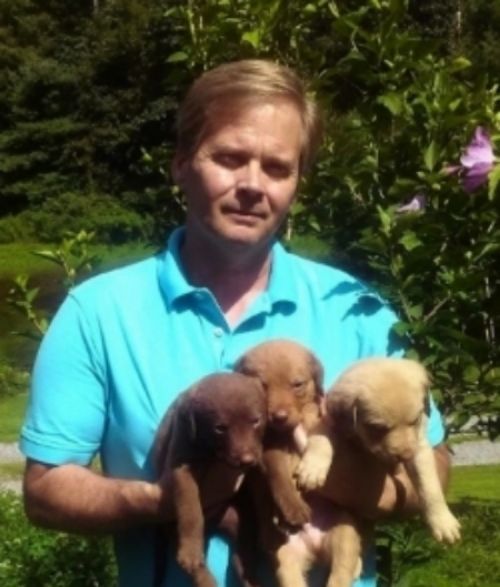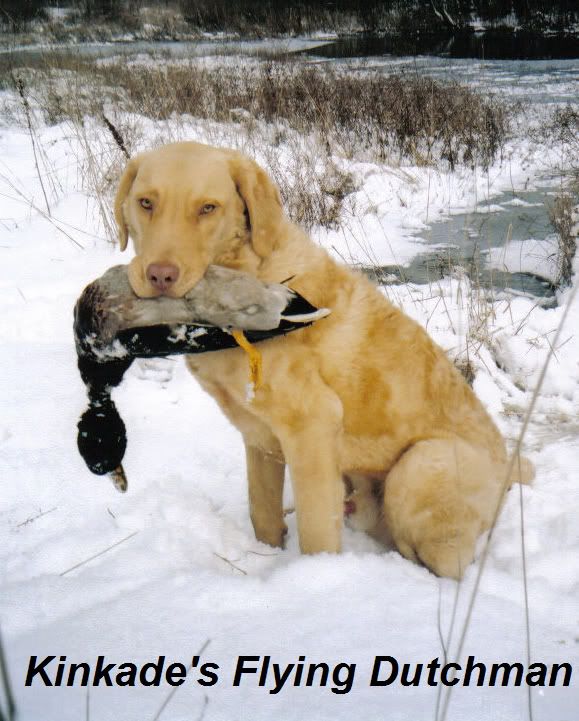 What you will Not get at Kinkade Hill...
No Limited registration only sales. We never require co-ownership or reserve breeding rights on your puppy. Money back genetic health guarantee not a long wait for a puppy replacement. And never any hoops to jump through. Just a respectful old fashioned "win/win" buying experience. Placing CBR companions/hunters in quality homes from Canada to Florida.
Thanks for your consideration,
Dave Bray Ph# 724-445-3405 - peake1@zoominternet.net
Submitted by: Larry Melego on Aug 22, 2018
We got Ruger in November of 20016. I had several Labradors that were great upland bird hunters but none of them hold a candle to this dog. He has a great nose and once on a scent trail, he is relentless. At home he is loving and protective. He thinks he is a lap dog. Dave made the whole process so easy. I would definitely get another Chessie from Dave.
Submitted by: Tori English on Feb 16, 2018
We got our Chessie girl from David in November 2016. She is amazing in the field. So focused when she is training and hunting. Listens to every command. And at home she is a snuggly goofball who loves kisses. We couldn't be more happy with her!
Submitted by: Sarah Lafon on Jan 08, 2017
I purchased my chessie from Dave in March of 2011. He was friendly and allowed us to come to his property to check out our puppy prior to purchase. Perfect land for raising Chesapeake Bay Retrievers Lake on site and appears to be good old fashioned breeder. We love our dog tori renamed Daphne and have been ever so pleased since. She is intelligent friendly affectionate and easily trainable. This dog was practically house trained when we brought her home. Aside from that Dave is a breeder that I trust though we moved out of state I could see us coming back to Pennsylvania in the future to continue business with him. Thank you Dave we love are Chesapeake Bay Retriever!
Submitted by: B White on Aug 17, 2016
I got my little girl about 3 months ago the buying part was a very easy because David made it that way. As for our pup she is now 5 months old and what a joy she is. She is completely housebroken, and retrieving 40 to 50 yards on land and 30to40 yards in shallow water. I am very pleased with everything from the buying to working with my pup and would do it all over again even then 6.5 hour ride each way.,
Submitted by: Cody Salmon on Jan 03, 2016
We picked up Zeke almost two years ago from Kinkade Hill Chesapeakes and he has grown into a fine hunting companion, whether in the swamp hunting ducks, in the field hunting geese, or in the upland hunting pheasants. He has a keen nose, amazing me many times in the field, retrieving blind on ducks and geese and tracking and retrieving a winged rooster for over 200 yards in thick cover to return with the bird in his mouth. He hunts well with other dogs as I have a German Shorthair Pointer that I hunt with Zeke for Pheasants. I keep Zeke close by and when the GSP is on point, I send in Zeke to flush, it has been a great combo.
Zeke, our Chesapeake, has been a wonderful family dog. He plays in the yard with our daughter and loves to snuggle up at our feet in the evening. He loves his family, and is protective of the household. This was our first experience with a Chesapeake Bay Retriever. We have enjoyed him so much as a family dog, and a hunting companion, that we have contacted Kinkade Hill Chesapeakes to purchase another pup from an upcoming litter. We are willing to wait for one from this breeder due to the temperament and amazing abilities of our dog.
Submitted by: Joshua on Oct 27, 2015
I picked up my pup about a year ago, he was 80 pounds lighter. As he grew he went to work with me every day. I not only have a pet but a friend that I don't worry about taking places he has a great temper and loves everyone. There are also a lot of kids that live around me, it's nice to know he is just another one of there friends he has the best temper and Will not hurt anyone.. Thanks Dave
Submitted by: Chad Hough on Oct 18, 2015
Got my first Chesapeake from Dave (Kinkade Hill) 9/26/15. I have owned and Hunted Labs for 18 years. Our was a Light Dead Grass pup named (Decker), the whole experience from meeting Dave and his dogs to picking my pup was great. Dave gave me tons of time to select my pup and didn't mind that I brought a live quail to see which puppies liked birds, along with throwing bumpers to see which puppies wanted to retrieve. My Pup Decker is already swimming and retrieving dead Quail in Heavy Cover at 9 1/2 weeks. Great Dog, I think I got a winning Hunting Dog! Thanks Dave!
Sincerely,
Chad Hough
Ford City, PA.
grayco2014@gmail.com
Submitted by: Andrew ost on Sep 28, 2015
Well I'm back again, I just picked up my second pup from David and couldn't be happier with the quality of his dogs. Again, he kept me super informed and up to date with the puppies, very kind, and smooth throughout the process. David has my business and will continue to have it. He and his pups are great! I look forward to my next trip back to get my third puppy form him! Great experience! email me at drewyo2@hotmail.com if you have questions I am happy to help with any questions you have.
- Drew Yost
Submitted by: Rachel Vastyan on Apr 30, 2015
We purchased a a medium brown male pup, who we have named, "Hatch" - or "Kinkade's Flying Hatchet" from David the last week in January.
He is our first Chesapeake and he is hands-down the smartest, most well-behaved and loving dog I've ever had. He only cried the first five nights in his crate - after that, he slept the whole night through. He's been completely potty trained for over a month now, he already retrieves, knows all kinds of commands, both vocal and hand-signal and he gets along beautifully with any other dog he meets.
We take him to classes at a local trainer, which we'll keep doing once he "graduates" from each class - and the trainer cannot stop saying how wonderful a Chessie he is, how handsome and well-behaved. He's the youngest puppy in the class (He's not even 4 months old and the trainers are already using Hatch as a group example and has the class watch how he and I work together.) The trainer also says, "I tip my hat to that breeder, he sure did produce a fantastic pup!"
Before we got a puppy, people - who obviously don't know what they're talking about - told us they've heard that chessie's are stubborn and can be aggressive - that couldn't be farther from the truth with Hatch. Hatch is focused and extremely driven when we're working on retrieves (which will soon morph into duck hunting) and training practices - but when we're just at home relaxing, he's the most loving dog - and that mix is EXACTLY what we were looking for. We've already been asked by several people to stud him out when he's of age, because everyone who comes in contact with him wants a Hatch puppy of their own.
While this is a long review, I wanted to really commend what David Bray is doing with his chessie's. Beautiful, even tempered, all around great dogs. We couldn't be happier with our puppy.
Submitted by: Dee Brandt on Mar 17, 2015
This man is one person that I will contact in the future because of his down to earth statement and breeding practices. Finally, someone who does not mince words and states it like it is. Someone I trust and will not no matter what hold anything back when he sells a puppy ever!!! I do appreciate this in the utmost and finally someone that feels the way I do. My God Be at Your Back and Take You Along By His Side Dave Bray.
More Reviews for Kinkade Hill Chesapeakes
Submit your testimonial