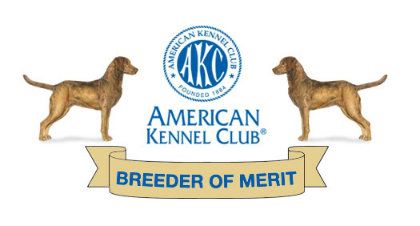 Whiskey Creek Chesapeakes set the standard for excellence in temperament.
We are very active with our dogs showing them in multiple venues from Conformation, to Agility, Obedience, Hunt tests, and other performance venues.
We show our dogs in conformation to prove that our dogs follow the breed standard.  All of our personal breeding dogs are shown to their Champion title (CH).  We feel that to breed a dog, it needs to LOOK like what the breed standard states the dog should look like.  We feel that a Chesapeake should not only be able to "get the job done" but it should LOOK GOOD while doing it!

 
We trial our dogs in performance venues such as Rally Obedience and Traditional Obedience to prove that they have high levels of learning ability. 


Agility is a challenging venue that we enjoy participating in.  Agility trials in my area have about a 20% pass rate.
Our dogs are high drive retrievers that make excellent family companions.  We sell several pups a litter to people who are interested in hunting companions and to people who compete in AKC and UKC Hunt Tests.  Most of the dogs that go to competitive hunting homes are all AMATEUR owned and trained...NO "pro" trainers needed with these pups!  Whiskey Creek has several pups that are testing at the Master Hunter level!
Whiskey Creek Chesapeakes are exceptional family companions.  Although we sell a lot of puppies to owners looking for a hunting partner or a show/performance dog, many of our dogs go to people looking to add a steadfast loyal "companion" to their family.
At Whiskey Creek we plan breedings with the idea of "improving the breed" not just to breed another litter of puppies.  We research pedigrees, health issues and clearances, conformation strong points as well as faults, performance of the sire and the dam as well as any puppies from previous litters to make sure that we are breeding a litter that meets our high standards.  When we do a breeding, it is our intention to keep a pup from the breeding.  We NEVER "repeat breedings" as we feel that weakens our small gene pool and lessens the "value" of our dogs.
Visit the other kennels in the South East and see what makes Whiskey Creek stand out from the rest.  No other breeding kennel is as active in as many venues as what Whiskey Creek Chesaepakes compete in.  A strong knowledge of the breed, dedication to improving the breed, and dogs that not only look good, but are functional as well!
A dog has a name.
A "good" dog has a title at one end of his name.
A "great" dog has multiple titles at BOTH ends of his name!

ACCEPTING DEPOSITS FOR OUR NEXT PLANNED BREEDING!
Schedule a time to come out and visit us
to get on our waiting list!
Submitted by: Jeannelove Ferguson on Nov 21, 2016
I owned a Pet Supply store in the Charleston, SC area and 3 of her "puppies" were Blue Ridge Beef ( Raw Food) Customers of Mine. I can honestly say, these dogs were amazing examples of the breed. Each was incredibly healthy and had a wonderful temperament. I saw these three dogs at a minimum once a month ( all three dogs were in separate homes) and each time, it was a joy to have them in the store. Kathy knows her breed and you will get an incredibly sound ( physically & mentally) dog. I have owned Labrador Retrievers for over 25 years and because of my experience with these dogs- I am honestly considering getting a Chessie the next go round. And it will of course be one from Whiskey Creek Kennels!!
Submitted by: gisselle on Sep 05, 2016
From the day we started searching for a new pup until now (our Whiskey Creek pup is alittle over 1 year and 2 mos) Kathy/WCC has been phenomenal. WCC initially impressed us when we read their informative, up front, and extremely caring website. After talking to Kathy for the first time we were committed...HER commitment to her dogs, ethical breeding, and much more was not just refreshing, but motivating; she had/still has a great impact on how we raise our Baker. Since picking up our beautiful Chessie, Kathy's support has been tremendous; from keeping us informed to taking my nervous phonecalls as a first time Chessie owner. Kathy and WCC are a huge added bonus, but even without the continued support that I don't think we'd find from any other breeder, our Chessie alone is reason enough for us to never go anywhere else when it comes to Chessies. Baker (SnapxNuke) is not only a great looking dog, he's extremely intelligent, resilient, and his temperament is wonderful. He's great with other dogs and people. We plan on growing our family in the near future and are so happy that Baker is part of it. For us he's a family dog that enjoys the outdoors with us and our 6 yr old Rhodesian Ridgeback who he's won over, but we have no doubt that should we decide to broaden our activities to anything from hunting to agility trials that he has the ability, physically and mentally, to excel. We are forever grateful that we found Kathy/WCC.
Submitted by: Jessica Horne on Apr 29, 2016
I purchased my Chesapeake 5 weeks ago and he has been a dream so far. A quick learner, extremely well socialized, and is showing real promise. He's not nearly as hyper as my last Chessie, but when he gets out he want to work.
The breeder is fantastic. She kept me updated almost daily from the time he was born until I got him with pictures and videos. She would also provide links and instructions on various topics to help you get ready for the pup. Visits with the pups were not only welcomed but encouraged. Certainly the best experience I've had with a breeder so far, and I'll be going back when I'm ready for another one.
Submitted by: Tyler on Apr 21, 2016
Where do I even start. Kathy is the most knowledgeable, kind and thoughtful breeder I have ever had the pleasure of meeting. Her dogs are stellar examples of the breed and titled in more events than I can name. The same goes for her puppies, it seems most days online I see a posting for a new title earned by an offspring of her girls. Making the trip to Whiskey Creek is always informative and enjoyable but never short. And in my opinion that's the only way the buying process should be. Kathy is thorough but not prying when you first express an interest in a puppy, she really wants to ensure that the pups are going to a good home and that you the buyer know just what you are getting yourself into. As for my pup, a Snap x Nuke puppy, she could not have a better temperament. Tema is level headed, happy and always willing to please. She loves her people and is extremely tolerant of strangers and new dogs. She lives with a 5 year old frenchie and they could not be better friends. I only hope Kathy is still breeding when I am ready for my next chessie because I really cannot see myself looking anywhere else.
Submitted by: Kim Schrempp on Apr 01, 2016
If you are wanting a quick and easy process then this is NOT the breeder for you. If you are wanting a CBR pup from a breeder who truly cares about the breed and goes to great lengths, only better the breed, but do everything possible to match the right pup with the right family, then Kathy Case is your breeder. We were blessed to be matched with our now 13 month old male CBR, Scout (Brier x Chaamp). The process did take a while and for that we are thankful. Kathy required us to make a visit to the farm, spend time with her and meet all the Whiskey Creek girls. We were able to see their different personalities and understand how much goes into Kathy's placement choices. She does an awesome job of taking all factors into consideration before placing a dog with a family. You are not allowed to pick your pup. You are welcomed to come and visit during the whole process and spend time with the entire liter. That is when you get to see all that Kathy does to prepare her CBR puppies for success in their future homes. They are socialized often- children from a nearby daycare come over for play dates and she takes the pups to the lake or creek to introduce them to water. The pups are taken for wagon rides on the farm and lots of play time in a very interactive play space she has created. Thanks to the extra measures taken by Kathy, Scout arrived home very well adjusted, loving and happy. Through the whole process Kathy stays in contact with her "customers" and makes you feel more like family. You will not find a breeder who cares more about you and that sweet little Chessie that is getting ready yo join your family.
Submitted by: Russell King on Mar 24, 2016
This is my 3rd Chesapeake and first from Kathy at Whiskey Creek. If you are looking for a great match and a breeder that cares about the process and placement of her pups this is the breeder you want. No question went unanswered and Kathy offered volumes of information and advice to each question or concern. She was in constant communication and always available during the process. She bent over backwards to be accomidating for visits once the litter was born and carefully matched the pups to the owners for a perfect fit. The pups are all fantastic in temperament and solid in their characteristics. I cannot say enough GREAT things about this experience and Kathy Case - WOW.
Submitted by: Ashley on Mar 24, 2016
Kathy is wonderful. We lost our Chesapeake Maggie in July. We wanted a top breeder for a new puppy, and that is what we got. Kathy is very good about dog placement, providing training and education, and making sure you know what you are getting into. I have learned so much from Kathy. Her passion and enthusiasm are contagious. I can't wait to begin agility training with our new dog.
Submitted by: Amy Boone on Mar 24, 2016
There just aren't enough good things I can say about Kathy Case and Whiskey Creek Chesapeakes! I admit the process is very unique and may not be for everyone but if you are smart and looking for the best Chesapeake breeder choose Kathy Case. She genuinely cares about all the dogs and goes above and beyond to match the right puppy to the right family. From the moment you meet Kathy and the girls and get on the waiting list Kathy keeps you up to date all aspects from the conception, pregnancy, birth, and the eight to ten weeks following. You essentially get to watch the puppies grow up from birth to the time they go home. It was the most amazing experience you can possibly imagine. We researched Chessie breeders for months before contacting Kathy and scheduling a visit. We live 6 hours from Kathy and feel without a doubt all our trips were well worth it! Kathy devotes her life to being an exceptional breeder and puppy mother. Our puppy is a reflection of how amazing Kathy is. He is beautiful, smart, well socialized, and has the best temperament. Do yourself a favor and get your next Chessie from Kathy and the girls at Whiskey Creek Chesapeakes, you'll be glad you did!!!! Our puppy is from the Twiggy and Wyatt litter.
Submitted by: Shauna K on Nov 13, 2015
Our family's experience with Kathy and Whiskey Creek Chesapeakes has been second to none! We first visited them nearly 5 years ago to meet the dogs and Kathy, and loving what we found, put a deposit down that day. Being a military family, we had to move before our litter came to be- without hesitation, our deposit was returned, but we still kept in touch. Another move later, we were finally back within driving distance and put (another!) deposit down on an upcoming litter. Kathy paired us with truly THE perfect puppy for our family. Kathy's love of the breed, and desire to only strengthen and better the breed shines through with everything she does- her dogs are a credit to the breed, and Kathy a credit to breeders. We have not only met a great breeder, but someone we count now among our friends. Her devotion bro her dogs does not end when you bring home your puppy- she is a constant source of advice and information whenever we have a question, and has been a great help throughout our first year of puppy ownership! We constantly are recommending Whiskey Creek Chesapeakes to any of our friends and family who are considering a Chessie- they're the only place we'll ever go!
Submitted by: Maria and Steve Nelson on Jun 22, 2015
Our Whiskey Creek Chessie puppy Fin, will be a year old in just a few days. He is turning out to be everything we wished for!
Kathy Case really listens to what her puppy buyers are looking for, and matches the pup to the best "parents" possible.
We wanted a puppy with an easy going temperament, and a lot of retrieving drive. And that's what Fin has. We just love him!! He's also very good looking. Thank you Kathy!
More Reviews for Whiskey Creek Chesapeakes
Submit your testimonial