Turkey Creek Kennels - Indiana - American Brittany - Indiana American Brittany Breeders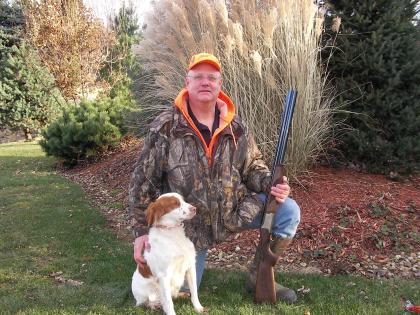 About Turkey Creek Kennels - Indiana - American Brittany
TURKEY CREEK KENNELS is dedicated to the advancement of BRITTANY Gundogs in both confirmation and the field. Each litter is carefully planned with the intent of breeding only "the best to the best." Our intent is to capture the desired qualities in an upland game Gundog that will result in excellent field work in search, locate, point, hold, and retrieve. Good confirmation has proven to produce the stamina for an all-day-hunt. Kennel bloodlines consist of Auten, Nolan's Last Bullet, Peter Gunn, Dr. Jac's O'Dee. All Gundogs are OFA/PennHip tested for hip dysplasia and have a clean bill of health/certification. Eye testing is completed each year by Purdue University. Pedigrees, pictures, and referrals available upon request. To learn more about the kennel visit Facebook at Turkey Creek Kennels-Indiana-American Brittanys. Call now to advance book a guided hunt and assure availability at: www.rollinghillspheasanthuntingpreserve.com, www.huntmaier.com www.hillsideshootingsports.com. Guided hunts in Kansas, Nebraska, North & South Dakota can also be arranged. Learn why I PennHip test? - https://www.youtube.com/watch?v=U7_t_ZmNsLw
Hunting Dog Breeds Raised
American Brittany
Additional Services
Hunting, Training, Stud Services
Breeder Contact Info
Puppies for sale
Our Pedigrees
Testimonials (5)
Submitted by: Sean Lehman on Jan 27, 2019
I've had a relationship with Terry Stutzman since the early 1990's. During that time, I have learned of his passion for hunting and great dogs. Whatever Terry does, he strives to produce the best results. His breeding efforts with the Brittany dogs allow me to have a pleasurable hunt with plenty of shooting. His dogs are good at search, locate, and holding point until Terry releases them. I am impressed with the dogs' desire to recover the birds and retrieve them to Terry.
Submitted by: James Mauck on Jan 14, 2019
I have known Terry and hunted with him and his dogs for 3 years. My dog, Hunter, is out of his line of Jack and Ginger. After professional training, he has become a top notch bird dog and a family pet. I look forward to hunting trips with him.
Submitted by: Thomas Earhart on Mar 28, 2016
I have known Terry Stutzman for many years. As a result, I have had the privilege and opportunity to not only hunt with this experienced sportsman but also visit in his home and kennel.
Terry is a perfectionist when it comes to his kennel of Brittanys. The love and devotion for their bloodlines, wellbeing and training have produced dogs of exceptional quality and skill.
On numerous occasions I have had the opportunity to hunt over Terry's dogs. Their ability to not only sniff out birds but also to hold, fetch and retrieve are beautiful simply to watch whether they are hunting individually or in a group.
If you are looking for a quality dog from a quality trainer and hunter, I would highly recommend Terry Stutzman.
Submitted by: Todd Goss on Feb 29, 2016
I have hunted with The Turkey Creek Brittanys,These Dogs have excellent abilities to search and locate birds. The dogs are natural with pointing and retrieving. Terry has a awesome blend of top notch bloodlines that brings out all the Best qualities of the Brittany breed. Todd Goss.
Submitted by: Maier Pheasant Farm on Feb 28, 2016
I personally have been involved in the upland game preserve hunting industry for over 40 years and have seen countless number of dogs on our hunting property
in my opinion, the most important aspect of a great hunting dog is the drive to hunt
That is what you will see with Terry's dogs
Along with a great temperment and the desire to please their handler you will find them easy to train for hunter and family
If you're looking for an excellent hunter and companion, I urge you to check them out
Submit your testimonial