Solid bred Brittany's for Hunting, Trialing and even some show.

The most important I look for in my program is that the dogs are bird dog's first and foremost before they are even considered for my program.
All my breeding stock is OFA'd
I do this to show that the dams and sires in my program are free of HD and for future records.
I raise my pups with a modified version of the New Skete and also have them used to collars and leashes and even exposure to some birds before they ever go to their new homes. I raise them to be as excited and curious about the world around them. I have a puppy program which is explained below for those seeking to purchase a pup from my program.

Lines I am currently using in my breed program consist of Nolan's Last Bullet, NAFC FC AFC Maxwell's Blew By You, Scipio Spinxs, Scipios Little Chick, Beans Blaze and Lobo lines, Renegade Kansas Kid, and Bullet Proof II , Hi Proof Rum Runner Buddys Trucker Express, Franklin County Bandit, Microdot, Rimarda's Trademark, Markar's Jac's a Dan D .

I will only recommend those litters that I would consider to purchase from myself.

ATTENTION: To be placed on my waiting list I now request a $50.00 non refundable deposit. Please see my web page or contact me about further information on my program

Transportation of Pups or dogs are entirely the New owners responsibility. Since I live in AZ shipping can be difficult but there are other forms of transportation

.


Breeding should be about quality, not quantity.

Breed for the Best .... Train for the Rest

2x NSTRA Tucalota Creek Picabo and Arlette Cleaning up the field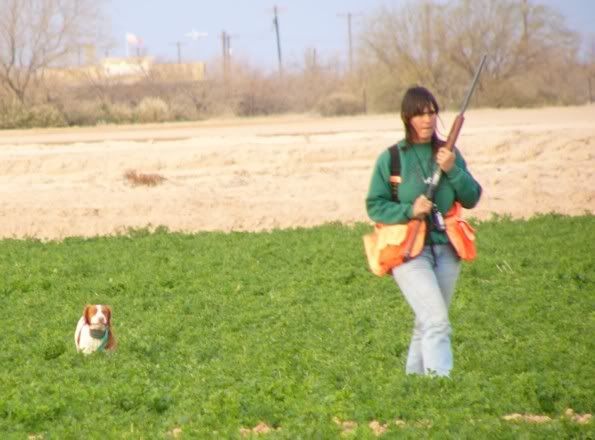 2x NSTRA K Nine's Beeline Bullet aka Bullet
CH K Nine Tucalota Bear aka Bear With his show handler Linda McDonald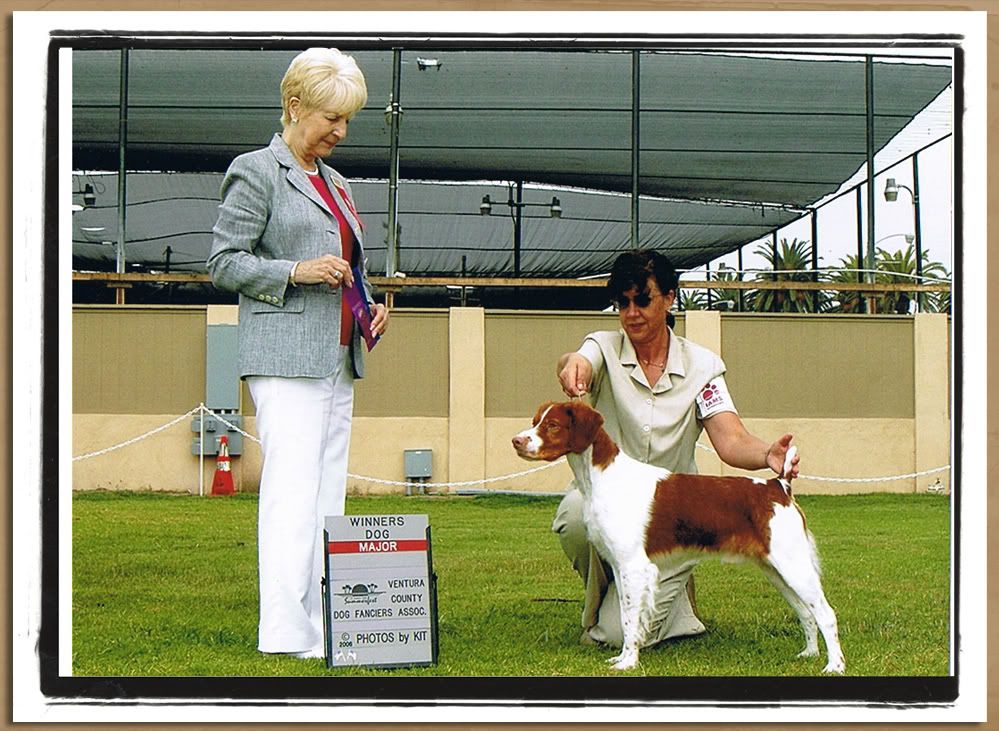 4x NSTRA K Nine Blazin Bullet aka Blazer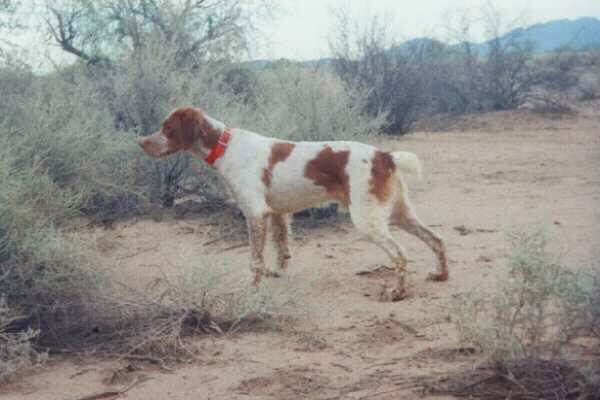 2007 2nd R/U Az NSTRA Regional 4X K Nine Blazin Bullet aka Blazer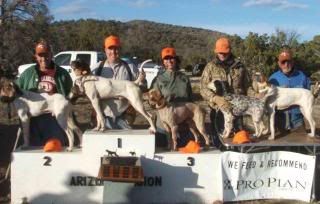 2008 AZ NSTRA Region 2nd R/U 4x K Nine Blazin Bullet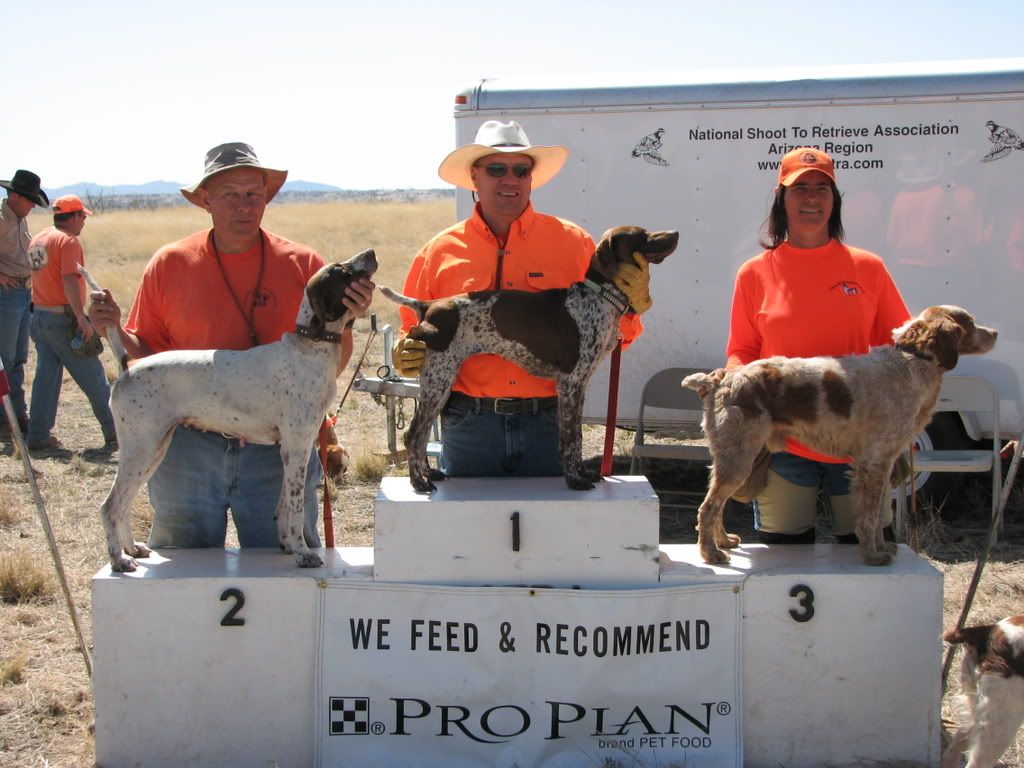 2008 3rd Runner up 2x NSTRA K Nine's Beeline Bullet (far right)
FC Knines Ghost Rider FDJ aka Maverick
Tequila getting some steadying work
Chain gang time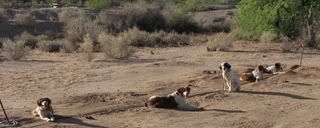 Puppies and birds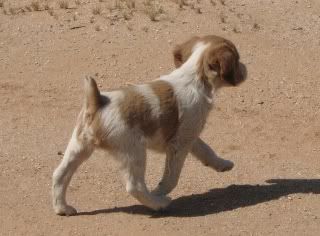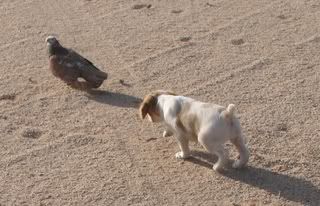 K Nine Coyote Ugly aka Yotie at 5 weeks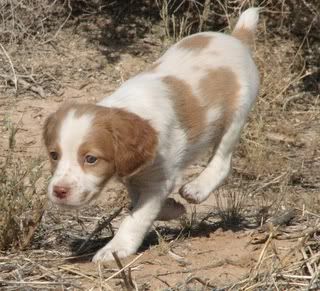 Yotie at almost 2 years old her first NSTRA placement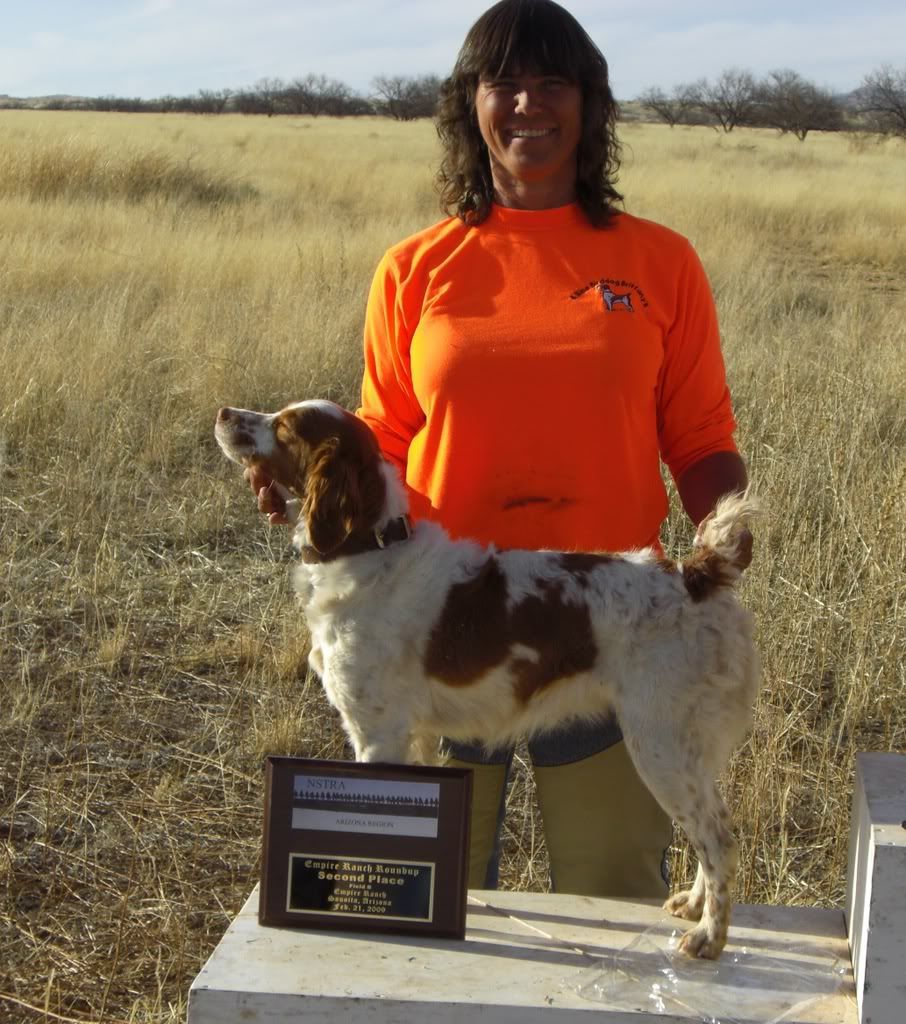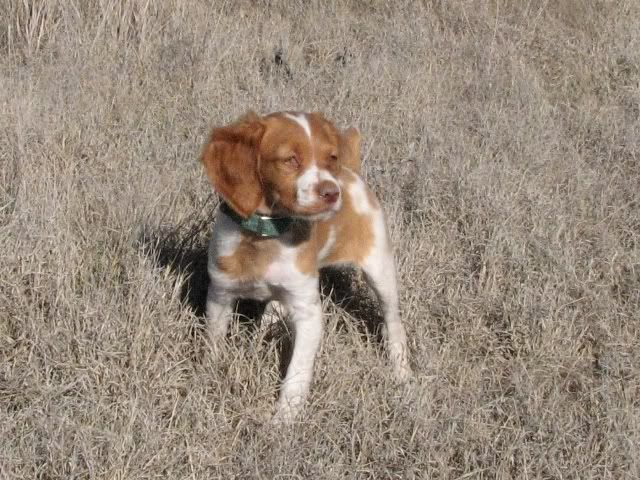 Here is Bullet and Mollie after a good mornings guide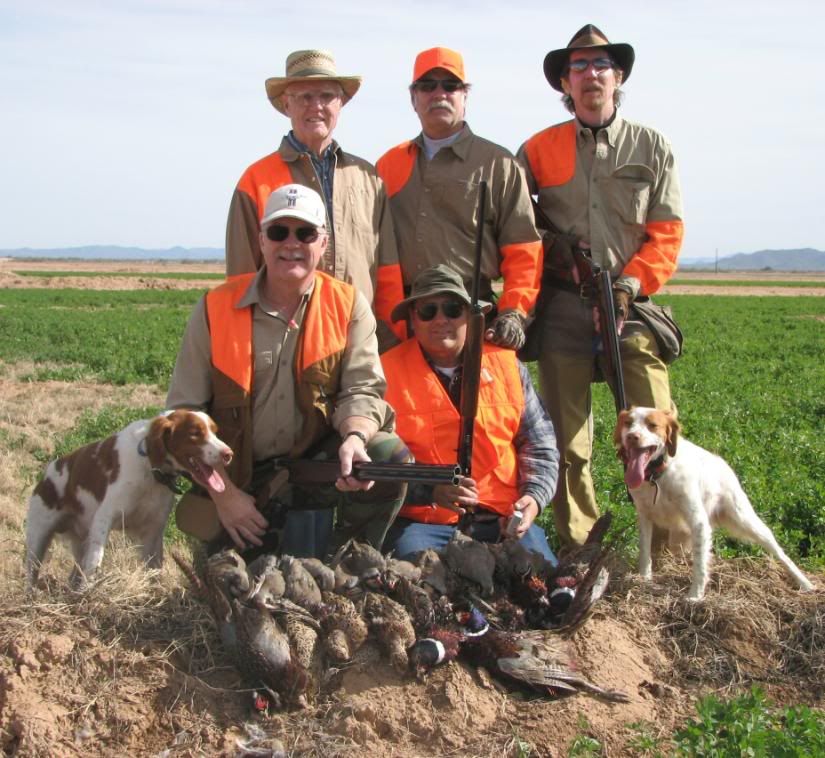 Bullet after a small morning hunt on Mearns
K Nine's Blazin Dreams aka Lil Blazer

K Nine's Microburst aka Squeaker
I would like to Thank everyone for the awesome testimonials
Thank You and God Bless

Submitted by: Amanda Fischer on Jan 08, 2016
Arlette and Steve are so much fun to work with. We purchased a puppy with the intent of making him a companion dog while backpacking. We loved that one so much that we had to buy a second. Due to Arlette and Steve's enthusiasm, we have been training our dogs and entering them in trials. It has been a joy to work with them, and they breed beautiful puppies.
Submitted by: Tres Garcia on Jun 20, 2015
I bought a 2 1/2 year old male Brittany from Arlette in November of 2014. I already have my name on the waiting list for a female. Arlette and Steve are nothing but helpful and are always there to answer any questions regarding the breed, the dog itself and training. I strongly recommend Arlette and her dogs to anyone looking for a great bird dog. Not only are they great on the field but have great temperaments in the house. K Nine's BOHICA (Hic) is excellent with my kids, we couldn't ask for a better hunting companion. We are excited to add another one of K Nine's pups to our family. Thank you to Steve and Arlette.
Tres Garcia
Submitted by: Sara Combs on Feb 05, 2015
Our Dixie is 2 years old, and we couldn't be more pleased with her. She has great stamina, and her temperament is amazing! Arlette has always been eager to help any time we've had a question, and is obviously very eager to make sure her dogs are well cared for! We'll never buy a Brittany from anyone else!
Submitted by: Todd Edwards on Jun 25, 2012
So far so good. Arlette has been great at following up and has shown true concern for our new family member.
Todd Edwards
Submitted by: Ed on Jan 19, 2011
I've only known Arlette for a short time, but that's all you need to realize what a Brittany lover she is, and what a wealth of knowledge she has as a breeder and trainer. I feel that she tries to help anyone with a question or problem they might have about a Britt. Thanks for your help!
Submitted by: Gene Hudspeth on Oct 04, 2010
We've had Xena now for six months, She is a quick learner, third time after introduction to birds and she is steady at point (I sure hope this is a trend). Lot of work to do, but this is a excellent start.
Arlette went over all the shots and other info, had it all neatly organized in a folder with the pedigree, and no question went unanswered.
Very happy with the pup and how the transfer went, it's obvious the breeder cares about the new pups home and that it's a good fit.
Gene Hudspeth
Submitted by: Wes Barr on Jun 23, 2010
Arlette is the most willing, helpful, and capable friend I Know. She is always there and has helped me out in some extremely important situations. I have had the pleasure of handling a dog of hers and fell in love with Yotie. Her dogs have the drive, biddability, and style to compete in all venues. I can with confidence recommend any of my customers that is looking for a Brittany to Arlette.
Submitted by: AZ Pointer Ranch on Jun 21, 2010
I have known Arlette for a long time now and she is an outstanding breeder. Top quality Brittany's are produced from her kennel. I have had a chance to run with several of Arlette's dogs and they are a real joy to watch on birds. If I were ever to own a Brittany I would buy one from Arlette for sure.
Todd
Submitted by: jim garrett on Jun 13, 2010
I have known and trained with Arlette for the past 2 years. She saved my 1 year old German Shorthair with her training. I was so impressed that I will not get a dog anywhere else. My puppy is doing great and is so far ahead of my shorthair at this point it is amazing. I know many of the people that train with us and I am sure they will say the same thing.
Submitted by: Jack and Mary Meiner on Jun 11, 2010
We would like to say that we love our puppy very much. When we picked her up she was already leash trained and already had some travel time. When we picked her up we had a good 7 hour trip back home Sara never cried when we put her into her kennel she laid down and was very content. Sara sleeps through the night and when left at home alone she does not cry when we put her into her kennel. She plays with her toys or sleeps until we get home. She has a very good temperment and has already started to respond to a few commands. We would to thank Arlette of K Nine Birdog Brittany's for giving us such a wonderful puppy.
Mary Meiner
Las Vegas, NV
More Reviews for K Nine Birddog Brittany's
Submit your testimonial