Round Island Creek Kennel - Alabama Boykin Spaniel, German Shorthaired Pointer Breeders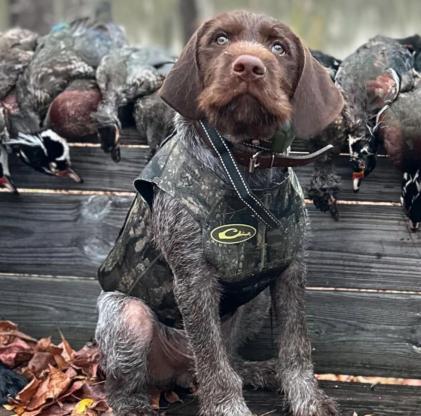 About Round Island Creek Kennel
German Shorthaired Pointers, and Boykin Spaniels are all from proven bloodlines. We are a small family-run Kennel located in Athens, Alabama. And we sincerely thank you for your interest in our dogs. We dedicate ourselves to raising quality dogs for both hunting and family companionship. All of our dogs are either AKC or BSS registered. Our puppies come from excellent bloodlines and are raised with lots of TLC. Our dogs are intelligent, loyal, proven to hunt and are a part of our family. A deposit of $100 is REQUIRED for German Shorthaired Pointer and Boykin Spaniels pups. The deposit is non refundable. The puppies will be ready to leave at 6 weeks old and will have registration papers, micro-chipped AKC Reunite Lifetime paperwork, vaccinated, de-wormed regularly, tails and dew-claws docked. They will be weaned and eating dry Purina puppy chow. GERMAN SHORTHAIR POINTERS: This is a GRAND SLAM cross. Kopper & Sook have pups due around February 13th. Liver roan in color. If you are interested in reserving a GSP puppy please text or call 256-777-4392 for more information.
BOYKIN SPANIELS - REHOMING 2 Adult Females - not house trained but they are extremely smart so should not be hard to do. BOYKIN's due around January 31, February 6 & 13th. Taking deposits now. These will be some awesome pups whether for companionship or for hunting. If you are wanting a female you need to get on my reserve list before female is bred or right after. They get reserved fast and first. Please contact me about specific information and to reserve your puppy. I have great working dogs with pedigrees to show. The pups will be wonderful in the hunting fields and on the water. I have GREAT references from past satisfied buyers. I can furnish working pictures and videos of pups from past buyers.
I have multiple references and also MANY on comments on this site!! Our puppies are handled every day!
ABOUT THE PICKS:
The picks are determined in the order that the names are received with the deposits. When the pups are up and about, I will send pictures of the puppies for the buyers to view. Most buyers pick from the pictures but if you would like to schedule a visit to pick your puppy that can be arranged.
Thank you so much for your interest in our dogs. If I can help in any way with a puppy please call or text me 256-777-4392.
Hunting Dog Breeds Raised
Boykin Spaniel, German Shorthaired Pointer
Additional Services
Stud Services
Breeder Contact Info
Puppies for sale
Our Pedigrees
Submitted by: Alex Sandefur on Jan 03, 2022
We picked Odin our GSP up just before Christmas and have nothing but positive things to say. He was socialized enough to tolerate our crazy 2 year old immediately. Cindy was always quick to share pics and respond, and also did a great job surprising our boys. Thanks!
Submitted by: Abbie Decoursey on Nov 23, 2021
I was on the search for a Boykin spaniel and I am so glad I came across Round Island Creek Kennels. Cindy kept me updated with pictures and videos during the entire process and was very communicative! It's only been a few days but we already love our sweet pup so much!
Submitted by: Jessica Gallahar on Nov 22, 2021
Just got our girl from Cindy on Friday. The whole experience was phenomenal. She was very informative and went above and beyond to ensure we had the BEST experience and was so accommodating. She sent us frequent updates from birth up until pick-up. Will definitely use RICK for our next Boykin!
Submitted by: Austin Williamson on Nov 19, 2021
We brought home our Lady today and she has been the best puppy. Cindy was great with everything from day 1. I highly recommend getting a pup from her!
Submitted by: Laura Stevens on Oct 06, 2021
I recently bought Gus from Cindy. I am a dog trainer and my dad is a dog trainer of 60 years. I have bred dogs and shown in conformation and obedience. I have never seen a puppy with the structure Gus has at 8 weeks. My dad had him pointing a cork on a fishing poll at 8 weeks!!! I would have paid double for this quality of a dog. We can not be more thrilled with our puppy!!!
Submitted by: Haden Holmes on Oct 01, 2021
Great Experience with Cindy. 10 out of 10.
Submitted by: shannon self on Sep 30, 2021
Cindy was and still is great to work with and is very helpful with any questions. She truly loves her dogs and it shows. Athens ( boykin spaniel) has been a great addition to our family. Thanks Cindy for all of your help!!
Submitted by: Preston Lamb on Sep 30, 2021
Cindy was thorough explaining everything to me when I picked up Ellie Mae. She is growing into the Hunting dog I dreamed of when I saw my first GSP. I will recommend Round Island Creek Kennels to anyone looking for a hunting dog.
Submitted by: Maggie Rhoades on Sep 21, 2021
I absolutely adore my new addition from Round Island Creek Kennels! Cynthia was wonderful and helpful through the whole process of getting Sage and I couldn't recommend her or her beautiful dogs more! She sent so many pictures whenever I asked to make sure I was updated and explained all of her paperwork at pickup. 10/10 experience!
Submitted by: Nicole Lacey on Sep 21, 2021
Cindy was amazing to work with! We love our Boykin (Hunter) that we got from her. She was in constant contact and kept us up to date on everything going on once the puppies were born. Lots of text, pictures, and videos.
More Reviews for Round Island Creek Kennel
Submit your testimonial