Brittany Pups from Field Champion Dam - American Brittanys in Gallatin, Tennessee - Pursuit Brittanys
Reserve / Purchase
Ask Breeder A Question About This Ad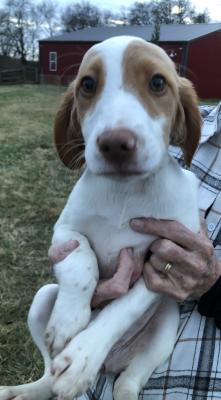 Bandit - orange/white female. Strong willed and very smart. Also showing nice gait and speed. Her name fits - she'll steal your heart if you let her!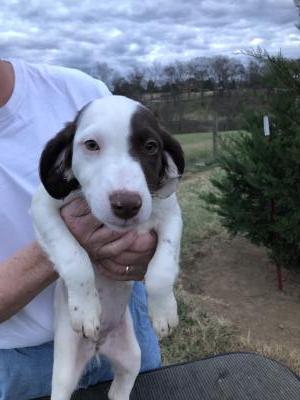 Claudia - white/liver female. Really nice pup to be around. Striking markings that you don't see often. A real show stopper!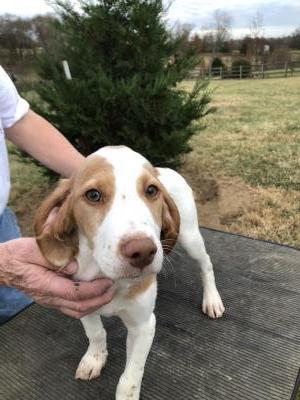 Duffy - white/orange male. Super nice temperament. He make a real nice field dog or home companion. Shows real good gait and ground speed. Loves people!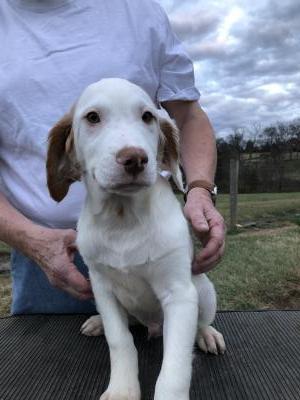 Wally - white/orange male. Wally just has that old dog attitude - been there done that...Super friendly and would make anyone a great companion and maybe a great field dog. Just likes to hang out with people and loves attention.
We have pups that need great homes! Pursuit Brittanys is down to 4 great looking and very people friendly pups located near Gallatin, TN. Each pup is available @ $1,000. Pups can be shipped via Nashville International or picked up in person. Puppy shots are up to date through 12 weeks. We have 2 females (1 white/liver and 1 white/orange), and 2 males (white/orange). Pics shown are up to date. The pedigree of these pups is full of great Brittanys. The sire, Slick, is line-bred on Dual Champion The Whiz Kid, a past producer of many field champions and show champions. The dam, Phoebe, is line-bred on National Field Champion Beans Blaze, one of the greatest producers in the bast 40 years, and also line-bred on FC AFC Chubasco II. Phoebe is an AKC Field Champion and an American Field Champion. She competes as a gun dog/shooting dog. Her wins have proven she is a national caliber bitch for field competition in 1-hour stakes. Great attitude and easy to be around. Her gait is truly a thing of beauty! Phoebe is white and liver and is out of a dam from an earlier litter of ours. The sire, Slick, currently competes as an all-age dog in field trials and runs consistently in 1-hour stakes. Slick is not a field champion, yet, but his breeding is exceptional and it is just a matter of time before champion status is earned! He is a very nice looking white and orange dog. Both dam and sire are OFA EXCELLENT . You can go to www.pursuitbrittanys.com and see pics of both parents. Pups carry a 28-month guarantee against genetic issues from time of purchase and a health certificate if requested. The litter is AKC registered and nominated for the American Brittany Club's Futurity.
Ad location: Gallatin, Tennessee
Ad created: Nov 17, 2023
Pursuit Brittanys Breeder Information
Pedigrees
AF CH/R-U AF CH/FC Pursuit's Li'l Phoenix