Pick of the litter - German Shorthaired Pointers in Clive, Iowa - Hartland Kennels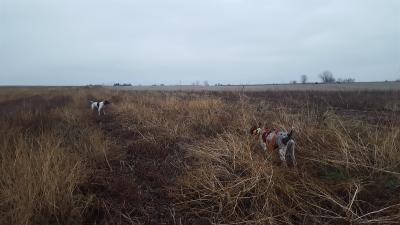 Jeb pointing, Reba honoring point. Jeb held this point for at least 5 minutes. Reba locked up as soon as she saw Jeb.
This pup is the result of a repeat breeding of Jeb and Reba.. I whelped both Jeb and Reba and they have been used as hunting guide dogs, running/ biking partners on the bike trail, house dogs, water retrievers, and awesome family pets. Both Jeb and Reba are very laid back dogs around the house. All of the pups from this littler went to previous dog buyers or friends of previous dog buyers. This pup is very gentle, been exposed to gun shots, quiet (rarely makes a sound), intelligent (took her less than 5 minutes to begin sight pointing and retreiving), she was originally sold as the pick of the litter (I picked her out of the little for a close friend of mine), and for reasons out of his control he accepted a new job and had to move. She's always been with me. One families loss is another's gain. I know she'll be an awesome hunter and family dog as she's been raised around my dogs and kids every day of her life. Feel free to contact me with questions as I'm happy to figure out her future. Background about the pedigree= on her 6 generation pedigree she has noted where 8 dogs have achieved National Champion status (found with in the first 4 generations). On the same 6 generation Pedegree she has noted 52 relatives that have achieved Field Champion or Amateur Field Champion status. There are also a few Hall of Fame dogs found in her Pedegree. What this should tell you is she has a ton of athletic and very intelligent dogs behind her. It will be hard for you to find a better bred puppy.
Ad location: Clive, Iowa
Ad created: Sep 24, 2017
Hartland Kennels Breeder Information