FUTURE FLATCOAT BREEDING PLANS
Wyndham – Wyndhamian Retrievers Since 1953
(Quality Working Retrievers Carefully Bred and Nurtured to Hunt by a Life Long Hunter)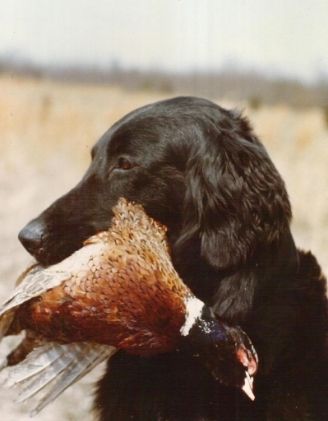 The Wyndham-Wyndhamian Flat Coated Retrievers are a private hobby kennel of hunting dogs established by Ed Atkins as a 10 year old boy in 1953. The goal from the beginning was to produce healthy, easy to train calm flatcoats with focus capable of hard work for 12 or more seasons. The kennel works its dogs in the very game rich Dakota prairie country. The dogs working from blinds for Canada and light geese, sandhill cranes, and many species of duck on the grain fields and prairie potholes and along the Missouri and James rivers. For upland hunting the dogs are worked on pheasants, sharptailed grouse and partridge. The seasons open with early Canada Goose and doves in late August or early September and continue into early January. Teams of this kennels dogs are out almost daily. Current members of the kennel include imported dogs from the finest work proven stock and home bred flatcoats representing up to 17 generations of Wyndham-Wyndhamian selection, ownership, testing and goal oriented breeding with emphasis on GOOD HEALTH, SOUNDNESS, DURABILITY, Longevity, AND EASY TO TRAIN FOCUSED RETRIEVERS.
Breeding is taken very seriously with no effort spared to acquire the very best stock and all litters are born in Mr. Atkins home, where the pups are handled daily and nurtured to bond with humans. Early puppy training in the nest begins with the come command on a whistle associated with the delivery of food during the weaning process. Early retrieving is introduced at about 6 weeks of age. All puppies will retrieve to hand before being ready to leave for new homes at 8 weeks old. Those puppies kept in the home kennel are nurtured to work with humans. When they reach the fastest learning period in their development they are very carefully taught to take a line, angle lines and respond to direction signals prior to three months of age without any force or correction. More important than the skills the pups learn to trust the human and be rewarded for following instructions.
The success of this program is clearly indicated by the facts. The first flatcoat female to place in an all age field trial in North America was imported by this program, the second female to place in an all age FT stake in NA was co-bred by Mr. Atkins. A Licensed FT Derby stake winner was bred here. The first two flatcoat Master Hunter animals were out of a Wyndham "N" litter bitch and another from this "N" litter was mother of the only flatcoat to attain Amateur FT Champion status in USA or qualify for the National Amateur Champion stake. Two flatcoats exported to Europe won "A" Trial Open Field Trial Stakes and a Wyndham bitch produced a Dual Ch (Field Trial and Show). While the field titles and many show champions are nice, the emphasis is to produce quality working gundogs that are also delightful to live with. These flatcoats have brought their owner/breedere many years of wonderful sport and companionship. Gratification is also taken that several very serious sporting hunters have acquired several personal gundogs from the kennel over the decades for their personal shooting needs and that several hunting familes have through two or three generations of sought out and waited for the right pup from here to raise their children with.
Because the current shooting team in the home kennel has only two younger animals under the age of 6 years the plan is to breed three litters over the next 18 months or so. All three will be out of females proven in the field, cleared for soundness through the kennels extensive x-raying and eye exams, and demonstrated ability well above the average for work on land and water as well as good breed type and looks.
SUMMER/FALL LITTER 2013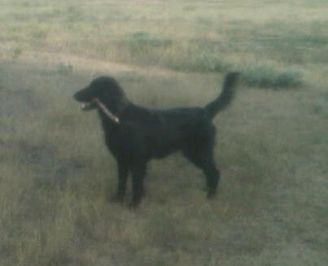 FIELDANCERS HOPE DIAMOND (import from Canada) was sired by Can Ch Wyndhams Long Lake from an outstanding female family closely line bred to Eng, Can. & US Ch Parkburn Brandy Boy (import to Canada from Scotland)and representing direct lineage from Scottish game keeper working lines otherwise lost to the breed. Through her sire "Ebony" represents 17 generations of Wyndham-Wyndhamian ownership and breeding. She will be mated to GRAND CHAMPION WYNDHAMS KUBLA KHAN, a proven sire of high quality working flatcoats. "Yankee" represents 15 generations of ownership and breeding from this working kennel's breeding effort.
FALL/WINTER LITTER 2013/2014
The strong, reliable 6 year old Scottish Import, FARADORN PRETTY PEACHIE, will be bred to a work proven dog with a similarly high quality working ancestry. PEACHIE, has already produced several lovely workers for other owners and the home kennel's most promising youngster.
SUMMER/FALL LITTER 2014
The exceptionally promising young stand out in this kennel, WYNDHAMS QUALITY BROWN, a daughter of the above mentioned Peachie and GRAND CH WYNDHAMS KUBLA KAHN, will be mated to a very solid old line dog bred in England and living in France. This dog's breeder/owner is part of a British family that began an exceptionally influential breeding program in 1902. The purpose of this breeding is to maintain the kennel's long standing policy of maintaining broad genetic backgrounds in our stock while searching for and using the breeds best qualities.
ANYONE WISHING TO INQUIRE ABOUT PUPPIES FROM THESE WYNDHAM-WYNDHAMIAN LITTERS SHOULD PROVIDE THEIR FULL NAMES, WHERE THEY LIVE, A HOME TELEPHONE NUMBER, THE NATURE OF THEIR INTEREST IN ACQUIRING A FLAT COATED RETRIEVER AND EXPLAIN WHAT EXPERIENCE THEY HAVE HAD WITH THIS BREED OR OTHER DOGS.
It is the norm in this breeding program for all puppies to be reserved well before matings occur. Those sportsmen wishing the very best breeding and rearing for a hunting Flat Coated Retriever are advised to contact Ed Atkins by email or phone as soon as possible. Puppies may be reserved by approved and suitable buyers with a 50% none refundable deposit/down payment. When a puppy suitable for the buyer's needs is available, the balance plus cost of veterinary health certificate (required for any puppy leaving this kennel) will be due.
Inquiries are invited but please include the requested information!