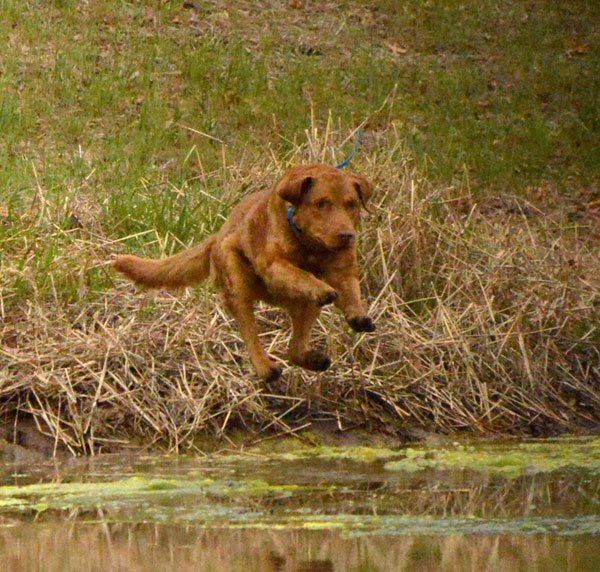 WYNDHAMS INSIDE INFORMATION entering water at an Iowa training session
The Wyndham Chesapeake Bay Retrievers are a private hobby kennel of hunting dogs established by Ed Atkins as a 10 year old boy in 1953. The goal from the beginning was to produce healthy, easy to train calm Chesapeakes with focus capable of hard work for 12 or more seasons. The kennel works its dogs in the very game rich Dakota prairie country. The dogs working from blinds for Canada and light geese, sandhill cranes, and many species of duck on the fields and prairie pothols and along the Missouri and James rivers. For upland hunting the dogs are worked on pheasants, sharptailed grouse and partridge. The seasons open with early Canada Goose in August, Doves & Sharptails in September and continues with the regular waterfowl seasons through October, November and early January. Teams of this kennels dogs are out almost daily.
Breeding is taken very seriously with no effort spared to acquire the very best genetics. The goal is to produce working stock that excels in the shooting field, are representative of the breed and most important excel in good health, soundness, longevity and easy to live with and train temperaments. All litters are born in Mr. Atkins home, where the pups are handled daily and nurtured to bond with humans. Early puppy training in the nest begins with the come command on a whistle associated with the delivery of food during the weaning process (as early as 3 weeks old). Early retrieving is introduced at about 6 weeks of age. All puppies are retrieving eagerly to hand before they are eight weeks old.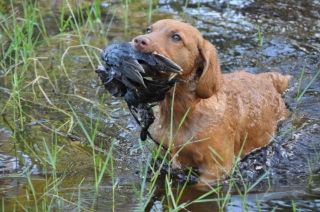 3 1/2 Month Old Female
The success of this program is reflected by the fact that there are currently Chesapeakes working for avid hunters from the Gulf of Alaska to the Highlands of Guatemala, from Chesapeake Bay and the Carolina Coast to Oregon and from Texas to the North Sea Coast of Denmark. These are focused hard workers that also make wonderful family pets and have the stability to train on and serve handicapped individuals as assistance and guide dogs. Every effort when selecting parentage and when rearing the pups in my home is made to develop easy to train animals that require no harsh methods but are instead bidable because of their bond to man. Please refer to the main advertisement "Testimonials" .
HR WYNDHAMS YELLOWSTONE with a days take in Minnesota
Litters are bred to provide classy retrievers for the home shooting team. The selection process in the program is well thought out to produce the most reliable possible results. Proven working ability on real birds, general good health and a comprehensive program of x-raying young as well as veteran members of the team (at ages 2 and 8), annual eye exams, and a clearly defined ideal of what is being bred for all enter into this long term selection process. The Wyndham Chesapeakes average more than 12 years working in the field. They are also fast, quick to respond and above all else have good ability and perseverance to find birds.
Because of the proven record of quality animals produced here over 6 decades all pups are reserved prior to being born. Those sporting folk who appreciate a dog bred to be a family hunting dog should contact Ed Atkins via email or on the telephone as soon as possible. Those who seem a good fit to understand a high performance dog and will provide a proper home for the dog are invited to reserve a pup with a none refundable deposit of 50% of the purchase price. Great care is taken to select those individual pups that will suit the needs of the new owner. After 8 weeks of handling the pups several times per day, teaching them to come as fast as they can to a whistle command and teaching them that retrieving to the human is the most important thing in their life we have learned that we need to use the knowledge learned about each pup to send them to homes where each individual will fit the needs of the new owner.
Inquiries about these very unique dogs are always welcome.