Doehling Wirehairs - Minnesota German Wirehaired Pointer Breeders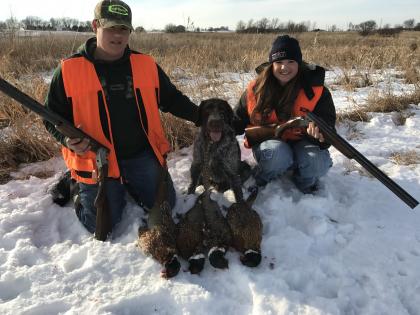 About Doehling Wirehairs
Our dogs have excellent breeding. Both parents are outstanding hunters but are also our family pets. They are good natured and get along with anyone. Contact Dave for more information at 1-507-381-9303
Hunting Dog Breeds Raised
German Wirehaired Pointer
Breeder Contact Info
Testimonials (5)
Submitted by: Colton Reed on Mar 14, 2022
Oh my goodness this is the greatest dog. I researched the breed for a long time before I decided to get one. Dave was very easy to work with. I picked out my pup online and he went out of his way to help me be able to get this puppy we live in Louisiana and he met us partway which is the reason I was able to get her. She is so easy to work with very smart and so much fun. She's not quite four months old and is fetching and knows basic commands already. I'm looking forward to working with her on retrieving ducks and tracking deer. I would definitely get another dog from the Doehlings she is the best!
Submitted by: Sharon Bender on Jan 11, 2020
Dave is great to work with! We picked KoKo(Cocoa) out online. We live in Central Square NY n far from MN. Dave was great in communicating w us thru email n calls. I asked for pics n videos n proof of paper work etc. He was right there to send whatever I asked! Many videos n info! Process of buying her was flawless! We paid thru Western Union n he flew her home to us! We got her at 11 weeks. He allowed us to wait a couple weeks because of Holidays n I did not want her lost! KoKo is so smart and beautiful! Dave is very honest n accommodated us in every way!!! Thank you Dave for being an honest Breeder and selling us our baby girl! We Would not hesitate to buy another puppy from you!
Submitted by: Shelby Ryan on Aug 09, 2018
I cant even explain how happy I am! I have a GWP he will be one on August 29th, he's the best family dog I've ever had and he is so intelligent!! Very easily trained, the process of getting him last year was very simple. They are the kindest people! All papers and the pups were beautiful! Dave even responded to me a few months later with questions I had! I hope they are still breeding when we choose to get another! Thank you! We added another family member the day we brought (Trapper) home!
Submitted by: Steve Ortmann on May 23, 2017
You will never meet a GWP breeder that cares so much for his dogs, customers, and puppies. We drove 8 hours to pick up our puppy that we re-named from Gracie to Gretta. The facility for the dogs was super clean, and it was fun to visit with Dave about dogs and family. We would never hesitate to recommend Doehling Wirehairs to prospective owners. Thank you Dave! Oh, and at 8 weeks Gretta retrieved chuck it balls to my hand. Great instincts. Great family dog.
Submitted by: Parrish Smith on May 18, 2016
Dave was great to work with. We drove 8 hours to pick up our pups after picking them out through videos and pictures. He was very good about updating us about their health and development. The pups are great! We got both a male and a female and they are so well mannered! The didn't cry at all the first night and have been very easy to train to sit stay and come.
Submit your testimonial