Doehling Wirehairs - Minnesota German Wirehaired Pointer Breeders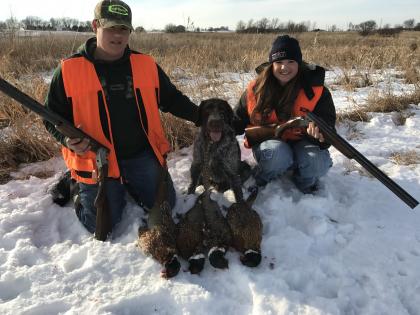 About Doehling Wirehairs
Our dogs have excellent breeding. Both parents are outstanding hunters but are also our family pets. They are good natured and get along with anyone. Contact Dave for more information at 1-507-381-9303
Hunting Dog Breeds Raised
German Wirehaired Pointer
Breeder Contact Info
Testimonials (3)
Submitted by: Shelby Ryan on Aug 09, 2018
I cant even explain how happy I am! I have a GWP he will be one on August 29th, heís the best family dog Iíve ever had and he is so intelligent!! Very easily trained, the process of getting him last year was very simple. They are the kindest people! All papers and the pups were beautiful! Dave even responded to me a few months later with questions I had! I hope they are still breeding when we choose to get another! Thank you! We added another family member the day we brought (Trapper) home!
Submitted by: Steve Ortmann on May 23, 2017
You will never meet a GWP breeder that cares so much for his dogs, customers, and puppies. We drove 8 hours to pick up our puppy that we re-named from Gracie to Gretta. The facility for the dogs was super clean, and it was fun to visit with Dave about dogs and family. We would never hesitate to recommend Doehling Wirehairs to prospective owners. Thank you Dave! Oh, and at 8 weeks Gretta retrieved chuck it balls to my hand. Great instincts. Great family dog.
Submitted by: Parrish Smith on May 18, 2016
Dave was great to work with. We drove 8 hours to pick up our pups after picking them out through videos and pictures. He was very good about updating us about their health and development. The pups are great! We got both a male and a female and they are so well mannered! The didn't cry at all the first night and have been very easy to train to sit stay and come.
Submit your testimonial