Pick of litter: Ash/Light Deadgrass Male Chesapeake pup - Chesapeake Bay Retrievers in Orlean, Virginia - Hope Springs Farm
For Private Sale--Very Good Quality Male Puppy
Suitable for hunt tests/show/hunting/breeding program, this is an outstanding puppy with excellent conformation, very well socialized, imprinted to come to the whistle, retrieving, swimming, not gunshy, very confident and happy little guy. He is ready to go. Pictured below with his dam.
He was the pick puppy from his litter; as it was an all-male litter we have decided to repeat the breeding and hope for females next time. Ideally we hope he'll go to a hunt test/hunting home. This pup is so handsome he appeared on the cover of a local magazine for the May issue (he was 4 weeks in this photo).
Sire is from Shiloh Ridge Retrievers in Michigan, from a long line of working dogs that hunt the Great Lakes and also win in the show ring. Dam is a homebred Hope Springs dog that hunts/run hunt tests. Both parents have OFA Excellent hips/normal elbows; annual clear CERFs and have all genetic testing/will not be affected by PRA, DM or EIC. Puppy is 9 weeks and ready to go; crate trained and sleeps through the night; travels well. Serious inquiries only please.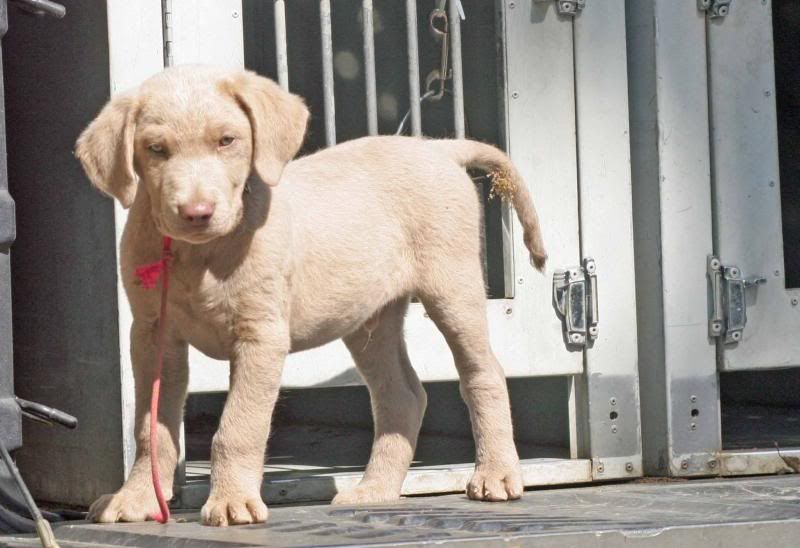 Please visit us on Facebook to see more photos of this fabulous puppy and some of his littermates, sire and dam as well.

Ad location: Orlean, Virginia
Ad created: May 18, 2013
Hope Springs Farm Breeder Information
Pedigrees
Hope Springs Tanganyika JH
SRR Tule's Beau