TREASURE KEEPERS BRITTANYS - Oregon American Brittany Breeders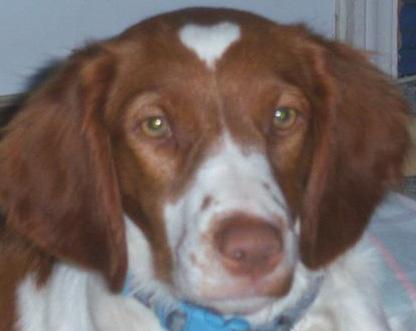 About TREASURE KEEPERS BRITTANYS
Treasure Keepers is proud to announce Dixie is expecting Sept 8-10-17. I used Grand Champion Odin as a sire. He is owned by Ben and Jacqui Campbell, AND it just so happens he is a grandson of my senior dog, Katie. He is a FINE sire, with OFA Good. Dixie has a wonderful calm personality and is overflowing with love. Odin is a wonderful boy who loves to cuddle and hunt. Show and competition homes have priority on the list to adopt. Most pups go home with a limited registration. If you want to have a full registration, I will co-own the puppy until the age of two and OFA x-rays and CERF eye exams are done and are acceptable OR an AKC title is achieved. I am located in Central Point, Oregon and encourage and welcome you to visit and meet the family. Located off exit 33, off I-5. then 3 miles. Adult dogs have good hips and normal elbows (OFA). Dixie had her eyes examined for the CERF eye testing and there are NO abnormalities. All clear. Dixie's dam is one of my former pups, GCH Tk's Good Golly Miss Molly CD CDX UD SH RA, located in San Dimas, Calif. and sire is FC Firestorm's Mega Chips of Smoke. Molly's dam is of my kennel, the previous generation, her dam, CH TK'S Dancing Across the Sky and sire is CH Millette's Major League of Tks CGC. I present Dixie, and Bella as potential future moms. Please also check the testimonials on my home page here at the very bottom. Our primary goal is to to better the breed and provide a better puppy than the last one, and always to have a happy, healthy puppy. We hope to give you the puppy experience with the same care we'd want for ourselves.  I have a passion for the perfection of a puppy and do the very best for all of them. I can work with you to help with the training of the pup. All of our puppies are microchipped prior to adoption. Parents are OFA, CERF, DNA tested, and are of the finest quality. Some pups can be show pups. All pups can be great companions and family dogs. You are encouraged to have a fenced  yard and own your home. When available, our puppies receive beginning training at four to five weeks with a live bird in the yard, when possible and with a bird wing before their eyes open and thruout their puppyhood have friends and children that come to visit and play with the younger children supervised,to give them as much socialization possible. Pups stay with us until 7-8 weeks old. At that time, the litter is evaluated(when possible). We offer continued support throughout the lifetime of the dog and advice in training. Each pup is vaccinated according to age, wormed, microchipped and vet checked.  they have an outstanding pedigree which includes Grand Champion ODIN. HE COMPETED AT WESTMINISTER AND IS A GRAND PUP OF MINE. All pups are guaranteed healthy and happy for adoption. Our dogs have been tested and cleared of hip dysplasia and eye diseases. Never get a spaniel or hunting dog from anyone, without checking this information. I would be happy to talk with your about the canine good citizen testing. Dixie and Jewel have both passed these tests and qualify as therapy dogs with an advanced, predictable rating.  I recommend if you have children, to enter 4-H with the kids. It teaches leadership, dog training, socialization and more, for a very small cost. (about $10 for a year of training and guideance for the kids) You would pay in excess of $100 just for basic obedience for the puppy at Petco or PetSmart. Also, Join your local all breed or Brittany dog club for more offers of training, advice, and socializing for your pup. (of course, I am always available on the phone, internet, or here at my home for guideance) and JOIN THE AMERICAN BRITTANY CLUB (that is $30 but if you compete in dog shows, it's worth it)  Home of: THE FINEST OF THE BREED. PLEASE READ THE TESTIMONIALS AT THE BOTTOM. and you can leave your own after you experience a visit with our dogs and puppies. Thank you. Champion MILLETTE'S MAJOR LEAGUE OF TKS, ("Major")is a sweet boy, and great daddy. Alert, happy, and such a good boy. OFA GOOD and CERF good. DNA profiled. He has endless energy. Major has died as of Sept. 2014. He was 9. He was very much loved and will be missed. CHAMPION TK'S DANCING ACROSS THE SKY  ("Star")She had her first litter in August 2008, of 13 pups. All healthy. She is the mom of GCh TK'S GOOD GOLLY MISS MOLLY CD CDX UD SH RN and Tk's Diamond In The Rogue CGCA (Jewel) and GCH DANCING ON THE ROGUE (ChaCha). STAR and ChaCHa are now both owned by LAZY STAR KENNEL  KATIE LIBERTYS CHIP'NDALE CD JH CGC. The original of Treasure Keepers. "Katie" Now, this is one heck of a hunter. She is quick, awesome to watch, and never leaves a bird loose in the field. She will mark the spot, and go check when we go hunting again to see if it's still there. Has had some training in Tracking and Agility. The all around dog! These skills make her a better hunter. OFA GOOD, CERF good, DNA Profiled. Katie was the grandmother and great great grandmother of many champions, grand champions and companions. We lost Katie at 16 years old. TK'S DIAMOND IN THE ROGUE CGCA "Jewel" This little girl is out of DC ALMADEN'S RIVER OF SHADOWS AND TK'S DANCING ACROSS THE SKY (Star). She got her CGC title at just 6 months old. Then she got her TDI from AKC (therapy dog international) She is fantastically calm for a brittany and is a great mom. she has already and will continue to make many people happy as she does me! She can even go to church with me. (they approve). Jewel is recognized by disability services in the state of Oregon as a service dog. She also has the CGC-A (canine good citizen advanced) CH TK'S GOOD GOLLY WHISTLIN' DIXIE CGCA is third generation of my Katie. She smiles constantly, and has a perfect heart on her forehead. (REALLY!) She won third at the futurity in January 2014. Her life as a field and show dog is only beginning. On July 17, 2015 Dixie won Winners Bitch at the Brittany Specialty and became a Champion that day. From the moment I saw my first Brittany puppy, I was hooked and am totally in love with the breed. All of my pups are guaranteed against genetic or hereditary disease for 3 years.  I can provide many references Anne Henry  TREASURE KEEPERS BRITTANYS I am currently editing this page, so apologize for duplicate info. If you want to know more about the breed or find out if it would work with your family and needs I am happy to help.
Hunting Dog Breeds Raised
American Brittany
Additional Services
Boarding
Breeder Contact Info
Puppies for sale
Our Pedigrees
Testimonials (35) You are viewing the 10 most recent - Click here for more reviews
Submitted by: Katie McGowan on Oct 30, 2015
This is a LONG overdue testimonial to this page. We got our boy Rogue (then known as Kaiser) back in April 2012. We already have 1 Brit who is almost 6, and they adore each other. Best friends for life. There is no one Rogue loves more in this world than his older brother Raley. He also adores his human grandparents and uncles. I couldn't imagine life without him and can't thank Ann enough for bringing him in to the world for us. I still remember the day we went to pick him out. What a wonderful experience. From the bottom of our hearts, thank you for everything. I love this boy more than I ever thought imaginable. He is quick to please, learns fast, is such a great runner and has a better nose than any other Brit I've known. He's also gorgeous. We call him our "pretty boy". He doesn't hunt but he loves and loves deeply and genuinely. He also enjoys being up in the hills with our family while the other dogs do their thing.
Submitted by: Andrea Swenson on May 28, 2015
Anne is a wonderful breeder. She truly cares about the Brittany breed and has set the standard. We traveled from Northern California and Anne was actually recommended by another breeder. We absolutely love our little girl! She is beautiful, healthy and smart. We hope to get another pup soon!
Submitted by: Kimberly Haynie on Dec 24, 2013
I decided I wanted a Brittney but really knew very little about how to select a puppy. I called Anne to see if she had any pups for sale. She did not have any at the time, and had never met me, but was still willing to share her knowledge and experience with me in a kind and patient manner. She help me focus in on what I really wanted in a Brittney and which competitive activities I would most likely enjoy. I was suprised at how easily and quickly she was able to help me gain clarity. Anne also gave me good advice on what kinds of question to ask a breeder of any pups I might be interested in, and she was willing to try help me find a pup elsewhere if I did not want to wait for her to breed her dam. Anne obviously cares very much about the Brittney breed and the people who are interested in giving Brittneys a loving home.
Submitted by: Kari Somerton on Jul 13, 2013
I have one of the current litter of Anne's pups and we are absolutely in love with her. She is 10 weeks old now and is everything we wanted. She is smart, sweet, cuddly, healthy and playful. She picks up new tricks so quickly and has already learned to retrieve as well. She is friendly to everyone and did not even flinch at the fireworks! As for Anne she is sincere, honest and easy to work with. She was generous with her time, and answered all my questions with her vast knowledge of Brittanys. I am so glad we came across her on this site and would recommend Anne as a breeder without reservation. Thank you, Anne, for the best puppy we could imagine!!
Submitted by: K Parks on May 09, 2013
I have known Anne for 2 years and have been to her property in Central Point many times. I acquired a rescue Britanny and needed a place to board him while on vacation, so I gave her a call. She has been a valuable resource for me and my family... training tips, health advice, boarding, and she has been gracious to allow my 2 youngest children to help socialize her most recent litter of puppies (Jewel/Major April 2013). Those puppies are gorgeous! Also I've known both Jewel and Major and would not hesitate to raise one of their puppies if I had the opportunity (but my wife says one Brittany is all for now). We will continue to board Jimmer with Anne when we are out of town; and my kids will always look forward to playing with her puppies each spring.
Submitted by: Angie Weaver on Jan 09, 2013
There just aren't words to describe how wonderful our experience has been! Carl and Dena Miller are just fantastic. We recieved the second pick of the male pups from Chip and Molly's litter. We live in No. California, but Carl kept us updated with videos and pictures on facebook. To top it off they brought our pup to our home on their way up to Oregon so we didn't have to make an extra trip down south.
We received Aragorn Sep. 18, 2012. He is eager to please, highly intelligent and super easy to train. He is the perfect companion and family dog.
We do a lot of hiking and camping and we wanted a dog that enjoyed being out in nature as much as we do. Aragorn is, in my opinion, the perfect dog.
Submitted by: Diana Miller on Oct 22, 2012
We met Anne 12 years ago when we purchased Molly 1 from her so we called her to purchase another Brittany this year. This past April Anne gave me the most incredible opportunity letting me attend the birth of Jewel's 1st litter of puppies. It was a long day and night but I wouldn't have missed it for anything. I had never seen puppies born before. Anne has a great deal of experience and made the whole event exciting and educational. I went to see the puppies twice a week for 8 weeks and watched how Anne started their training very early. We purchased a female from this litter, Little Molly III,she is our pride and joy.
The time and effort Anne puts into making these pups the best they can be shows true dedication. I believe the dogs have natural ability needed for hunting but Anne gives them a head start on confidence and exposure. All of the pups are her hands on projects which makes for intelligent loving dogs.
Thank you Anne for raising great pups and helping owners to raise great dogs. Diana Miller
Submitted by: Lisa on Sep 26, 2012
We brought our sweet girl home a few days ago. She is from the July 2012 litter from Carl & Dena Miller's Molly. Not only is she beautiful, she's got the best disposition and is so eager to please. She happily goes into her crate for naps and night time and has learned basic stuff in an amazing amount of time! We simply love her and she is a great addition to our family. Looking forward to all of our adventures and memorie! Thanks Carl & Dena for the love & work on this litter, an amazing pup! All of the love and work you poured into her shows! She has figured out the flow of the family and flows with us! Carly's quite content and happy! Super ball of busy fun! Thanks again!
Submitted by: Rob Gunderson on Apr 19, 2012
I purchased a female puppie from the June 2011 litter. I have owned a Brittany and two Lab's previously. Our new addition has been great. I couldn't have asked for a better companion. She loves the outdoors, has great instinct, and loves to please. She is a beautiful dog and I get compliments everywhere I go. I would highly recommend Anne Henry and Treasure Keepers Brittany.
Submitted by: Ed and Adele Basham on Mar 24, 2012
All of Anne's pups were spoken for but she helped us find one by referring us to several other breeders in our area who might have pups available. It's a testament to her commitment to the betterment and promotion of the breed. Thank you Anne for helping us find Enzo the wonder pup!
More Reviews for TREASURE KEEPERS BRITTANYS
Submit your testimonial