CIRCLE R KENNEL - Michigan German Shorthaired Pointer, Labrador Retriever Breeders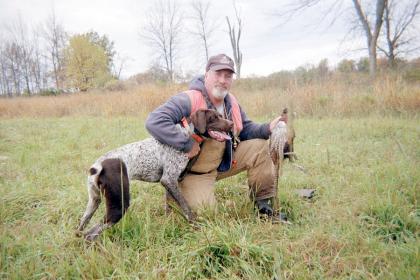 About CIRCLE R KENNEL
Our licensed kennel specializes in training pointing breeds but also work flushers for upland hunting. Dogs should be at least 10 months old. A two week evaluation will be done on your dog. If we feel that your dog is not progressing satisfactorily, the dog and remaining training fee will be returned to the owner. An up to date health certificate will be required. All dogs should receive vaccines at least 30 days prior to scheduled drop off date.
The owner will provide dog food. This is done to make sure dog has food that his system is accustomed to.
During a one month training period, your dog will be fully conditioned to a beeper collar, hand and whistle signal trained, worked with our finished dogs, and have birds shot down to them.
We train on over 300 acres of personal property and 150 acres of preserve property. All of this acreage is designated as state licensed hunting preserve property, so dogs can be trained and shot over year round. In addition, we have access to several ponds so your dogs can be exercised and worked in the water.
Need your dog conditioned? Our property has a one mile trail that your dog can be safely run/roaded on with our ATV's.
Circle R Kennel has 3-4 well bred, hard hunting G.S.P. males for breeding, and raise a couple of litters a year from our top females. Started and finished dogs also avaliable.
Limited heated boarding space (with or without field work), also avaliable. 4000 square foot fenced exercise area.
References avaliable upon request.
Hunting Dog Breeds Raised
German Shorthaired Pointer, Labrador Retriever
Additional Services
Hunting, Training, Stud Services, Boarding
Breeder Contact Info
Puppies for sale
Testimonials (116) You are viewing the 10 most recent - Click here for more reviews
Submitted by: Eric and Sherri on Aug 14, 2017
We picked up our beautiful Fox Red Lab puppy last week. We did a lot of research to find the right dog for us and Brad could not have been more helpful in answering our questions. He happily showed us his operation and we met "Nugget's" Mom and Dad. Brad loves what he does and it shows. We highly recommend Circle R Kennel to anyone looking for a Lab or GSH puppy!
Submitted by: Kiersten Hood on Aug 11, 2017
Submitted by: Jackie on Aug 04, 2017
Brad is the best! We picked up our male fox red lab a couple weeks ago, and are so in love with him! Brad was so informational about the breed, helpful about puppies, and thoughtful to us when picking out our puppy. We would recommend Brad to anyone looking for their new best friend pup!!!
Submitted by: Linda Goodrich on Jul 29, 2017
We got are first GS from Brad years ago. We had to put him down and I was not ready for a new one yet. Than last weekend my friend was here and talking about what a great beautiful dog he was! So I checked on his web site( which I would do a few time a year) and he had ones that looked just like Bentley all liver. So I called and we went there today and came home with another great dog but not the one I originally thought I wanted. The one I got was the granddaughter of Bentleys brother and had the same white mark on her nose so I had to get her!! If looking for a dog Brad is great! And my husband hardly had to work with Bentley at all he was a great hunter!
Submitted by: Jordan on Jun 17, 2017
Had a great experience meeting Brad and picking up the red lab today. You can tell he is passionate about his work and cares for the dogs. Was worth the trip from GR area. Will be recommending Brad to others that are interested in labs. Thanks again.
Submitted by: Jennifer on Jun 02, 2017
We picked up our Labrador puppy on May 28,2017 - Mabel is a beautiful puppy, we just adore her! I would recommend Brad to anyone looking for a new puppy!
Submitted by: Kathy and Steve brunner on Oct 30, 2016
We couldn't be happier with the great training our Black Lab MOXIE received at Circle R Kennel! Brad did a fantastic job teaching her to point and retrieve.We took Moxie to a Pheasant farm and we were blown away on how she hunted. She worked her tail off. She pointed all but 2 and retrieved all birds and was very careful not to chew them up. The next hunt was on wild birds. Again she did great. We shot 3 woodcocks and she retrieved all three.Thank you Brad for the outstanding job you did training our Moxie!! We highly recommend Circle R Kennel for your dog training needs!
Submitted by: Kevin and Michele on Sep 29, 2016
We picked up "Gracie" on Labor Day 2016 and what a beautiful girl she is. She adapted well to our home (we have 3 adult GSP males) and she jumped right into the mix without reservation. She is very loving and a cuddlier which is what I wanted and when Kevin took her out in the field last week with the other dogs he was impressed with her hunting instincts at 13 weeks. She is taking to basic puppy obedience training well...very smart and intuitive puppy. 9/28/16
Submitted by: Robert Powell on Sep 21, 2016
When I was looking for My Puppy I found Brad on this website luckily for me he had a male and female left when I spoke with him. When I got to his Kennels I was extremely impressed with how well maintained he kept everything.
I met the parents of my Pup and was also impressed both beautiful dogs. I ended up with both the female and male. My Friend wanted one if I liked what I saw. I kept the Female Keeva. I can honestly say she is the best dog I have ever had. well mannered, loves everyone, very alert nothing happens that she is not aware of. She is not a timid dog either.
I will recommend Brad to anyone He was very pleasant to deal with straight up kinda guy and clearly knows his dogs.
The Male puppy Otis is also a great dog that is being trained for duck hunting and the owner is quite happy.
Submitted by: Bent Wisenbachb on Aug 21, 2016
We picked our GSP pup up a week ago and the family could not be happier. Brad has alot of new updates at his kennel and you can tell that he is very passionate about his dogs I would highly recommend Brad at Circle R to anyone.
More Reviews for CIRCLE R KENNEL
Submit your testimonial