Hun Hill Kennel - Idaho Wirehaired Pointing Griffon Breeders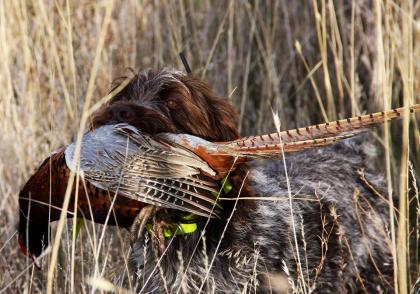 About Hun Hill Kennel
We are a breeder of HUNTING Wirehaired Pointing Griffons. We also offer both boarding and training. Our kennel is located in the heart of Idaho's famed chukar country. We hunt over sixty days per year. Our private training grounds is teaming with wild pheasant, chukar, huns and quail. When you are ready for a "Gentleman's" pointing dog consider the Wirehaired Pointing Griffon. No screaming, e-collars or whistles. Complete silent and in controll hunting. We have a repeat breeding planned for the fall of 2016. Both parents (on site) are excellent hunters and have NAVHDA prize ones. The Sire is a NAVHDA Versatile Champion as well as an AKC confirmation champion. All parents have excellent hips. Litters will be registered both AKC and NAVHDA. We are currently accepting deposits. These pups will hunt! Call for information. We are pleased to announce that VC CH Griffe D'Automne Mr Brown is now standing at stud to approved females at Hun Hill Kennel. Jacque is a NAVHDA Versatile Champion and an AKC bench champion.
Hunting Dog Breeds Raised
Wirehaired Pointing Griffon
Additional Services
Hunting, Training, Stud Services, Boarding
Breeder Contact Info
Testimonials (2)
Submitted by: dian Josephson on Sep 08, 2014
I am excited to own my second Hun Hill Wirehaired Pointing Griffon. I feel fortunate to have Frank and Lisa as a resource and appreciate their continued involvement as they watch the training and family relationships develop with their pups. Extensive time is spent by Frank and Lisa evaluating their pups to insure that each new owner has the qualities they desire. I asked for bold and driven pups and I have not been disappointed with my two Hun Hill Griffs! My "Lucky 13" pup shows great prey drive and is bold and confident. It will be fun to watch her develop to be a driven hunting companion. I know that Frank and Lisa will be following the progress of both of my Hun Hill pups and be as excited as I am with their hunting and training success.
Dian Josephson
Submitted by: Collin Ponzo on Sep 02, 2014
Frank is the top notch in breeders. I spoke with over a dozen before I found Frank in my backyard. Buying a dog from him was one of my best decisions I've ever made. He not just a NAVHDA registered breeder, he actually tests- this is something that I didn't run into often enough. He won't breed the Sire unless she tests at least 108 or better (112 is top) He takes his breeding so seriously it's comforting.
He's there to answer any and all questions you might have and address any concerns that might arise. I met with Frank in July and could see this was the breeder for me, he's got a professional kennel that's got AC, dog runs and even an easy chair to lounge and talk to the dogs. Hun Hill Kennels is a kennel I'd recommend to anyone.
Submit your testimonial