Larson's Field Labs - Arizona Labrador Retriever Breeders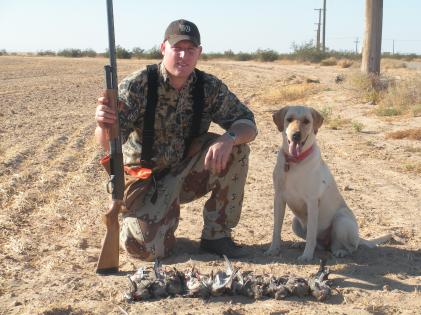 About Larson's Field Labs
Hello! my name is John Larson.  I am not a dog breeder by profession and i don't even do it as a hobby really, what i'm really into is hunting over great dogs and working with my animals.  I first started working with dogs on a professional level as a law enforcement detection K9 handler where i worked extensively with high-drive dogs, mostly German Shepherds, Belgian Malinois and Labs.  I have been a bird hunter all my life but I bought my first hunting dog, "Nelli", 8 years ago from a breeder in Yuma, Arizona, he raised labs that were bred to hunt hard in the Yuma desert, dogs that were full of drive and intelligence.  I have hunted southern Arizona quail and dove with Nelli every year since and she never gives up, she will hunt all day even on the hottest days, she hunts close but she's fast and efficient.  Four years ago I bought another lab, this time a male "Zeus", from Duckdawg kennels located in North Platte, Nebraska.  Zeus has an amazing pedigree, over 40 titles in a 5 generation pedigree, most of which are field champions or national field champions (2xNAFC 2xCNAFC FC CFC Ebonstar Lean Mac, NFC abe's ebony and ivory).  Zeus is full of drive in the field but the perfect indoor family dog when training is over.  Both Zeus and Nelli have great noses but Zeus has really amazed me with his ability, he will find downed birds long after the scent is cold and other dogs have come up empty-handed. Nelli was bred for the last time over a year ago (making a total of four litters in her life) as pups take a lot out of a dog and i want her to have as many more good hunting years as possible! I currently have 2 black female pups available, they are 5 weeks old out of Zeus and my 3 year old chocolate female Mia!  The pups from these two dogs are looking amazing, I have current pics available for each of them if you would like.  Here's what I can tell you about what you can expect, if you are looking for an athletic and intelligent hunting partner with drive to spare, these dogs are for you, they look gorgeous with long legs and lean bodies but aren't going to get over 80lbs most likely.  Feel free to contact me for info on these pups or next year's planned litter of chocolate pups. (texting is fine too) Also, I am offering my male "zeus" as standing at stud to acceptable females, just contact me and we can go over pedigrees and other pertinent aspects of the breeding process.               
Hunting Dog Breeds Raised
Labrador Retriever
Additional Services
Stud Services
Breeder Contact Info
Testimonials (6)
Submitted by: Danial Hannover on Dec 19, 2016
I would like to take a moment to share how amazing our dog, Gus, has been for us. We have had Gus for a little over two years now, and has been a tremendous house dog. He is always friendly to everyone he meets, almost too friendly (if that was possible). But the area that he has really excelled is in the hunting field. This will be Gus' second full hunting season with me. Last year was very fun to see him slowly figure the whole pheasant hunting thing out, when we first went out to North Dakota that year, he kind of had to watch other dogs and emulate what they did. Gus continued to become more independent over the rest of the season with two trips to South Dakota and three to Iowa. Turn the page to this years pheasant hunting season, Gus and I have taken two trips to South Dakota and one to Iowa so far with some very experienced pheasant hunters. From day one this season, we have hunted with 20+ other bird dogs (each very talented in their own right), but Gus has out hunted each and every one of them. I cannot tell you how many times this year, I have been told that he is one of the best dogs they have ever hunted with, coming from hunters with 50+ years of experience; that is quite the compliment. Most recently, we were invited to hunt at a game farm in central Minnesota and Gus impressed the guides at the game farm so much by out hunting their own dogs, that we were offered a job at the game farm. Although I may have trained Gus and have gotten him as much exposure to pheasant hunting as possible, I believe his natural instinct and attitude is true testament to what outstanding dogs John and Larson Field Labs produce. Thank you again for producing such an awesome dog, he has been a great addition to our family and an even better addition in the fields.
Submitted by: Tanner on Jan 23, 2014
We bought blue collar boy (Wesley). Through my years having labs, this puppy is the smartest by far. He learned how to sit and shake by 10 weeks! John was incredible to deal with, he stayed in touch even after we bought our pup. Best experience by far! Thank you so much for blessing us with our new pup wesley, he's getting spoiled day by day.
Tanner&Taryn
Submitted by: Jason B. Hagen on Jan 19, 2014
We could not be happier with our experience with John Larson. He was very thoughtful and kept us informed all the way through the process. He still contacts us to see how she is doing. Darla is doing very well and is a very well adjusted dog. She is extremely smart and very trainable. She is just over three months old and has become an important part of our family.
Submitted by: MichelleJessee on Jan 12, 2014
We couldn't be happier with our lab! She is so smart and the perfect family dog. Rearing a puppy in an environment like John's has SUCH a tremendous positive impact on the dog's long term disposition and temperment. We have had other dogs from other breeders as well as rescue dogs, and you just can't imagine the difference it makes to have a pup from John's family! Any questions we have had have been answered promptly and they really do care about their pups and the families they go to.
Submitted by: Marvin Larson on Jan 12, 2014
The male lab we received from Larson's Labs is such an awesome dog! He is three months old and has already learned a handful of basic commands like: sit, stay, lay down, etc. Every training session results in a positive experience. I feel very confident that the intelligence of our lab is the result of exceptional breeding.
Submitted by: Mike on Jan 12, 2014
Beautiful parents and awesome litter! Larson's Labs was a pleasure to deal with from the beginning. Even now, months later, he stays in contact to see how the pups are doing. The pups were obviously well cared for with a great demeanor and temperament when we brought our pup home. This is a testament to the care they received from birth. Thank you Larson's Labs for the newest addition to our family.
Submit your testimonial