Round Island Creek Kennel - Alabama American Brittany, Boykin Spaniel, German Shorthaired Pointer Breeders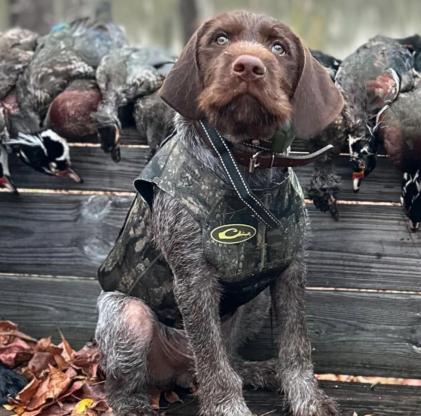 About Round Island Creek Kennel
American Brittanys, German Shorthaired Pointers, and Boykin Spaniels are all from proven bloodlines. We are a small family-run Kennel located in Athens, Alabama. And we sincerely thank you for your interest in our dogs. We dedicate ourselves to raising quality dogs for both hunting and family companionship. All of our dogs are either AKC or BSS registered. Our puppies come from excellent bloodlines and are raised with lots of TLC. Our dogs are intelligent, loyal, proven to hunt and are a part of our family. A deposit of $100 is REQUIRED for Brittany pups and German Shorthair Pointer pups and $200 deposit for Boykin Spaniels. The puppies will be ready to leave at 6 weeks old and will have registration papers, micro-chipped, vaccinated, de-wormed regularly, tails and dew-claws docked. They will be weaned and eating Dry Purina Puppy Chow. All of the puppies come with Full Unlimited Registration.
 Please send email directly to:  cynthia.green92@gmail.com
  German Shorthair Pointers - Cocoa Marley's pups were born October 10, 2018. She has 9 beautiful pups. She has 2 liver roan females, 2 solid liver females, 3 liver roan males and 2 solid liver males available. They will be six weeks old September 21st. The price is $800. If you are interested in reserving a gsp puppy please text, call or email me.       
 Boykin Spaniels - ( My little brown dogs) I have a litter of Boykins due around October 5th. Great working dog pedigrees. They should be wonderful in the hunting fields and on the water. Contact me for details.  The cost of the Boykin Spaniel puppies is $900.  Please text or email me to reserve a puppy.  I have GREAT references from past satisfied buyers.  
  Brittany Spaniel - I have 3 males available from Molly and Major. They were born March 24, 2018. The pups are colored orange-white...and the roan is coming!! These pups will be awesome as pets or in the field...with 75 First Place NSTRA Placements in Major's 3 generation pedigree!! The cost of the Brittany Spaniel puppies is $600. Email or Text me about the details. Cynthia.green92@gmail.com  or 256-777-4392 Take a look at the parent's pedigrees.  Should be GREAT hunters, competition dogs as well as family companions. I have multiple references and also some comments on this site!! Our puppies are handled every day!
ABOUT THE PICKS:
 The picks are determined in the order that the names are received with the deposits. When the pups are up and about, I will send pictures of the puppies for the buyers to view. Most buyers pick from the pictures but if you would like to schedule a visit to pick your puppy that can be arranged.
Thank you so much for your interest in our dogs. If I can help in any way with a puppy please email me at  Cynthia.Green92@gmail.com   
Hunting Dog Breeds Raised
American Brittany, Boykin Spaniel, German Shorthaired Pointer
Additional Services
Stud Services
Breeder Contact Info
Puppies for sale
Our Pedigrees
Testimonials (136) You are viewing the 10 most recent - Click here for more reviews
Submitted by: Brandon on Aug 12, 2018
We got a Boykin Spaniel from Cindy in June. She's been the best dog for us. Cindy was great through the whole process to get us our female Boykin. Our dog has the best temperament and has been easy to train. People obsess over how beautiful she is. I would highly recommend getting a dog from here.
Submitted by: William Holmes on Jul 29, 2018
Extremely pleased with the entire experience from start to finish. Cindy is very professional and keeps in contact throughout the process. I would highly recommend Round Island Creek Kennel. If I ever want another Boykin Spaniel I will be returning to Cindy without a doubt.
Submitted by: Matthew Martin on Jul 17, 2018
Cindy was excellent through the whole process! From pre birth to the day I took her home she was always there with information and updates to better me on my puppy. When I got my puppy she was very very healthy and the vet was overly excited at how healthy she looked! Cindy would do anything in the world for her customers and will always be there to help. Highly recommend Round Island Creek!
Submitted by: Blaine and Hannah Stokes on Jul 17, 2018
We got our Boykin Spaniel from Ms. Cindy at Round Island Creek Kennels in June 2018. The entire process was beyond our expectations! Ms. Cindy had mutliple phone calls with us to tell us everything about her pups. We then traveled to meet the puppies and were able to see how well the dogs are treated, as well as meet the mom of our little guy. After that, she kept us updated with photos until it was time to bring our Boykin home. He came with a folder full of information, a microchip, and directions on registration with the BSS. He is the most handsome Boykin and has the best temperament. We could not be happier with our experience at Round Island Creek Kennel. On Instagram, you will find our pup's page by searching "Rookie_the_boykin". Please feel free to message us directly with any questions you may have about the process or Round Island...We highly recommend Ms. Cindy and her Boykin Spaniels!!
Submitted by: Kheyndra on Jul 14, 2018
We bought a Boykin puppy from Cindy last year and he is the most beautiful and smart spaniel I have ever seen. We couldn't have asked for a better breeder. This place is clean and knows what they are doing!! My husband and I were out of town when the puppies had to be picked up, so her and her family kept him for us in their own home for an extra two weeks. Couldn't have asked for a better experience! We will definitely be back when we decide to get our Boykin a sibling!
Submitted by: Jon weatherall on Jul 02, 2018
I had the great pleasure of buying a dog from Cindy in may. From the time my deposit was placed until pick us Cindy was easy to work with and was great to answer all of our questions along the way! She kept us up to date with text and pictures. To say it was smooth is an understatement. We traveled 9 hours to buy from her and would do it again tomorrow. Our Boykin was a great addition to our family! He is the easiest and smartest puppy we have ever had. He is a natural with all his commands and already loves to retrieve! If you are considering a puppy I highly recommend Cindy.
Submitted by: Amy Cooper on Jul 02, 2018
We had a wonderful experience buying our baby Jessie from Cindy. She kept us updated the entire way through. Jessie has made a very successful transition into our home with our two other GSP 's . Cindy had beautiful very well kept kennels and was a pleasure to work with. I highly recommend this kennel! Jessie is so intelligent! She will be hunting this fall with our other GSP's no doubt!
Submitted by: Bradley Carr on Jun 30, 2018
Cindy was so helpful throughout the whole puppy picking process. Our Boykin is 10 weeks old and already so smart and willing to please. He's healthy and happy! Cindy has a wonderful setup to raise her puppies and loves them so much. She sent lots of pictures of the litter and the parents whenever I asked. She truly loves what she does and does it very well. I would highly recommend her to anyone looking for a great hunting companion that also makes a great family addition.
Submitted by: Joe Yarbrough on Jun 28, 2018
I can't say enough great things about Cindy and her commitment to her dogs and customers. I purchased a Brittany for my daughter's birthday back in May, which she named Sally. We received lots of pictures and updates the whole time and she made the whole experience one that my daughter will never forget. As for Sally, she has been fantastic. She's still very young, but shows true instinct of what this breed lives to do. To make a long story short, if you want the best dog from the best breeder in the business, Cindy at Round Island Creek Kennel is the place to go. No doubt that I'll be back for another!
Submitted by: Austin Spratlin on Jun 27, 2018
Cindy from Round Island Creek Kennel was fantastic to work with. I just purchased Knox, my 2nd Boykin Spaniel, and she is already very smart. She started swimming in the lake at just 7 weeks old. If you are in the market for the breeds that Round Island Creek Kennel provides, I highly recommend. I will definitely do business with them again when I want to add on to my gang.
More Reviews for Round Island Creek Kennel
Submit your testimonial