Wirehaired Vizsla litter 9/5/22 (2 males available) - Wirehaired Vizslas in Cozad, Nebraska - 3RNGNX Kennels
Reserve / Purchase
Ask Breeder A Question About This Ad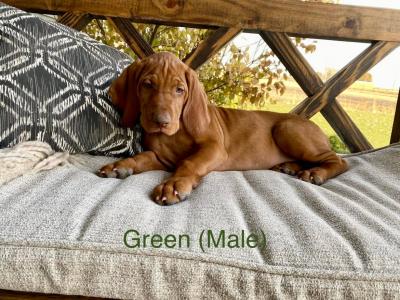 Green (male) is looking for his future family! He is very in tune with people. He always has his nose to the ground and is on the hunt. Will be a wonderful bird dog!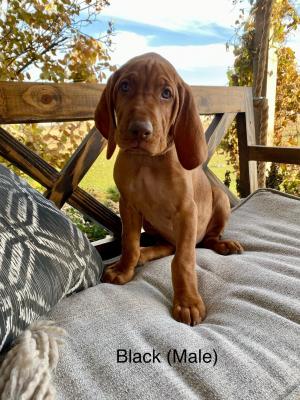 Black (Male) is looking for his forever home! Very sweet boy and we have a feeling he will be EXCELLENT in the field!
We have been blessed with 7 beautiful and healthy puppies from two AKC champion bloodline registered parents. The parents are wonderful in the house with family and great in the field. Three males and three females will be available. Sire - Kaizser (Konza Vadasz Little Dipper - Breeder Deb Wall), Dam - Kona (Breeders Matthew McLean & Deb Wall). Tails have been docked and dew claws removed. The first round of vaccines will be done prior to pick up. Pups will have an examination with a veterinarian prior to pickup as well. Genetic testing will also be done for HUU carrier gene. More pictures and parent's pedigrees available upon request. Thank you and have a blessed day!
Ad location: Cozad, Nebraska
Ad created: Sep 13, 2022
3RNGNX Kennels Breeder Information