Stony Ridge Game Birds - New York Chukar Hunting, Pheasant Hunting, Quail Hunting Preserves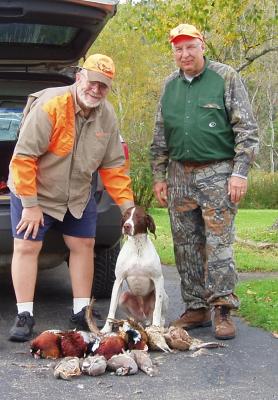 About Stony Ridge Game Birds
Stonyridge is 156 acre farm on top of a hill. We have ponds, fields, and planted cover for game birds, grown up pasture, hedge rows, pine trees and timber. Specializing in Pheasants, Chukar and Quail. The intent of the game preserve is to provide the upland game hunter an environment that is natural and non-commercial as possible. You, or your hunting party, and your hunting dog will enjoy and be challenged by the combination of natural and cultivated cover. Kids are encouraged but will need hunter safety certificate to participate in hunting with a gun. Guided hunts are available if you have no dog. Memberships are available for a fee of $500.00 per year. Pheasants $18.00 Chukars $12.00 Bob White Quail $7.00 Call or e-mail for membership details or corporate rates. Also some time is available for archery deer hunting season.
Bird Hunting Available
Chukar Hunting
Pheasant Hunting
Quail Hunting
Stony Ridge Game Birds Contact Info
Testimonials (1)
Submitted by: Lynn Tucker on Nov 07, 2010
I hunted Stony Ridge this morning and am pleased to say the birds flew great some ran giving my GSP a work out and some held well for some clasic points. The food plots were great for hunting with some thick brush and hedges to hold missed birds for follow ups. We will be going back for more hunts in the near future.
---