Wetland Retrievers Oregon - Oregon Field Trialing, Hunt Testing, Retrieving hunting dog trainers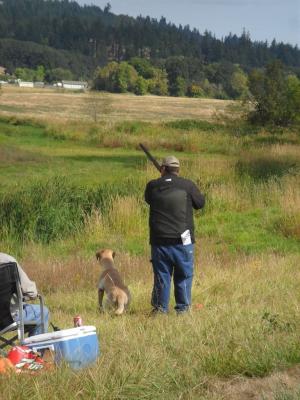 About Wetland Retrievers Oregon
My name is Robin Rawls and I am the owner of Wetland Retrievers. My dog-training career started as a hobby and my passion soon grew into a full-time career. Before going out on my own professionally about 15 years ago, I was groomed by some of the top field trial trainers on the west coast. Wetland Retrievers does all facets of retriever training from gun dog training to both hunt test and field trial training. My specialty is in break out work and finished gundog and master hunter work. I have titled and trained numerous master hunter dogs and qualify several dogs every year to run in the Master National Hunt Test. It also brings me great satisfaction to work with owner/handlers and help them and their dogs move forward in their training and achieve AKC Master Hunter Titles.
My "No Holes" training method, in conjunction with a unique ability to "teach" dogs, allows my working dogs to strive towards my goals of producing the best possible gun dogs and Master Hunter dogs. I continually strive to produce a better dog with each one I come in contact with. My training group has access to several acres of private training grounds near Roseburg, OR and we recently had custom made training ponds built.
At Wetland Retrievers, our primary focus is on training dogs and handlers, but we also produce a few litters every year. Our goal for breeding is to continually breed to successful field champions and master hunter dogs in order to create top quality puppies. We offer a health contract and work hard at producing genetically sound dogs that are top quality working retrievers as well as companions. We also offer stud dog services for those interested.
Please use the link to our website or give us a call for more information and/or details. I value my clients and look forward to doing business with you.
Puppy Info
We recently bred two of our females. TJ was bred to FC Merlyn IV and Hula was bred to AFC/FC Land Ahoy "Pirate". Pups should be on the ground around the first week of September. Check out their pedigrees by clicking on the link below.

Call to reserve your pup today.
Dog Training Available
Field Trialing
Hunt Testing
Retrieving
Wetland Retrievers Oregon Contact Info
Testimonials (0)
No testimonials for this trainer