Von Weider Kennels "Board In" Training Program. - Michigan Pointing, Retrieving hunting dog trainers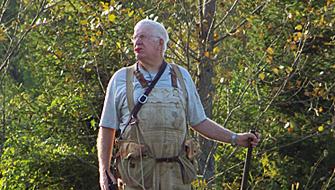 About Von Weider Kennels "Board In" Training Program.
Program developed over the last 25 years.

Over the last 25+ years, George Daniels has developed a very structured 12 week "board in" training program. Each animal coming into the training program is accepted on a two week evaluation period. At the end of the two weeks, the animals' progress is discussed with the owner and the goals reviewed. We typically like to start working with a dog at or around the age of six months. The program is structured to build on lessons learned throughout the training, but is flexible enough to work with each animals strenghts and weaknesses in order to produce the best results possible. It has been our experience that programs with a "one size fits all" approach produce "wash-outs." We don't believe in "washing-out" family members.

We train both Pointing Breeds (German Shorthaired Pointers, Wirehaired Pointers, Vizslas, English Pointers, Brittneys and English Setters, etc.) and Retrievers. During the training program, your dog will live in our heated kennel facility as one of our own.

The program has been developed to produce a reliable, obedient partner in the field that performs their job effectively and enthusiastically, in other words, a dog you are proud to hunt with. A dog that has completed the training is expected to work the field smartly, find and point birds, hold until flush and retrieve to hand. All dogs are whistle and e-collar conditioned during the program.
Give George a call today to discuss your sitation and reserve a training spot today. Please visit our website. http://www.vonweiderkennels.com
Dog Training Available
Pointing
Retrieving
Von Weider Kennels "Board In" Training Program. Contact Info
Testimonials (0)
No testimonials for this trainer