Pheasant Bonanza Hunt Club and Kennel - Nebraska Field Trialing, Flushing, Hunt Testing, Pointing, Retrieving hunting dog trainers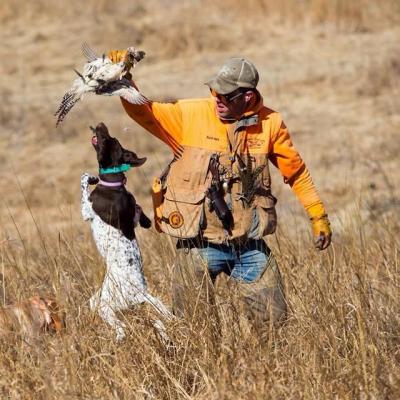 About Pheasant Bonanza Hunt Club and Kennel
Pheasant Bonanza offers the highest level of gun dog training available. We have all inclusive programs to take your puppy from naturally talented to fully trained. We also offer advanced training programs based on individual client requests. Our property includes training fields and access to lakes and rivers for complete professional dog training. We can handle your dog in AKC, NAVHDA and Tournament Hunting events, as well as AKC conformation events. Our accomplishments include three National Pheasant Hunting Championships and several State Pheasant Hunting Championships. Our kennel features 50 heated and air conditioned indoor/outdoor runs for the dogs, and 2 whelping areas. There is also a grooming and bathing area to pamper your pets. Pheasant Bonanza maintains a year-round, full-time staff of professional dog trainers and handlers. They are responsible for the training of a variety of breeds and personality types - from pups to finished dogs. We specialize in German Shorthaired Pointers, Labrador Retrievers and many other hunting breeds.
Dog Training Available
Field Trialing
Flushing
Hunt Testing
Pointing
Retrieving
Pheasant Bonanza Hunt Club and Kennel Contact Info
Testimonials (1)
Submitted by: Jim & Lori Thibeault on Jan 11, 2012
We recently purchased an 11 month old German Short Hair-"CZ"-from Trent at Pheasant Bonanza. He had been used on several guided hunts while he was there. After a 1200 mile trip back to Conneticut we introduced him to our house and family. In a matter of 2 days he became an instant member. And in 2 days he was fully house trained.
We finally had our first opportunity to take him out for a hunt on Saturday, January 7th. The morning hunt was with a new pup and CZ was able to stir up 5 pheasants and retrieve them out of the many briers we have in our fields. The second hunt we took him out with 2 experienced hunting dogs. He was excellent at honoring points. We now know that we have an excellent bird dog. Not only that we have an excellent pet during the rest of the year.