L'Etoile du Nord Kennel - North Dakota Pointing hunting dog trainers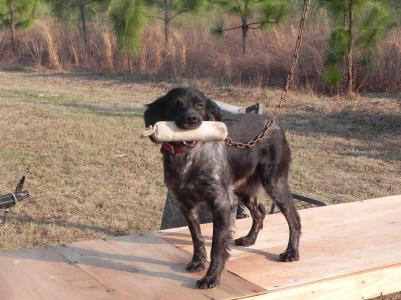 About L'Etoile du Nord Kennel
Puppy Program This 30 day program is for puppies over 12 weeks old. This training emphasizes learning to run in the field and birds. A bird dog needs one thing that everything else comes from. That is desire in the field. Without desire they won't hunt for birds. If they don't hunt for birds they can't find birds. If they don't find birds they can't point one. If they don't point a bird, you can't shoot it. And lastly, if you don't shoot the bird they can't retrieve it. Your puppy will be introduced to birds, learn to search for birds in all types of cover from open fields, timber and prairie grass. In addition they will be properly introduced to gun fire. Your puppy will run every day with a variety of dogs. From inexperienced ones, to the seasoned veterans. Dogs learn a tremendous amount form each other and gain tremendous confidence seeing and running with the more experienced dogs. When you come to pick up your puppy, you can expect to have an excited puppy that will be actively search for game in all cover types. Have a puppy that was properly introduced to gun fire and other puppies/dogs. You will have a puppy that has started down the path to be your hunting buddy!! Gun Dog Program This is where your dog begins to learn what his or her job is. The emphasis is now on finding and pointing birds. In addition, this is now where we start obedience work. To be successful a dog needs to understand that he or she is out there with you as a team. They learn to come reliably on command, and to walk at heel. During this time, they will be properly introduced to an e-collar. An e-collar is a great training tool, as you now have a lease that is up to a mile long. But done incorrectly you can completely shut a dog down. They will learn to want to have the e-collar on, as it will come to mean they get to do something they love, go out to the field!! They will learn to come on light stimulation, so you won't need to be yelling in the field, and potentially spooking the birds while you are hunting. Your dog will start begin working on his or her pointing, with the goal of being steady to wing. They will start out slowly being worked into the bird and quickly working to searching the field for birds and pointing them. The goal is to bring out their natural pointing ability. Finished Dog Program This is where your dog polishes up his manners on birds. He or she will actively search for birds and point them reliably. It is also the time where you decide just how steady you want them to be. Be it "steady to wing, steady to shot" or "steady to release." This is where the 'whoa' command is taught. I use the "Silent Command System" invented by the Smith family. Hourly Dog Training for You and Your Dog I can also work with you and your dog to help you finish training, work on issues you are having and help you compete better in field trials. We can cover most anything you want to work on. The cost is $50.00 for a ½ day or $100 for a full day, plus the cost of birds. If you choose to compete your dog in Field trials, during the time they are in for training, I will handle them at no additional cost. If you choose to have me handle them in field trials when they are not in for training, it is the same as a ½ day of one on one training, $50. *** PLEASE NOTE *** At the end of the training we will expect you, the handler, to come and spend some time with us when you pick up your dog. This will ensure you understand what the dog knows and how to handle your dog. This also gives you the tools you will need to be able to maintain his training and keep him at his current level of training This policy is an important part of helping you and your dog become a successful team, whether it be a foot hunting companion and trial dog.
Dog Training Available
Pointing
L'Etoile du Nord Kennel Contact Info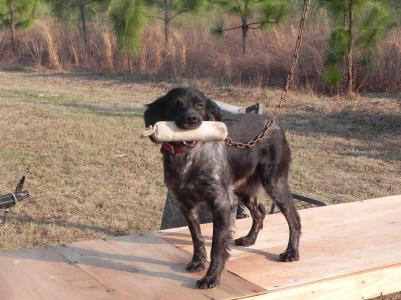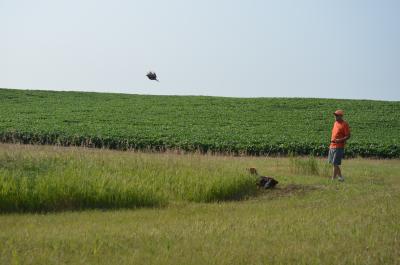 Testimonials (1)
Submitted by: Terry Titus on Dec 05, 2017
I've had 4 dogs trained by Leon and can't find another better. I think he could train a pig to bird hunt! What ever the training, Leon can take care of it. I wouldn't let anyone else train my dogs!