Hun Hill Kennel Griffon Training - Idaho Hunt Testing, Pointing hunting dog trainers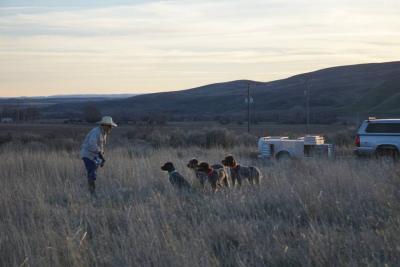 About Hun Hill Kennel Griffon Training
We specialize in training Wirehaired Pointing Griffons. Griffs require light handed training. We have "touched" hundreds of Griffs and know how to get the most out of them with a much kinder and gentler method. Our no stress training method works very well with all of the pointing breeds. Our brand new kennel has AC for your dogs comfort and are kept spotless. Dogs out in the field always wear a Garmin Alpha GPS collar so there is no danger of one getting lost. In addition to our extended stay program, we also offer hourly training where we train you to train your own dog.
Dog Training Available
Hunt Testing
Pointing
Hun Hill Kennel Griffon Training Contact Info
Testimonials (2)
Submitted by: Chris Savage on Jan 18, 2020

I utilized Frank dog training services a couple years ago for our Grif, Finely and am really thankful that i did. Frank did an amazing job training our dog and have been pleased with her performance. He only take a few dogs at a time when training them, to give each dog the attention they need. This is the first time I've relied on a trainer and am glad i did. I definitely will use Frank's service for my next dog.
Submitted by: David Serdar on Jan 17, 2020
Frank was instrumental in helping me train my Griffon for the UT test. He has a top notch training facility and resources. While he trains many other versatile and pointing breeds, he especially knows the Griffons. he understands the breed and how to get the most out of them. He has trained dogs from nearly every western breeder.