Hope Springs Farm - Virginia Retrieving hunting dog trainers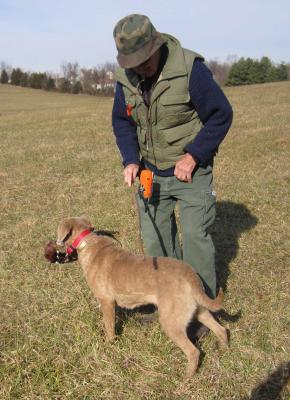 About Hope Springs Farm
HOPE SPRINGS FARM
We offer basic obedience and good manners, as well as socialization. We specialize in puppy training and leave the formal retriever training to the real professionals, and have listed our favorites below. If you're seeking formal retriever training, from force fetch to transition through advanced/finished levels, and/or training for/running hunt tests or field trials, we have used and recommend the following (click on the name to view website/contact info):
Pat Nolan, Ponderosa Kennels in Smithsburg, MD Pat no longer competes, but has an excellent training program including innovative use of techniques he's developed in over 30 years of working with retrievers and other breeds. Plus, our good friend Mike Boulais is now working for him, and Mike was born with good dog sense, so you get a 2 for 1 deal! Check out his website for some excellent training articles and videos; especially his Training Whistle Sit article; it's by far the best step-by-step description of how to train your dog to sit reliably on the whistle I've ever read.
Randy Bohn, Rammin Retrievers in Reinholds, PA specializes in field trials and he and his wife also run an outstanding boarding kennel in the Philadelphia area. He takes only a very limited number of dogs for training and strives to help the owner become a better handler as well as getting the most out of the dog at the highest levels.
Neil Selby, Shady Grove Hunting Preserve, Remington VA Neil specializes in hunting and hunt test dogs and has an excellent facility convenient to the Washington D.C. metro area, over 700 acres. He trains dogs, handlers and also competes on the local hunt test circuit and has titled many dogs.
We try to help our puppy buyers find a good trainer nearby as the best training includes that for the owner as well as the dog, so we encourage people to try to find a trainer that's close enough they can visit regularly. A word to Chesapeake owners: You'll probably have a hard time finding a Chesapeake-specific trainer. There just aren't enough CBRs for professionals to make a living training them, so most train many Labs as well as a few Goldens.
Some trainers don't like working with Chesapeakes, but a good trainer taylors the training program to the dog, not the breed and enjoys training a good dog, no matter what breed it is. Some do harbor prejudices against Chesapeakes. If a pro hasn't trained any or many Chesapeakes, it doesn't necessarily make that pro a bad choice, but try to avoid ones that dislike the breed. The best way to find this out is via word of mouth.
As we're located in the northern end of the Blue Ridge in Virginia just outside the D.C. metro area, we obviously know many Mid-Atlantic trainers, but we try to find others in different areas by recommendations from our network of Chesapeake friends nationwide, and preferably by word of mouth from someone we know who's used that trainer. So we're always on the lookout for trainer recommendations that we think Hope Springs puppy buyers will be happy with, or heads-up warnings from people that would not recommend a particular trainer and why.
Let us know if you have a trainer you've been happy with for your Chesapeake, or tell us of any bad experiences you've had. All information will be held in confidence and we'll never use your name unless you give us written permission.
Dog Training Available
Retrieving
Hope Springs Farm Contact Info
Testimonials (0)
No testimonials for this trainer