Hideaway Kennels - Colorado Field Trialing, Hunt Testing, Pointing, Retrieving hunting dog trainers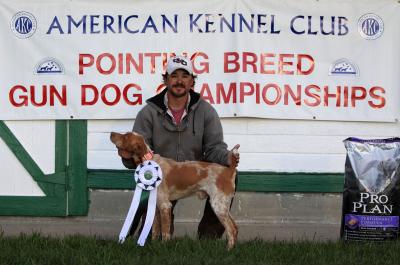 About Hideaway Kennels
Training is our heart and soul. We love training and working with dogs and we believe this is, in part, why our dogs are so successful. Our programs are designed to keep intensity in the dogs and develop a dog that works FOR their owners. To accomplish this, we train your dog and follow up that training by continuing to work with you and your dog after you bring your dog home. We'll teach you how to handle your dog and how to continue the training process.
Because of this, our programs have produced many outstanding dogs. Our dogs have appeared in both Pointing Dog Journal and Traveling Wing Shooter. Ben's expertise in hunting and training bird dogs has been documented in photographs taken by well-known author and photographer Ben O. Williams.
Training Sessions
Puppy
(Dogs enrolled in the Puppy Program should be at least six months of age.)
Our Puppy Program is designed to give your puppy the right start. It is not a program designed to break puppies. It is designed to get dogs and owners used to working with each other in the field. This is a low-stress training program. It's a fun time for puppies and their owners.
Yard Work – we'll teach the commands whoa, come, heel, fetch, and kennel.
Patterning – dogs learn basic handling and quartering skills.
Birds – we introduce dogs to birds the correct way – we start with pigeons, and then move on to quail.
Gunfire – dogs are introduced to guns properly and safely.
Obedience – dogs learn that jumping, barking, chasing, and other bad habits are not acceptable behaviors.
Derby
Our Derby Program is designed to take the skills learned in the Puppy Program to the next level. This program requires more involvement from both the dogs and the owners and is specifically tailored to enhance your dog's natural abilities as a wild bird dog.
Yard work – we'll continue to practice the commands whoa, come, heel, fetch, kennel, while adding forward run, and whistle commands. We also start conducting whoa sessions on the barrel and bench to develop your dog's intensity and style.
Collar Introduction – dogs are introduced to an electronic collar using low stimulation and praise.
Hunting – dogs learn to hunt game in all conditions and locations.
Gunfire – dogs progress from .22 caliber gunshots to a light-gauge shotgun barrel with a .209 primer.
Stop-to-flush – dogs begin stop-to-flush workouts.
Backing – dogs begin to learn honoring and proper responding to hunting with other dogs.
Gun Dog
This is the final session in our program. It is designed to make your dog a gun dog for life. Dogs must have completed at least the Derby Program before enrolling in the Gun Dog Program.
Yard Work – dogs will follow all previously taught commands consistently. All whoa work is done with birds.
Collar Conditioning – electronic collars are used during field training.
Hunting – dogs hunt in all conditions and locations and live birds are shot over dogs.
Gunfire – live rounds are used during training.
Stop-to-Flush – dogs complete stop-to-flush training.
Backing- dogs learn to consistently back and honor other dogs while hunting.
Steady to Wing, Shot, and Fall- dogs learn to stand for the flush and the shot. A lot of time and special care is given during these lessons to ensure dogs retain all of their natural abilities while increasing their confidence as well trained hunting dogs.
Dog Training Available
Field Trialing
Hunt Testing
Pointing
Retrieving
Hideaway Kennels Contact Info
Testimonials (0)
No testimonials for this trainer