Best Gun Dogs - Utah Field Trialing, Flushing, Hunt Testing, Pointing, Retrieving hunting dog trainers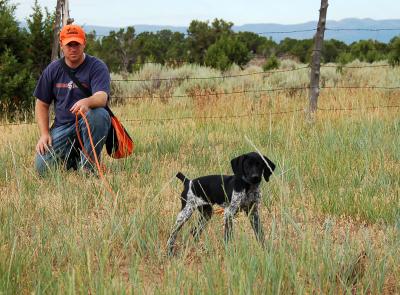 About Best Gun Dogs
Best Gun Dogs is a full time training and breeding facility. We do this for a living and we stake our reputation on it!We have been training birds dogs since 1997. Our program has been developed using some of the most proven techniques in the gun dog world. From Greats Like Dave Walker, Larry Mueller, Harold Adams, Ben Garcia, Steve Ries, and Delmar Smith. Using the background and knowledge from these great trainers has made our training program so much easier. With Modern technology like the e-collar as and example used with the proven principles from these trainers we have found that we don't have to re-event the wheel.  Some of the keys to our training program include making sure your puppy gets ample time to discover new things and be well acquainted with people. Especially kids! Our Kennel is a family one and that means when I bring my little boys down to the kennel I want them to have an enjoyable experience, not get ran over by dogs and be afraid. On the other hand we also want the puppies to love being with people. I have seen puppies before that are simply not sociable. I believe the more puppies interact with kids the better off they will be maybe you have seen this before the old dog or cat that would let any little kid play with his ears, hold on to his tail, grab his coat and hang on.
Making sure we get puppies started on birds is also a big key. Simply put. Time spent working birds is what makes a bird dog, a bird dog. Introducing young or old dogs is very important. Making sure you build on the prey drive that already exists and intensifying that drive the correct way is going to make training so much easier.
Introducing the tools that we use to train our dogs is maybe one of the most important steps to getting a dog to perform at his highest level. In our program we use some basic tools that every novice or pro can continue to use when they take there dog home. Most importantly is how the dog is introduced to these tools, the dog needs to enjoy them and know that when we do use them it means it's time to got to work! Find Birds! and Have Fun! Nothing is more frustrating than seeing a dog that has become shy to the gun, e-collar, or just even people in general. I guess what I'm trying to say is that it's not real hard to mess up a dog real fast if you don't know what your doing.
Give as a call 435-421-4420
Dog Training Available
Field Trialing
Flushing
Hunt Testing
Pointing
Retrieving
Best Gun Dogs Contact Info
Testimonials (5)
Submitted by: Andy Vaughn on Apr 08, 2013
I recently purchased a started dog from Jared and cannot be more pleased. At 6 months old her training is excellent. I have greatly appreciated their commitment to not only my dog but in helping me learn how to continue the training. I would strongly recommend them if you are looking for a dog.
Submitted by: Doyle Stogner on Apr 08, 2013
I purchased Jake a 7 month old liver Male Shorthair. When I picked him up Jared took me and the dog to the field and worked him on quail and a few pigeons. For a 7 month old dog Jake is a hunters dream. I took him out this past weekend to work him and he locked up on some quail and we shot a few doves over him. He went directly to the dove(approx 25 yards) picked them up and brought them to me and put them in my outreached hands. It doesn't get any better than that for a hunter and dog lover. At 7 months he is where most hunters would want a fully trained dog. He works well and stays close and comes when you call him. I used my shocker one time on a very low setting just to get his attention and that is all he needed. I think Jared's early training has made this a very good dog and I'm sure he will get better.
Submitted by: David Clarkson on Apr 08, 2013
I recently bought a 3 month old liver puppy from Jared and she's already trained well. She points excellently and holds it very well. She gets along well with our other dogs. Overall he is really family oriented and good people. We stay in touch and I send pictures of the puppy to him periodically he is a very good trainer.
Submitted by: Scott Swallow on Apr 08, 2013
Jared,Just wanted to say thanks for all you did ensuring I received the type of dog I wanted.Aspen is great.Her temperment,bird drive and personality have amazed me.She is simply been a pleasure.Her personality has friends,family and people I come across asking where i purchased such a great dog.I tell them Jared Moss at Best Gun Dogs.Thanks Again Jared.Here are some pictures from her first sharptail grouse hunt,and some training sessions.I cant wait for this hunting season to start.Scott Swallow and Aspen
Submitted by: Hector on Apr 08, 2013
Hello Jared,
Just wanted to say thanks for selling me such a great hunting dog in Ruger! he is a pleasure to have around the house and loves the kids to death and that was one thing that we were looking for in the new hunting dog. When we get him on the hunting field he is all business such an awesome dog especially when hunting with him he loves his family and we love him back.
Thankshow can I add a pic of Ruger hunting?
Victor and Family