Table Mountain Kennels - Wyoming American Brittany, English Setter Breeders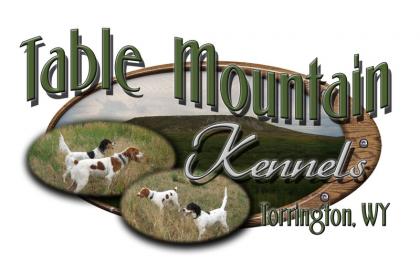 About Table Mountain Kennels
Our hunting dogs are our life. We live on 700 acres in Wyoming. We start out in the fall in Montana hunting pheasant, sharptails, huns and then go back to Wyoming. Then we finish the season down in Arizona chasing quail. We train our dogs on wild birds and they usually hunt 4 or more species of game birds in their first year of hunting with us. Our puppies are from both hunting and field trial lines. Give us a call if you are looking for an excellent Brittany hunting companion. Phone calls are preferred.
Hunting Dog Breeds Raised
American Brittany, English Setter
Additional Services
Hunting, Stud Services
Breeder Contact Info
Our Pedigrees
Testimonials (3)
Submitted by: Brett Glaser on Jan 21, 2016
I purchased a female Brittany pup from Allen this summer. I couldn't be more pleased. At 6 months old I have had her out hunting 4 times and shot a dozen birds over her. She holds her point, backs and retrieves. She points hard, has a terrific nose and finds down birds. Although we still have a ways to go to finish up she is the real deal. I have hunted birds for 44 years and been around bird dogs just as long. She is really impressive and quite a lover too.
Not to mention Allen is a true gentleman and a pleasure to talk with.
Submitted by: Rich Lowe on Oct 09, 2015
Alan Davis has awesome dogs. There his hole life and it shows. Alan's a great dog trainer. I would recommend buying any Brittany or Setter from him, you will be pleased.
Submitted by: Howard Irion on Jan 04, 2011
Jon helped me get hooked up for my new puppy with Table Mtn. Kennels. The owner Allen runs a first class operation with top notch blood lines in both the Brittany & Setter breeds. Allen is extremely particular about his breeding criteria and the overall care of his dogs which shows in the type of pups he has produced. He helped me along with my pup and she is now successfully pointing birds @ nine months. I would highly recommend this kennel to any one looking for there next great gun dog.
Submit your testimonial