Powder River Gun Dogs LLC. - Wyoming English Pointer, English Setter, Labrador Retriever Breeders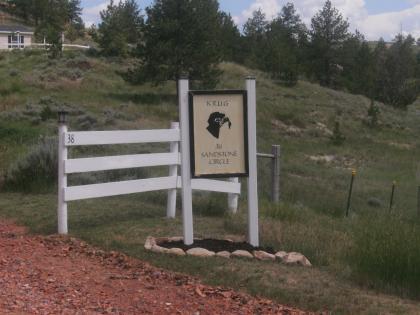 About Powder River Gun Dogs LLC.
Producing top quality Field Trial Dogs and Hunting Companions. Training available. We are located in Rozet, WY nine miles east of Gillette. At Powder River Gun Dogs, LLC we have been breeding, hunting, campaigning fine dogs since 1978 and have bred 2 National Field  Champions. We occasionally have pups and started dogs out of our outstanding  hunting  and competition dogs. Stud Service available. Bruce started training dogs while in college for field trial competition and hunting. Retreivers and Pointing dogs. He is a Licensed Field Trial Judge, guide and has judged Retreiver Speciality AKC working dog tests. He has completed several AKC Obedience Titles, wining with top scores and has handled dogs in field trial competition, hunt tests, open field coursing and AKC Bench shows. Melanie brings her show ring conformation expertise to the breeding program. She has successfully exhibited many breeds completing their bench championships with Group Placments. She has also competed successfully with Sighthounds in the Open Field and Lure Coursing , winning a National Championship. Her eye for conformation and know how for conditioning reflects in the beautiful bright puppies produced here at the kennel.  
Hunting Dog Breeds Raised
English Pointer, English Setter, Labrador Retriever
Additional Services
Hunting, Training, Stud Services, Boarding
Breeder Contact Info
Testimonials (5)
Submitted by: Susan scheirbeck on Jun 04, 2021
I have spring Creek Kennel in Hill City SD and breed Large Munsterlanders. I've known Bruce since college.. he was training fine goldens then. He continues to have the same great enthusiasm and soft positive training that I saw 35 years ago. He's helped me w a couple of my dogs and we recommend our new owners to call him if they want any kind of assistance.
Submitted by: Chris Kawulok on Apr 03, 2013
I purchased Bella from Bruce and Melanie almost 3 years ago as a puppy. She is a female yellow lab. Bruce and Melanie produce excellent dogs and are wonderful people to work with. They have a great deal of compassion for both dogs and their owners. Bella just completed Bruce's gun dog program and is absolutely amazing.
Submitted by: Bill and Molly Long on Jan 22, 2013
Our 2 year old yellow lab from this breeder is a wonderful family and hunting dog. He is one of the best we have ever had. I would definitely buy another dog from this breeder!
Submitted by: Mike Wenz on Aug 15, 2012
My family purchased a GSP from Powder River Gundogs about 2 years ago. The dog has been an excellent addition to our family. Kully had some training from Bruce before we got him, and Kully has been great in the field with no additional training. An excellent dog all the way around, from an excellent breeder!
Submitted by: Jadee & Christie Kroeger on Mar 19, 2012
We purchased a GSP from Bruce and Melonie Krug 12 years ago! We recently lost Brodie which was a real loss to our family! Brodie was an amazing dog both in the field and in our family! He was a great dog from a great Kennel! We recommend Powder River Gun Dogs to anyone who is interested in a high quality dog from a kennel that truly care about their dogs and the owners that adopt them!
Submit your testimonial