Clumber Spaniels - Wyoming Clumber Spaniel Breeders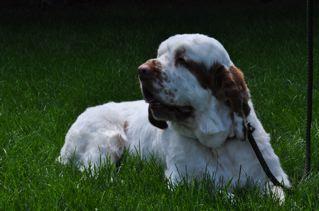 About Clumber Spaniels
Our Clumber spaniels are bred for soundness and health to produce a puppy that is a quality example of the breed. Our dogs are registered with AKC.  Our sporting pups are bred to be both great family
companions  and excellent upland or  water hunting dogs.
Hunting Dog Breeds Raised
Clumber Spaniel
Breeder Contact Info
Testimonials (1)
Submitted by: Shae on Jan 23, 2013
I bought my chocolate lab Moose from the Kuhns. Great experience! Easy to deal with and I got one hell of a dog!!!
Definitely the best looking out of all my friends bird dogs:)
Not to mention smart, loving, he was half dog half fish you could not get him out of the water. Unfortunately we lost moose this summer. Do to his size as with all large dogs there is a possibility of thier stomach turning and them bloating we had surgery done and every thing went well. But he played extremely hard with his partner on crime our black lab Zoe
The procedure came undone and before we could do anything or realized it we had lost him. I would to have one of his brothers offspring very beautiful. Thumbs up to Kuhns for putting out a top notch dog and their friendly service.
Submit your testimonial