Justice Labs 24 - Wyoming Labrador Retriever Breeders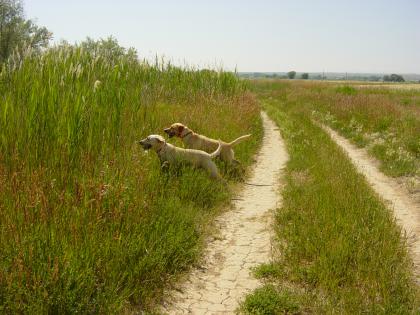 About Justice Labs 24
Justice Labs 24 Kennels, breeding for excellence and performance to give you a great intelligent companion and a superior hunting partner. Our dogs were specifically selected for breeding from champion bloodlines for the purpose of producing genetically sound, even-tempered, family/hunting pets that every family or hunter longs for.
Sire-Clifford Pup is a yellow four year old that is an excellent waterfowl and upland bird dog. He points naturally and has a level of intelligence and drive that is unbelievable. He has dived underwater to retrieve wounded geese, resurfacing with the goose in his mouth. He is a very disciplined at home and in the field. Clifford's father is Cashzingers Special Brew MH and his Grandfather is NAFC FC AFC Ebonstar Lean Mac. Clifford is available for stud. His offspring are sure to carry on the great qualities of himself and of the Legendary Lean Mac.
Dam – TJO's GNC Megan is a 2 and a half-year-old yellow. She is a very intelligent, competitive and easy to handle bird dog. She weighs a near 70lbs with a beautiful light yellow coat. She has a high driving desire when it comes to hunting and a similar attitude to please the members of my family. She was very easy to train and responds quickly to commands. She is a gentle, devoted and loyal companion/hunter. She has a long and distinguished blood line of champions. Her sire is Blue Earth's Titanic, Grandfather is FC AFC L and K's Wild and Wooly, and her Great Grandfather is NFC NAFC Candlewoods Super Tanker. She also points naturally on upland birds.
The first litter was born March 25, 2010, yeilding 4 male and 3 female AKC Yellow Labrador pups. They were a superb combination of field trial bloodlines. The sire(Cliff) and the dam (Meg) are both OFA certified.good and excellent. Reports indicate they have made excellent hunting/family dogs with excellent looks. Great training attitudes. Refer to the sire's and dam's paragraphs for their details.
I am wanting to do their second breeding in July of 2012. If I am able to secure several reservations for purchase I will move forward with the breeding, in which they would be born roughly on the end of Sept and ready to leave the litter in November of 2012. The price will range from $300 to $500 pending on the choice rank of the litter, gender and papers. Please contact me if you are interested.
Hunting Dog Breeds Raised
Labrador Retriever
Additional Services
Stud Services
Breeder Contact Info
Testimonials (2)
Submitted by: Joe Brandl on Apr 27, 2011
Del, Molly is just over a year and is a wonderful dog. I have trained and raised labs for over 20 years, Black, Brown and Yellow. Molly is eager to retrieve, easy to train and most of all a loving companion. She can be a bit dominant over another dog but that is typical of females. I will be forwarding some photos of her soon. Thank you, I have just recommended your kennel to a client of mine that fell in love at first sight of Molly
Have a great season
Joe Brandl
Submitted by: Tim and Janet Britt on Jun 09, 2010
We are thrilled with our 7.5 week old puppy we got from Del Olson. Kona is now 10 weeks old and sits, stays, comes, and lies down on command. Kona will retrieve all day if you throw her dummies for her. She has already retrieved from the bank of a pond. She also has the most wonderful personality, very willing in all she does. Kona was very well socialized when we picked her up and we were so pleased that she was already familiar with kennel training. We give these puppies our highest ever recommendation.
Submit your testimonial