Woodruff Road Kennels - Wisconsin German Shorthaired Pointer Breeders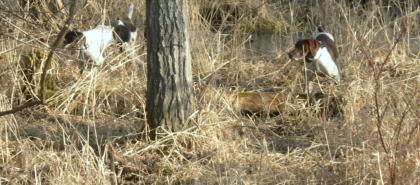 About Woodruff Road Kennels
Woodruff Road Kennels
Wauwatosa, WI Woodruff, WI
414-456-9567 WRKGSP@wi.rr.com
"Superior Breeding brings Superior Results"
Woodruff Road Kennels is a small family run operation. We raise a litter of puppies every couple of years. We have 'line-bred' in solid bloodlines to produce consistently high performing dogs. Our dogs have all of the classic German Shorthair traits. If you look at the pedigree of the Sire and Dam, you will see all of the great Wisconsin German Shorthair bloodlines. In Wisconsin it is hard to shake a wing and not be able to get a really outstanding German Shorthair Pointer. What makes Woodruff Road Kennels different? Family. Our whole family is involved in raising the pups and we do a better job than most in socializing and preparing young pups to be accustomed to being handled by people.
We breed for hunting ability and for looks. Our dogs are predominantly white, with liver patches and ticking.
The two best things we can say about our dogs, every owner will give an positive reference for our dogs and we have people who have purchased mutliple dogs from us.
We will spend the time to help match you with one of our pups. We strive to make your experience with your new Woodruff Road Kennel German Shorthair Pointer so fulfilling that you will come back and buy your next dog from us.
Drop us an e-mail @ WRKGSP@wi.rr.com We love to talk about Shorthairs, puppy issues, training and of course, ...hunting.
Hunting Dog Breeds Raised
German Shorthaired Pointer
Breeder Contact Info
Testimonials (0)