Webshire Kennels - Wisconsin Golden Retriever, Labrador Retriever Breeders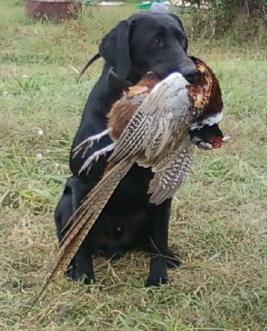 About Webshire Kennels
Webshire Kennels, located in Larsen, WI, specializes in retriever gun dog training.   We train each dog as an individual, and have produced successful hunting companions and hunt test competitors of every retriever breed.  Whether you seek a  solid duck dog or proficient upland companion, Webshire can help with your goals.  With over 100 Master Hunter titles to our credit, and counting, Webshire has the experience to help build the team looking to achieve success in the AKC Hunt Test program.
Webshire Kennels also offers Labrador and Golden Retriever puppies on occasion and produces some of the finest working retrievers in the country.
Additional services offered at Webshire Kennels are all-breed obedience training and boarding.
Hunting Dog Breeds Raised
Golden Retriever, Labrador Retriever
Additional Services
Training, Stud Services, Boarding
Breeder Contact Info
Testimonials (3)
Submitted by: Amy Schanke on Feb 24, 2014
There is no better place to get a quality dog and expert training in a fun family atmosphere. Our first black lab was trained there 12 years ago and we are still going back to Brian and Lisa for their expertise. Our three labs have made us proud and watching them work their ways to Master levels has been such a joy. I would encourage the first time dog owner or the experienced handlers to get in touch with Webshire!
Submitted by: Helen Walker on Jan 20, 2012
Owner of : GMOTCh Webshire's Tried Tessted"N Tru, SH, WCX, Amer. UD, (2002 – 2011)
Webshire's Whole Kate'N Caboodle, SH, WCX, CD ( born July 5th 2008)
There are no finer people to buy a puppy from than Brian and Lisa Hartfield of Webshire Kennels in Larsen, WI. They truly care about what they are producing and they are extremely honest about all the information they provide. I have my 2nd Golden from there, and have been thrilled with both of them. The first one, born in 2002, turned out to be what I can only describe as my all time "Heart Dog". I purchased these 2 dogs sight unseen, as I live in Canada, and they both proved to be just what Lisa described to me. Both puppies were 12 weeks old when I acquired them. All clearances were provided, and the pricing was more than fair. Any further information I needed after purchasing them was promptly provided, and contact has been maintained. In 2004 my husband and I visited their home and kennel and found exemplary conditions, and a willingness to help with any training problems encountered. I would never hesitate to recommend the Hartfields as breeders.
They truly deserve a 5 star rating!!! Helen Walker, Montreal, Qc., Canada
Submitted by: Tammy Schultz on Jan 18, 2012
We were referred to Webshire by word of mouth/rave reviews from happy owners of Goldens from their kennel. Upon reviewing their website, I was impressed with the information and the in-depth pedigrees dating back to the late 1800's for their lines. I was able to see records of longevity and hip certifications for nearly all the generations. Webshire treats you as a family friend, answering questions, educating, and keeping you informed on breeding plans. We learned about their extensive efforts to bring forward certain traits from past genetic lines. Their breeding dogs are well cared for and often work as field trial competitors and hunting companions. Finding a conscientious breeder that focused on intelligence, temperament and train-ability while staying within the breed standard was very important to us. The Hartfields strive to match their puppies to appropriate new owners according to strengths and personalities of both pups and perspective owners. They provide continued support after you have adopted and answer questions in a timely manner with sage advice. We are thrilled with the pup we adopted into our home and highly recommend Webshire as a quality breeder that promotes responsible breeding.
Submit your testimonial