Twin Springs Kennel - Wisconsin Braque Francais Breeders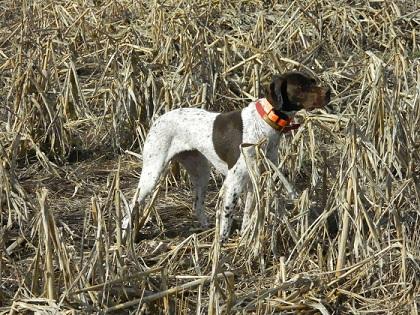 About Twin Springs Kennel
Twin Springs is a small family run kennel located in Two Rivers, Wisconsin.  I was raised here learning to hunt rabbits, pheasants, and Hungarian partridge on my grandparent's farm; which was located on the banks of one of the areas twin rivers.  Trying to drive birds from the thick cattail marsh and standing corn fields quickly taught me the value of a good dog.
Over the years I have been lucky to have trained and hunted with a variety of breeds including retrievers, spaniels, and beagles.  When the time came for my family to add a new companion to our home I wanted to take a closer look at the pointing breeds.  After numerous conversations with some very helpful breeders we decided on a Braque Francais puppy, and we could not be happier.  What attracted us to the breed was the compact size and the short hair.  What we love about our first Braque "Zoe" is her drive and versatility in the field and how perfectly suited and content she is to just be part of our family. 
If you are interested in a Braque Francais puppy or are new to the breed and would like to learn more about these wonderful dogs, I invite you to give me a call or join us on our Facebook page "Twin Springs Kennel" for updates.
Hunting Dog Breeds Raised
Braque Francais
Breeder Contact Info
Our Pedigrees
Testimonials (1)
Submitted by: Dana McFarlane on Aug 02, 2013
Got our BF puppy Finn from him in Feb 2013, he's a great Dog and seems to have alot of potential. Looking forward to seeing how he grows and turns out. Troy was great to deal with and has stayed in touch, which is nice.
Submit your testimonial