RouxChien Irish Setters - Wisconsin Irish Setter Breeders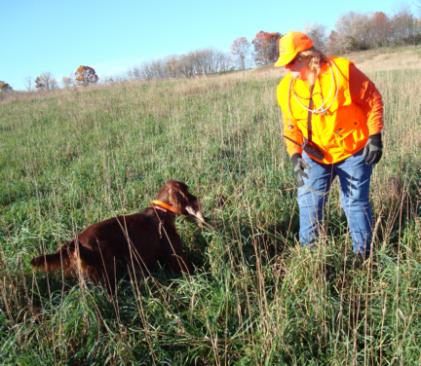 About RouxChien Irish Setters
Our Irish Setters are part of our family. We enjoy being outside and working with the dogs and birds. We started to keep quail for doing pointing dog training for ourselves in May 2008. We do both field work and conformation. We have been successful with both and consider "the journey" the best part. A good sense of humor is essential in dog training!
Rollicking is a part of the official Irish Setter Breed Standard and we agree it is very present in our dogs. These are fun loving active dogs that require a lot of exercise. If you are considering an Irish, be advised that they also need at least weekly grooming with combing and brushing to maintain a beautiful coat. This can also be a great bonding and relaxing time with your dog. They also require maintenance such as nail trimming and routine hair trimming around the head, neck, feet and other areas.
The dogs we breed from are OFA Xray certified for hips and elbows, and DNA tested to be genetically clear of PRA Rcd-1, Clad and Vwd. These are diseases that could be passed on to offspring if present. In our breeding program we strive for happy, healthy offspring that look good and move well both in the field and conformation ring. We are members of the Irish Setter Club of America, the Irish Setter Club of Minnesota and the Indianhead Kennel Club of Eau Claire, WI.
We do not breed often but are expecting a possibly large litter due May 12th. Go to our website at www.rouxchienirish.com for more info. Please use our puppy questionnaire to get on our list.
DEPOSITS for Puppies ARE BEING TAKEN NOW!
Hunting Dog Breeds Raised
Irish Setter
Additional Services
Stud Services, Birds for sale
Breeder Contact Info
Testimonials (1)
Submitted by: Mario Racanelli on Apr 14, 2012
I have been training my personal dogs (Labs) for hunting. I am frankly impressed with the way Suzy handles her dogs. They are beautiful, birdy, smart and also truly a part of the family. She is a responsible breeder who does all the DNA testing available for Irish Setters and OFA's the hips. Using her knowledge of computer technology, she calculates the COI's before any breeding. I think this breeder will be one to watch as she tries to improve the Irish Setter for the field and for the conformation ring by her insight and her eye for a good dog. Great lady to deal with!
Submit your testimonial