RebelFlame Brittanys - Wisconsin American Brittany Breeders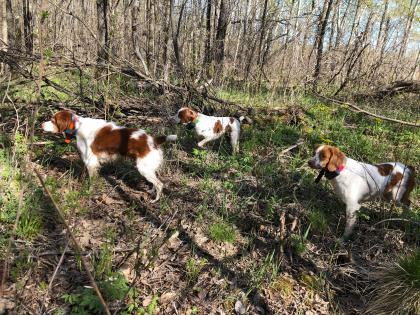 About RebelFlame Brittanys
We are located in Wisconsin, near twin cities - Minneapolis, St Paul, MN.

We are American Brittany enthusiast who have a litter every few years and ensure they are of Dual Champion quality.  Our Brittanys excel in hunting, field, and show ring competitions.
Our pedigrees are full of AKC titled champions and Hall of Fame dogs. Our puppy buyers give many compliments and proudly boast how well their dogs hunt grouse, pheasant and even goose.  All are good family members  

Our foundation bitch CH Little Bitty Rebella Bullet SH was the daughter of 32X CH Nolan's Last Bullet 'Buddy' and 6X CH Little Bit (UFTA).  She is a sister of Beeline's Oxidation 'Rusty'.   Fabulous bold hunter and companion who also breezed through the Show ring with Major win after Major win before I had a clue what was happening.   Wild Dakota Flame MH our foundation male was by far the smartest and most honest dog I have ever met.  Great grouse and pheasant hunter, who would hold a point forever

We expect our dogs to be Good citizens and family members as well as amazing hunters. We support positive feedback training, and encourage owners to continue to challenge their dogs with hunting, obedience, show, agility etc. The brittany is an energetic dog and needs a job.  The American Brittany breeders are proud to have more AKC Dual Champions (field and show) than all other sporting breeds combined.
Hunting Dog Breeds Raised
American Brittany
Additional Services
Stud Services
Breeder Contact Info
Puppies for sale
Testimonials (0)