Peterson Vizslas - Wisconsin Vizsla Breeders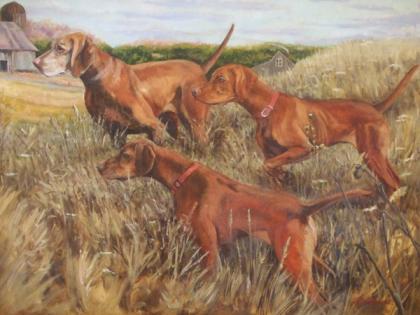 About Peterson Vizslas
We strive to breed quality Vizslas with proven lineages that excel in the field and in the home. Our dogs can change lives by providing companionship, purpose, and joy to their owners
Our puppies are raised in the home with constant contact from humans. It is important from the very beginning to have the pups socialized with people. Their feet and ears are given attention to decrease problems in the future; such as with nail clipping. Immediately they get their tails docked and dewclaws removed. They receive their fist shots and documentation for it. We have gone to Layton Animal Hospital with all our pets, and we highly recommend their services. Both parents have their hips checked and are OFA certified.
The pups will go home with a puppy starter kit and the paperwork necessary to register with the AKC. When they are weaned off milk they are fed Solid Gold Puppy Food. We use this brand for the other Vizslas and have noticed a substantial change in their coat. It is shiny and soft; the food is wonderful. It is a natural holistic blend that does not contain added chemicals. When old enough and weather permitting, the pups spend time outdoors in our newly added runs. The puppies are raised in a loving, clean, and healthy environment.
The support does not end once you have your dog. We will be here for any questions or problems you have after it has left our care. We want you to know that our support is never ending.
If you have any questions regarding the Vizsla breed, upcoming litters, or anything else, please do not hesitate to contact us.
Hunting Dog Breeds Raised
Vizsla
Additional Services
Hunting, Training
Breeder Contact Info
Testimonials (5)
Submitted by: Jodi Hafemeyer on Jul 15, 2012
We have been waiting for our Vizsla puppy for two years and we are so happy we found Joel and Bonnie Peterson as breeders. They truly care and take pride in the birth of the litter. Joel and Bonnie both have been very patient to answer all our questions and also educate us on the breed and what we should expect.
We purchased Jetta May 2012, she is 14 weeks old and she is an energetic, smart and great family puppy.
Jetta points birds and ducks in our pond, swims in the lake, loves to be outside with us and is one of the fastest running puppies we have ever seen! She loves to cuddle and be with the whole family at the park playing or winding down for the night. Jetta was easy to house train and is a very even tempered.
Our Family is so grateful to the Peterson's for raising and caring for such beautiful dogs and we are truly fortunate to have Jetta in our family.
Submitted by: BJ LeRoy on Jun 28, 2012
I cannot explain how helpful Joel was in assisting me in my search for the perfect Vizsla. Even though he knew the timing was not right for me to purchase one of his puppies he still spent several hours on the phone making recommendations on dogs and breeders. He is a great guy and I would send anyone i know his way for a great vizsla or for help finding the right vizsla to fit your needs and wants.
Submitted by: Randy & Kim Siebert on Jun 14, 2012
I can not say enough about the Peterson family. From my first conversation with Joel - to the one that made the final decision - Bonnie and Joel have been informative, patient and above and beyond all expectations the very best in knowledge and care we could ask for. We are now very proud parents of our very own Vizsla - Gunner - We love him - our whole family loves him. He is the smartest most beautiful boy ever! Joel said he would be a great bird dog - and he isn't wrong - he is on the right track to having many great achievements and we can't wait to share them with you all!
Thank you for a wonderful experience - and we will be back!
Submitted by: Lori May on Jun 11, 2012
We purchased our first vizsla, Cheyenne from Joel and Bonnie in '07. She is very sweet, friendly, and loves to snuggle. We could tell immediately that she was cuddled and socialized. This was important to us because we wanted not only a hunting dog but a companion in the house as well. Had it not been for the great experience we had with Peterson's we would not be the proud owners of 4 vizslas. Thanks Joel and Bonnie!
Submitted by: Greg Audette on Jun 06, 2012
buying a hunting dog was an easy thing to do when dealing with the peterson family. from the first time i called about a pup and still to this day. joel is always willing to go out of his way to help with questions or concerns. when i was first looking for a pup joel told me i shoud hunt behind his dogs before i make a decision, so i did and from there i was sold. i just wanted to say thanks again to the peterson family for all of there help the past couple years. my family is now proud to say we own a real hunting dog. thanks again
Submit your testimonial