Pemberley Retrievers - Wisconsin Golden Retriever Breeders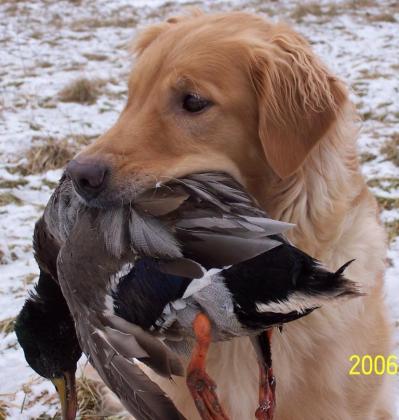 About Pemberley Retrievers
Pemberley Retrievers is a small breeder of field Golden Retrievers. Our first priority is to plan a litter that will produce quality puppies for search work, followed by hunting and field trial candidates; most important is to find a family that will welcome the pup as not only a field dog, but also as a family companion. Pemberley Kennels is located on 30 acres of country land including two small ponds. All puppies are raised in our house with our other 2 dogs and a cat. All are socialized to people, places, and unique situations. All pups will be crate raised and introduced to basic retrieving and obedience and to wings before they go to their new homes.
Hunting Dog Breeds Raised
Golden Retriever
Breeder Contact Info
Testimonials (2)
Submitted by: Michelle Metzner on Jun 06, 2009
I aquired K9 SAR dog "Pemberleys The Son Also Rises" aka:Brett from Deb at 8 weeks old. He is a driven and outstanding working golden. Currently he is certifed thru Northern States Search Dog Network as Scent Specific Area Search Dog Level II (80 acres in daylight and 40 acres night with decoys) Nat'l Assoc of Search and Rescue Area Search Level III (40-60 acres day) and Northern States Search Dog Network Urban Search and Rescue Dog Level II (1500 Sq ft rubble search for at least 2 victims and a 1500 Sq Ft building with 0-2 victims) aslo agility, obedience and directional testing. He manages each new skill with great determination and drive.
All of this and only 18 mts old! He is a quick study and and fast worker, yet retains the ability to turn it "off" in the house. He is social and friendly with all he meets. I would recommend this breeder to anyone looking for a well rounded driven working companion.
We are looking forward to his article certification in the next few months and his next USAR test in the fall.
Submitted by: Ben & June Gibbs on Feb 07, 2009
We highly recommend Pemberley Retrievers. The professionalism from the breeder has helped us with any questions regarding goldens and their care, along with selling quality puppies. We live in North Carolina and had received our healthy puppy through air transportation with all proper documentation in place.
About our golden, he is driven to retrieve and is currently in hunt/field training. He is both registered in AKC and UKC with the training in UKC currently. At 11 months of age he obtained 2 passes and is currently scheduled for seasoned trials. Eyes are excellent, his drive is excellent, marking is excellent, and is marking at 300 yards. Memory is also excellent. He loves water which is just perfect for both retrieving ducks and also his home life on a lake. Our golden is also our companion in the home and settles in nicely after a days work. He is the perfect golden!
Submit your testimonial