Jersey Sporting Dogs - Wisconsin Braque Francais Breeders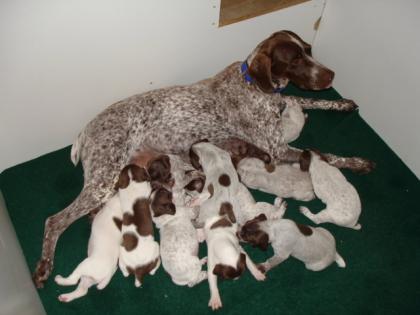 About Jersey Sporting Dogs
We breed Braque Francais, train Braque Francais, and hunt Braque Francais. We have 1 or 2 litters of puppies each year.
Hunting Dog Breeds Raised
Braque Francais
Breeder Contact Info
Testimonials (4)
Submitted by: Eric on May 21, 2011
I have been involved with gun dogs for over 30 years and have never worked with such a wonderful breeder. They are very up front and their honesty shows in everything they do. Can't say enough good things about Mike & Karen and their dogs.
Submitted by: Jeff on Nov 08, 2010
Mike and Karen have a first class operation going. I have one of their dogs, 6 years old now and she is wonderful bird dog as well as my companion. The Dog reunion they held this summer was a great way to meet and greet many other Braques and their owners. Like I said, first class!
Submitted by: Joe on Jun 01, 2010
These are wonderful folks and really care about there dogs and breeding program. I have never seen so many hunting dogs being kept in the home and all part of the family. If you are looking for a Braque, contact Jersey Sporting Dogs.
Submitted by: Jon S on Dec 30, 2009
Mike and Karen are two of the most knowledgeable people when it comes the the Braque Francais Breed. Their honesty and love of the dogs comes through in everything that they say and do. They really know how to raise nice puppies. J
Submit your testimonial