Hunters Champion Labradors - Wisconsin Labrador Retriever Breeders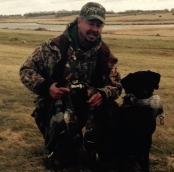 About Hunters Champion Labradors
Hunters Kennels is a breeder of labrador Retrievers, for serious hunters and competitors. Puppies, started dogs, and finished dogs for sale. We can train our puppies to you needs. We breed our line of the best National and World champion AKC hunting Labs, to the best AKC field champion Labrador Retrievers. At Hunters Kennels, our passion is to provide Hunters, competitors and families with exceptional well-bred Labradors. For over 40 years I've been, and still am an avid bird hunter, and bird dog hunting guide in North East Wisconsin. Hunters Kennels is passionate about bettering the breed through selective breeding. We know and breed the best proven Labrador Retrievers in the country, for serious hunters and families, that want an exceptional Family pet, Bred with good genetics to be, smart, healthy, and easy to train. Hunters Kennels is a small family kennel proud to be Nationally known for our Labradors, that we bred. Hunters Kennels has trained and competed Labradors in many different venues, we have won many State, National, & World Champion Titles, with our Labradors over the years. (THE PARENTS WILL MAKE THE DIFFERENCE!) All our females or stud dogs are examined, and certified by the Orthopedic Foundation for Animals (OFA), and the Canine Eye Research Foundation (CERF). for more info see our web site www.hunterskennels.com Or call Randy @ 920-585-0999
Hunting Dog Breeds Raised
Labrador Retriever
Additional Services
Stud Services
Breeder Contact Info
Testimonials (2)
Submitted by: Nathan Van Schyndel on Jul 24, 2016
What can I say about Randy Moore and Hunters Kennels! I have had the most amazing experience getting to know more about his family and understanding the time and dedication that he puts into his dogs. I bought a pup from him little over a year ago and within a few weeks i knew I had something special. I will be running her in her first hunt tests this weekend and also getting her junior title in shed hunting! Any questions i have I can simply call Randy up and talk with him. He Knows Dogs! I would recommend Hunters Kennels to everyone I know. Your not going to be disappointed here. I have the biggest hearted hunting house dog there is and i know she is going to do anything i want her to do!! Thanks Randy!
Submitted by: dave speed on Jul 21, 2016
We got a pup from Randy moore at Hunters 3 years ago. Kramer has been an awesome part of our family. He is a great naturally gifted hunting dog. He also competes at dock jumping competitions and has won at National levels. We consider Randy at Hunters more than a breeder but also a friend.
Submit your testimonial