Erins Edge Labradors - Wisconsin Labrador Retriever Breeders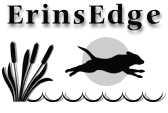 About Erins Edge Labradors
Erins Edge Labradors has specialized in breeding Chocolate Labradors for the field as well as for hunting/family companions since 1980 We often breed Field Champion Blacks to Chocolate females for diversity, and to intensify the Chocolate lines, and occasionally we produce Yellows that are are usually from Black titled males. My females must be intelligent working dogs with an excellent pedigree and temperament, OFA Excellent or Good hips, OFA normal elbows, CERF clear eyes, CNM Clear, good bone and conformation, great drive and desire. The parents of these females and my studs must also have the same health clearances, have been proven not to produce serious genetic problems, and live long and healthy lives without medication. All breedings are guaranteed to produce pups that are unaffected for EIC and CNM, and as new DNA tests come out, my dogs will be tested. I do not believe eliminating all carriers is in the best interest of any Breed, so I look for the best match for Health, Performance, and Diversity of the Labrador breed. My breeding program has focused on breeding to talented, trainable, and good looking field studs that resemble the classic Labrador look as much as possible. I offer a real written guarantee with replacement after you neuter or spay your dog and do not require you return the dog to me which I consider a non-guarantee. Pups receive complete Veterinary health checks with a report card, are microchipped, dew claws removed, dewormed multiple times,first vaccination, and exposed to feathers and socialized. Pups are raised completely inside my home and have a play area outside during the day. My stud is a QAA Titled and DNA profiled Chocolate Factored Black, dilute free, and two Chocolates that are CNM, EIC, and PRA clear with frozen semen. I look for homes where dogs live in the house and are part of the family. I sell on Limited Registration, and if buyers want to breed, the Registration can be converted to Full Registration by obtaining all the health certs and a thorough understanding of breeding. I have been active as a Field Trial handler, have judged AKC Licensed Field Trials for over 20 years, and I also compete in AKC Hunt Tests. Visit my online store on my website with over 200 natural and innovative products for your dog including custom made all natural healthy treats, probiotics, hypoallergenic treats, Holistic and Herbal supplements, Labrador gifts, toys, and other unique dog products.
Hunting Dog Breeds Raised
Labrador Retriever
Breeder Contact Info
Testimonials (3)
Submitted by: Sprague Richardson on Oct 17, 2023
Does Erin's edge still bread dogs? Are they still open for business as my last dog from there was the best dog I ever had and want to get another. It was 10 years ago and the website isn't going anymore. Does anyone know?
Submitted by: Jaret on Mar 14, 2021
I got my chocolate pup 9 years ago from Erin's edge. He is still my best friend , absolutely amazing with my children and we went on our first family duck hunt this past year with my twin 5 year olds and he is still a retrieving stud , I can't wait to get the boys their own retriever soon and will be getting him/her from erins edge
Submitted by: Pegg and David McCallum on Jan 22, 2017
We have bought three chocolate labs Erinsedge, and have pleased with each one of our labs. She extremely thorough with you. We would buy another chocolate from Nancy in a heartbeat.
Submit your testimonial