Country Side Breeders - Wisconsin German Shorthaired Pointer Breeders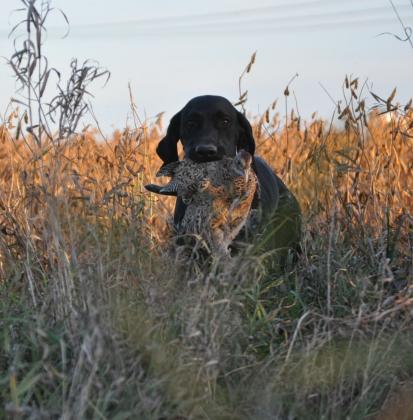 About Country Side Breeders
Breeding Philosophy: Breeding for health, temperament, intelligence, hunting ability and family companionship.
Country-Side Breeders is a home based kennel located an hour north of Green Bay, WI.
Country-Side Breeders is always aiming for perfection and strive to improve the breed with each dog. The goal at Country-Side Breeders is to produce top quality bred standard dogs, with good disposition, hunting and tracking instincts to go along with their character and appearance. We strive for a close working gun dog that finds game consistently and predictably. Style, longevity and stamina must be included along with the common sense for easy training. Not only must the dogs be excellent in the field, they must also possess the composure and ease of becoming a family member for people of all ages. 
All dogs have a written 30 month health and hunt guarantee as well as continued support for the duration of the dog's life.  They have full AKC registration papers and are also micro-chipped.  Complete health records and both parent's pedigrees are also included with the pups.  The litters are are well socialized with people of all ages as well as other dogs/animals.  Natural ability is a common factor in every dog produced.  The pups are also exposed to water, gunshot, birds, different surfaces and sounds as well and more. References proudly given.

Hunting Dog Breeds Raised
German Shorthaired Pointer
Additional Services
Stud Services, Boarding
Breeder Contact Info
Testimonials (4)
Submitted by: Chelsea on Jun 06, 2009
Our pup is 13 weeks old now and he is such a joy! He is very intelligent and gorgeous, even our vet is impressed. When ever we take him out places almost everyone comments on how gorgeous he is and how well behaved he is for such a young pup. This is our first gsp, and it won't be our last! Breeder was amazing from the first inquiry email and is still available whenever we have questions. I searched for months all over the country and we traveled all the way from Ohio to get our pup... thank goodness!!!! Thank you so much!
Submitted by: Richard Buzard on Dec 19, 2008
Great people raising wonderful dogs. Outstanding hunters and loving pets.
Submitted by: Greg and Joanne on Oct 30, 2008
Just to let you know Chauncey is doing well. He did good on a few trips out but we did not see alot of grouse [very few birds here even though the dnr says its a great year lol] but just to let you know I love your site and think you have the best program I have ever came across, even my Vet and fellow hunters say so! Thanks for your time and keep in touch!!
Thanks again Greg
Submitted by: Curtis and Beverly Mark on Sep 17, 2008
Our GSP is a beautiful dog. This is our first pointer, and his temperament is truly wonderful - a great house dog. We also used Country Side for initial field training and we pleased with the results.
Submit your testimonial